Mixing up your reality, Part 1: Where are all the holograms?
If you're at all interested in holograms, you might be wondering when you'll get to see one in real life. Where are all the holograms? By all accounts, we should be seeing holograms as part of our lives, especially considering how much progress technology has made across the board. It shouldn't be surprising to see holograms as receptionists at big companies, dancers at exclusive clubs, or at least as placeholders for the latest upcoming sports cars in showrooms and trade shows. After all, they're so common in fiction… surely you just haven't been to the right place to see one yet!
While our floating personal assistants aren't quite ready yet, there are still ways to see hologram-like people and things in our lives. Maybe not floating freely in air, but those of us with VR headsets can get a taste of them already. With more and more headsets gaining passthrough abilities, such as the Meta Quest 2 and soon 3 plus the Apple Vision Pro (and a number of others), it's becoming easier and easier to remix your actual reality with virtual reality elements, which basically, is what a hologram is about.
I think about future technology all the time, so it seemed like a good time to write down some thoughts about holograms and the like and their potential for simulated immersion. Adding virtual elements into your space can feel a lot like how we think of holograms, so we begin the series (I had more to say than I thought!) from that perspective.
In this first article in the series, we'll talk about popular culture vs real life, what holograms even are, and common perceptions (and misperceptions) about them. In later articles we'll talk about reliving your own memories "holographically" and how to find premade content online. Since VR Voyaging is all about immersive travel, culture, and experiences using only your headset, it fits perfectly with our mission.
Holograms in the world
We all have a sense of what holograms are based on what we've seen in movies and TV shows. We imagine a person or creature appearing in mid-air, maybe flickering a bit. We can talk to them, walk through them, and we might not even realize it's not a real person or thing right away. Holograms may be used to present personal assistants, elements of a game or other experience, or to resurrect performers who are no longer with us. It might come as a surprise to learn that none of these truly float in the air and we can only make them appear that way using special effects.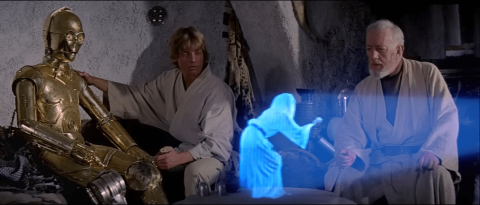 Most apparent holograms are actually clever optical illusions that trick our brains. For example, in 1991, there was a video game by Sega called Time Traveler in which characters appeared to float on a black surface. Players felt like they were standing in front of a miniature shell theater (like at a park) while tiny characters performed. It was pretty impressive since every other arcade game used the same basic screen. It immediately grabbed your attention when you walked into an arcade!
Behind the scenes, Time Traveler used a concave dome reflector to make it appear that the characters were floating in front of you on the game cabinet's surface. It would be an easy mistake to describe this as a hologram, but it's actually an optical illusion similar to a much older trick, the mirascope.
The illusion/trick requires one or two concave bowls with an object (or computer display) hidden from view, so you just see its curved reflection and the image appears to float. It's a fun trick, and very impressive at first glance if done well, but the game characters looked the same from every angle (unlike the frog in the image below), and once the novelty wears off, it doesn't actually add much to the experience.
Outside of one or two research labs, few of us have seen a hologram that truly made a virtual entity appear real. In 2012, the Tupac Shakur concert hologram was rumored to be pretty good, but it required a dark venue, limited angles, and wasn't lit very realistically. It actually made use of an old theatrical trick well over 100 years old known as Pepper's ghost. If you're waiting for the holograms of the future, we aren't there yet.
What do we mean by hologram?
If we're going to call something a hologram, we should define what we mean. Before I get to the scientific explanation, we can agree on a few things. Generally speaking, the hologram should be:
Free-standing. It should float in the air without requiring a screen for projection. You don't get much depth from a flat screen.
Volumetric. It should appear to take up space with each angle of it matching the angle of observation (not just a flat billboard). In other words, you can move your head to the side or walk around to the back to see different views.
That's probably the baseline. Thinking of sci-fi stories, it would also be great to be:
Realistic. If I believed that a hologram was real (until touching it), it would definitely be amazing. A hologram made up of beads or water droplets might look good, but not real.
High-fidelity. Blurry blobs or something that looks like an old video game character would definitely detract. It should be as photographic as possible.
Finally, if we're really asking for the ultimate, it should be:
Stable. This is somewhat implied by Realistic, but flickering or "glitching" would break the illusion.
Interactive. If it's a person, it would be great to be able to talk with it or react based on touch (whatever that would mean). This is definitely not a requirement, since a holographic movie would still be exciting.
Dynamic. It shouldn't just be confined to a small space. It should be able to move around a room by placing a few projectors around the walls.
Clearly, we're a long way from these criteria for a hologram, but there are a few ways to get a taste of them now. The Looking Glass Portrait is a product you can buy today that gives you an illusion of depth from a picture frame with your own images or photos (more on this later). It ticks some of the above boxes, but it's a very confined illusion. I love mine, but it's not a hologram yet!
There are also pyramid-shaped reflectors you can place on a horizontal screen (even your phone) for a floating-in-air effect. It can be done somewhat convincingly for very controlled environments, such as display cases. Fun, not for long.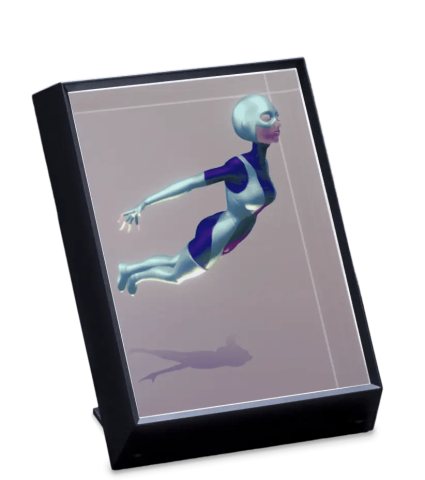 Do holograms exist at all yet?
As a bit of an aside, the concept of the hologram was developed by Dennis Gabor in 1948 and brought to life in 1964 when lasers were invented. In short, instead of just recording the visible light reflected from an object back to a film or sensor, holograms record interference patterns that more holistically preserve various angles of the subject. It's still a flat film and a flat print, but you can look at a holographic image from different angles and see the corresponding angles of the original item. I've seen it used to good effect as a placeholder at a museum after loaning some items to other museums.
Being able to project that interference pattern (or similar light) without any screen or film (in mid-air) is the holy grail, but scientists have made some progress with creating floating images. One method uses sound waves to levitate polystyrene beads in the form of interesting shapes. Another advancement creates touchable images by carefully controlling puffs of air. They won't fool you, but at least it's some progress.
Even though none of these real-world holograms are very convincing, static holographic images have become more common in everyday life. They get used for security purposes on credit cards, passports, currency, and even in art and advertising. They might get your attention but aren't interactive or realistic.
Can you create and experience holograms in virtual reality?
Though we may be far from seeing holograms floating in the air near us, different headsets and other screens can already give us a sense of augmenting our reality with virtual people and things. The very popular game Pokemon Go was an example most people are aware of from a few years ago that enabled players to use their phone like a magic window to look around them and see digital characters in the world. This is usually called AR (augmented reality) since it augments an actual scene with virtual elements.
Looking through your phone's camera like a magical window is fun, but it would be nice if you could just look around and see them naturally, perhaps wearing see-through VR-like glasses. Thankfully, there are virtual glasses that let you do just that. Using tricky optics built into a visor-like device, you can see 3d entities like engineering prototypes, game elements, or even people right next to you. You can walk around to see things from different angles. They don't look fully convincing, but it's surprising how much the brain accepts items when they appear to play by the rules (getting bigger as you approach, not sliding when you move, etc.). You can even interact with them with your hands, although the lack of touch sensation feels weird.
Summary
So, where are all the holograms? What we call holograms won't be real anytime soon, but that doesn't mean that there isn't ongoing progress. Until they're ready, you can build a curved reflector, place a device over your phone screen, or buy a product like the Looking Glass Portrait to experience hologram-like imagery today.
In the next article, we'll talk about how we can create holographic experiences from your own images and videos using your VR headset. Look out for it soon!
---