Oculus/Meta Quest 2 Review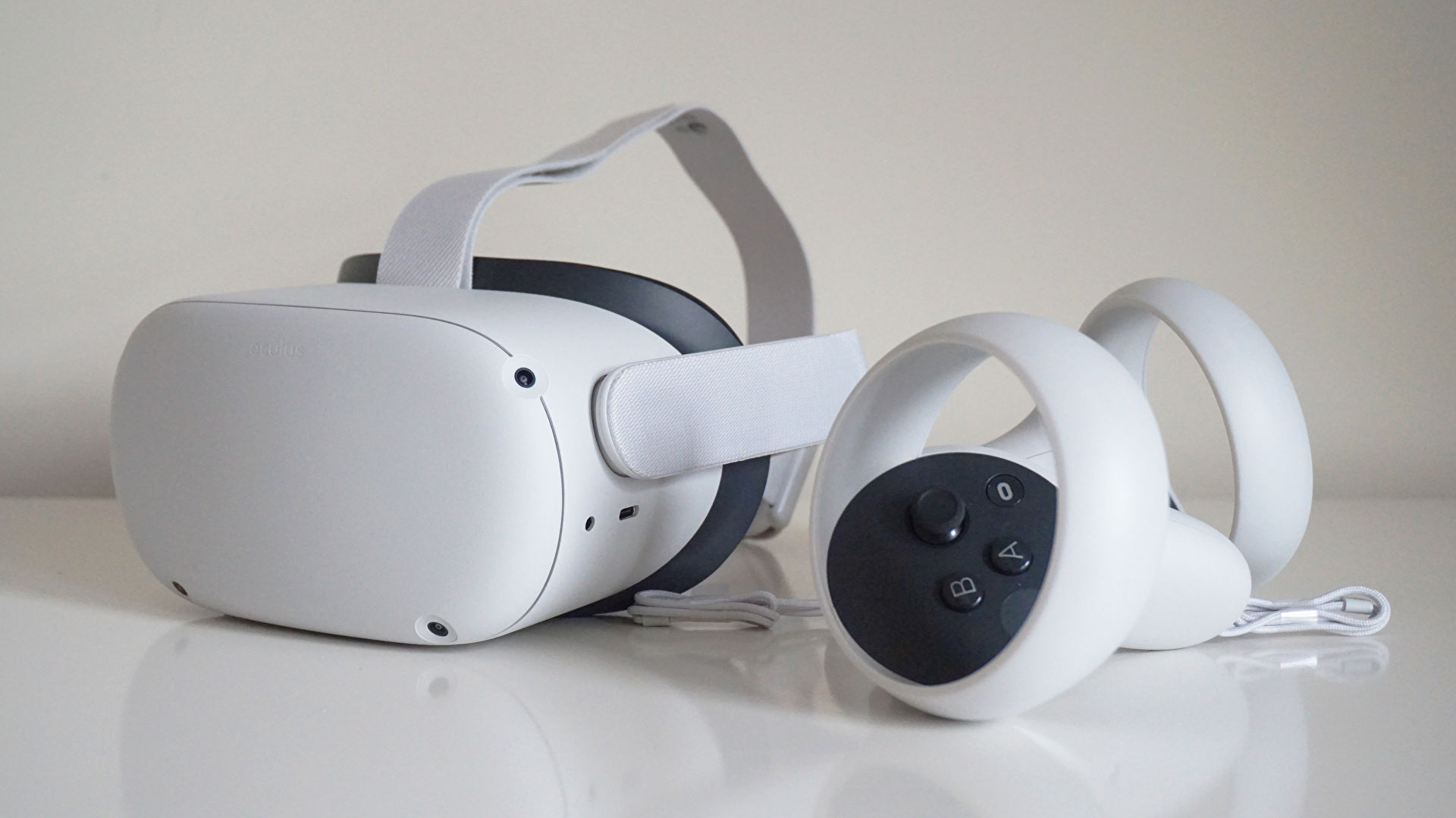 If you need some general background on buying a VR headset, start with Choosing the Best Hardware for VR. We cover some of these topics in more detail so check it out if you're feeling confused.
Let's get something out of the way first. What do we call this headset?
Oculus was founded in 2014 when Palmer Luckey created a Kickstarter campaign for the original Oculus Rift headset. Two years later, Facebook acquired Oculus for $2 billion. In 2021, Facebook announced that it was renaming itself to Meta Platforms, or "Meta" for short. Now the parent company, Meta, runs the child company/product, Facebook. This is similar to how a different parent company, Alphabet, runs its own child company/product, Google.
All clear? Probably not. If you go to the Oculus website, you'll find information about the Meta Quest 2. But in the footer, you'll see that the copyright belongs to Facebook Technologies. It looks like the company is still figuring out the roles of the three brands, making it unclear how to refer to the Quest headset in the meantime. Since I don't love the renaming, I'm just going to refer to it as the Oculus Quest 2 for now. Let's move on.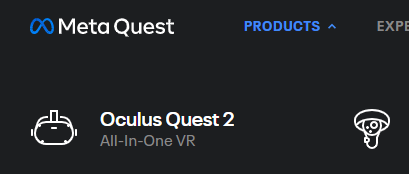 My Journey to Quest
I held off on buying a Quest headset for quite some time. Not only have I been happy with my HP Reverb G2, but I also just didn't like the idea of buying into the Facebook ecosystem. I don't love how the giant social network has changed discourse. Plus, their monetizing strategy involves filtering posts for your feed in order to maximize "engagement," and they sell your private information in the form of consumer profiles.
For the sake of this site, though, I thought I should have insight into the Oculus part of the VR world. I waited a few years to buy an Oculus headset until the selection of titles had grown and the monetary investment felt right.
When I started seriously looking at the Quest 2, I just wasn't very impressed. On paper, the visuals aren't as sharp as my Reverb's. The Quest 2 only does onboard processing, so it can't really compete in graphics with headsets that connect to more powerful external graphics processors. Finally, it can only play games from its own library (mostly… we'll get back to this in the Compatibility section).
Now that I have a Quest 2 in hand, though, I'm quite impressed with it. Its price is great and it's easy to use, so I believe this headset can bring VR to the masses. I feel like it will truly be transformational.
The headset's "Home" experience serves as your, well, home until you launch an experience. It is really well done. Each of the Home environments includes lots of details around the periphery and subtle movement around you, so you feel immersed no matter if you're in a room, a hangar, or a mountain getaway.
Wherever you are, touching the physical Oculus button on your right controller brings up a menu with controls, settings, the time, and the app launcher. From here, you can buy and download new apps, browse shows and videos, or just sit on your virtual sofa and watch the simulated world go by. Every aspect of the menu is polished beautifully.
Headset
The Quest 2 is a standalone headset. In other words, it's untethered: no worrying about tripping over the cord. Even more excitingly, you can carry this headset anywhere. It's lightweight and compact, and it has only three parts to keep track of (the headset itself and two controllers).
The overall fit on the head is decent. The faceplate gasket doesn't conform to my face very well, so I see much more light leaking in from the bottom than I'd like. I was a little surprised by this, since I haven't had this trouble with other headsets. I could buy one of the accessory gaskets that are available for better comfort or seal.
Visuals
The resolution is 1832×1920 per eye—an odd choice, but better than the 1440×1440 of the first-generation Windows Mixed Reality headsets. Refresh rate (effectively frames per second) is a whopping 120Hz, depending on the settings. The higher the refresh, the higher the battery drain, so you have the option to run at 90Hz.
The Quest 2 allows you to move the lenses closer or farther apart to accommodate your own IPD (Interpupillary Distance) within a range of 58mm-68mm. Unfortunately, you need to take the headset off your face to make this adjustment, so you might need to fiddle with it a bit to get it right.
If you normally wear contacts or glasses for distance, you'll need to keep them on while using your headset. Headset designers use optical tricks that assume 20/20 vision to allow you to focus on a screen so close to your eyes. I look forward to the day that you can adjust both IPD and focus, but until then, you'll need to provide your own vision correction.
If you wear prescription glasses and don't want to risk scratching the headset lenses (best to avoid), you can buy lens inserts from Hons VR and WIDMOvr.
Audio
The Quest 2's sound is good. When I pulled the headset out of the box, I didn't see any obvious speakers, so I worried I had remembered incorrectly and needed to plug in headphones. Thankfully, the sound comes from the side mounts. These speakers give good volume and clarity without touching your ears. I was a little disappointed by the level of outward sound leakage, though; as I sat next to my wife while she watched Olympics highlights, I could make out every word.
Tracking
The Quest 2 uses "inside-out" tracking, which means no base stations are required to orient your position. Everything happens using cameras within the headset. This works quite well, even in lower light. I like the "guardian" feature a lot. This is what keeps you from walking into walls or tripping over things. You start by tracing your way around the room to create your safety outline. Anytime you get too close to the guardian boundary, a grid appears to show you the boundaries. Even better, it also shows you the through-the-camera view so you can see what you are approaching. I think this system works even better than the Windows Mixed Reality inside-out tracking.
If the headset doesn't recognize the space (usually because you are in a different room), it prompts you to draw a new boundary or to choose a stationary boundary. A stationary boundary instantly gives you a bubble just big enough for you to lean in different directions or take a single step. When you don't need a large space, a stationary boundary conveniently sets you quickly. I wish Windows Mixed Reality had something similar.
Controllers
The controllers are similar to other inside-out systems in that they use a special tracking ring above the buttons and control stick (the part with the "O" logo in the below image) that emit a light pattern that the tracking cameras pick up on. They are also come with wrist straps to reduce the likelihood that you throw them at walls.
Ergonomics
My first impression upon unboxing was that the controllers looked small. The size is just fine, though. I can imagine these controllers working well across a broader range of hand sizes than some. All buttons and controls can be reach by your fingers without changing grip. The housing is smooth, so you may need to use the straps to keep them in your hands, but you can buy nice replacement grips from various retailers.
Controls
Each controller has a grip and trigger button, A/B or X/Y, a menu button, and a thumbstick. There's also a small pad where you can rest your finger. All of these buttons (and the pad) detect when your finger is resting there, but I'm not sure how this information is used.
The buttons feel like normal game controller buttons: laid out well, but not high-end. The thumbstick has a bit of grippiness to it.
Tracking
Tracking requires the cameras in the headset to see the controller tracking rings with their embedded LED's. When the rings briefly go out of view, the headset can usually extrapolate to figure it out. I haven't had any issues with this system so far.
Once really great feature of the Quest 2 is that you can use it without the controllers as it has its own custom hand tracking feature. If you hold your hands in front of you, you can point and pinch to activate commands with no trouble. I was pretty impressed by this. I don't think it's intended for playing a game or even navigating a VR scene, but it's fun to interact with menus that way.
Compatibility
Compatibility is a double-edged sword with the Quest 2. On one hand, you are locked into the Oculus Store since SteamVR games require a PC. This is definitely limiting, since many developers lack the resources to rewrite SteamVR experiences for the Quest.
On the other hand, the selection is broadened by Quest-only exclusives experiences that Facebook/Meta has poured money into. They've also secured an impressive selection of media content, like concerts and shows, that aren't available on other platforms. This bothers me a bit since the VR market is small to begin with, so fracturing it with exclusives seems short-sighted. Of course, Facebook/Meta hopes to dominate the entire market, so they see this as a necessary step. They are almost certainly selling the headsets at a loss to get maximum market share.
The Quest has a trick up its sleeve to broaden your selection even more. The Quest 2 isn't completely locked into the Oculus Store. In fact, if you have a PC that can support VR, you can launch SteamVR experiences on your headset through a cable, or even wirelessly if your network is good enough. This is a very powerful feature, and few other headsets do it. Offering both standalone and PC-connected functionality is truly a stand-out feature.
How to buy it
If the Quest 2 is the headset for you, you have a few options for what to buy and where to buy it. You can shop directly from Meta/Facebook, or various retailers, but we'll keep things easy with Amazon links.
Getting started
The first step is to get the headset itself. You can choose either a model with 128 GB or 256 GB of storage. This refers to how much room is available for apps, games, and any other data that needs to be stored. Even with all the apps I use, I've found the 128 GB version to be sufficient. If you really want to be more futureproof though, you can get the 256 GB model — that way you'd seldom run low on space and need to uninstall apps. Other than storage, there is no other difference between the two.
The other choice you can make is between brand-new and refurbished. Refurbished models from Amazon (also called "renewed") include the same on-year warranty. I've had great luck in general with refurbished products, so I never hesitate to recommend them. The only problem is refurbished products come and go from stock so may not be available when you want to buy it. If you see it though, you can save $50!
Extras
Once you have your headset, you can go wild buying accessories! You can buy bigger battery packs, special pads so your face doesn't get as sweaty, charging docks, and more. If you already have a powerful enough desktop or laptop computer capable of running virtual reality, you might consider buying a Link Cable so you can use your headset for experiences running on your PC.
Since not all VR apps are compatible with the Quest 2, you open more options being able to download/buy apps from Steam. With a capable PC, you can run these titles through your headset using the Link Cable. The one listed below is a bit pricey and there are cheaper options that probably work fine, but I'm focusing on the official one from Meta to make it easier.
It's important to point out that you don't need the cable unless 1) you want to run VR apps on your PC, and 2) you aren't sure if your Wi-Fi is powerful enough. If you have great Wi-Fi, you don't need the cable. I'd recommend trying it out wirelessly first (the feature is called Air Link) and only buying the cable if necessary. Again though, if you only want to run Quest 2 apps from the Quest Store, don't worry about the cable.
Finally, not needing to replace batteries and fumble with cords all the time can be pretty nice. There are a variety of charging docks that make it easy to just drop in your headset and controllers and come back to them ready to go. I've included the VeeR model below since it's reasonably priced and well-rated. You can certainly choose from others.
Conclusion
Pros
Lightweight and portable
Good app selection
Great value for money
Cons
Facebook account requirement
Less powerful than most PC-based setups
Audio leakage could disturb others near you
After all of my initial reservations with getting into the Facebook-owned Oculus world, I must say I'm very impressed. I didn't think that I'd appreciate the untethered portability as much as I do, but even just being able to use my headset in the living room is nice. The thought of being able to share it with people when I travel is also pretty exciting.
The overall ease of use of the Quest 2 can't be overstated. I'm accustomed to two different Windows Mixed Reality setups, and they have a way to go in usability. The Oculus setup wizard guides you through the process very clearly, and all interactions are natural.
I'm accustomed to needing to troubleshoot why I'm not getting a high enough framerate, often needing to shut down other apps or reduce the quality settings. Being able to run experiences designed specifically for this headset makes for a more satisfying experience with less frustration. There's no question if something will run or run well since it's a close system. This is one of the reasons that people prefer console gaming (Xbox, PlayStation) over PC gaming. Even though the right PC setup can theoretically look more impressive, it often requires frustrating work to get there. The Quest 2 is basically a VR console. Not the ultimate powerhouse, but it's great at what it does.
If you don't have a powerful PC or if you want complete portability, the Oculus Quest 2 is the way to go. You can decide for yourself if you're comfortable with the requirement of linking your Facebook account. There's a lot to like about the Quest 2, and I think it's an especially great choice for people who just want things to work!