If you've bought apps or games before, you're probably used to checking for compatibility with your operating system (Windows vs Mac vs Linux), and maybe checking if your system is powerful enough to handle it well. With VR, you need to take compatibility checks a step further, since some VR titles only work on certain headsets. This adds a little complication to the process of buying apps or games, but there's no need to stress. We'll walk you through it!
VR Hardware Platforms
There are four primary VR platforms: bundles of compatible technologies used by different VR organizations. A platform allows software (games and experiences) to talk to hardware (computers, headsets, phones). Software written for a platform is compatible with hardware from that same platform. For example, the Android platform allows all Android apps to be compatible with Samsung Galaxy, Google Pixel, and other Android phones. If there weren't platforms, every app and game would need to be written specifically for each brand and type of computer and phone. Imagine the confusion!
The four primary VR platforms are SteamVR (by Valve), Oculus (by Facebook/Meta), Windows Mixed Reality (by Microsoft), and OpenXR (by several organizations). Each VR headset, and each VR title, supports at least one of these platforms. The games and experiences made for these platforms are sold on four main corresponding online stores and can be found several other places as well. Understanding these groupings will make it easier to make the right choices! Let's go over these four platforms one at a time.

SteamVR (Valve)
Headsets: Valve Index; HTC Vive; Pimax; all Windows Mixed Reality devices via plugin
Valve, a company originally known for making games, branched out to create an online store of games called Steam back in 2002. On Steam, you can buy games from Valve and other companies. When Steam came on the scene, it was a big deal to be able to buy and download a game instead of going to the store and buying a disc. Later, they expanded again by creating a VR platform called SteamVR. They created a headset of their own, called the Valve Index, that supports SteamVR. As a standard platform, SteamVR can be used by other companies' headsets too. SteamVR is currently the most popular VR platform.
SteamVR may be a standard platform, but you still might run into incompatibilities. Check out the Caveats section below.
---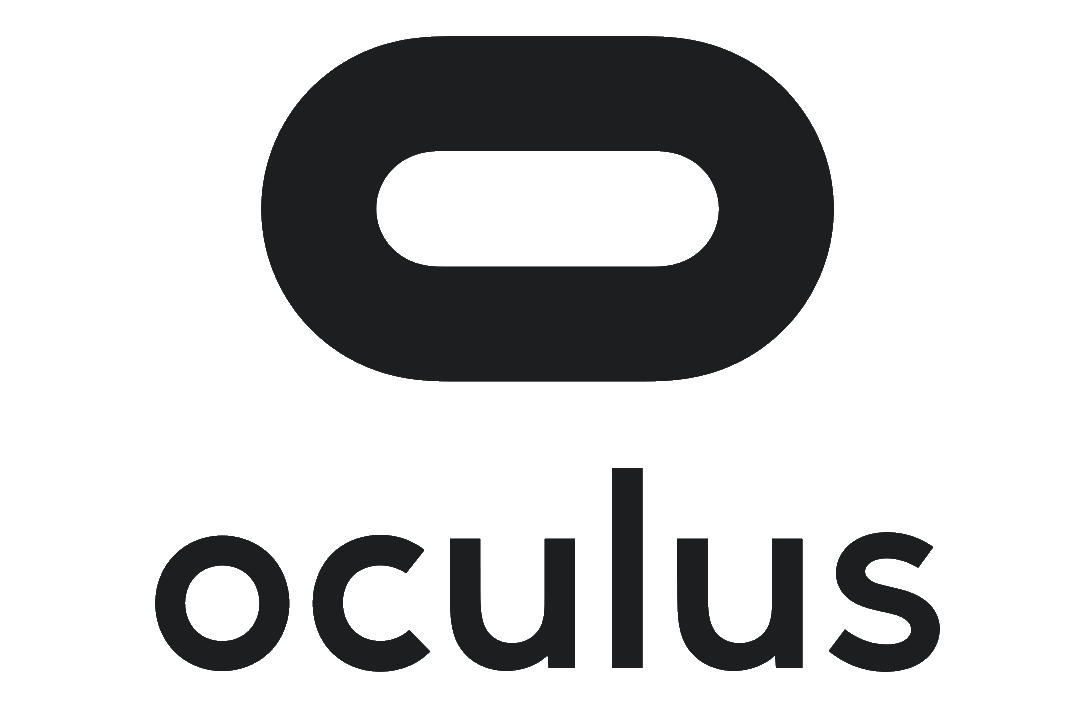 Oculus (Facebook/Meta)
Headsets: Oculus Rift (discontinued); Oculus Quest; Oculus Quest 2
The company Oculus started with a Kickstarter campaign back in 2012. Two years later, as Oculus became successful, Facebook (now called Meta) purchased them (2014). With the release of the first and second generations of Oculus Quest headsets, Oculus/Facebook/Meta has made it clear that they are playing to win in the VR space. Their newest headset, the Quest 2, is inexpensive (starting at just $299 at time of writing), so it's a popular choice. If you have an Oculus headset, you have a few options for choosing apps. You can browse their catalog and download titles (some paid, some free) from the Oculus web site, the Windows Oculus app, or you can browse and buy directly from the headset.
---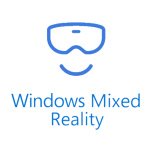 Windows Mixed Reality (Microsoft and partners)
Headsets: HP Reverb G2; various headsets by Dell, Acer, Samsung, and others
As the creator of Windows, Microsoft decided to integrate the ability to use virtual reality into their operating system. They created a standard headset and controller design that was available for companies to take advantage of. This hardware design, along with the operating system software design, is called the Windows Mixed Reality (WMR) platform. This approach turned out to be a great move for Microsoft: five or six companies adopted the WMR headset design. Since Microsoft did much of the initial research, companies can make and sell high-quality headsets for less money.
Since developers need to expend resources for each platform they want to support, they typically want to reach the widest audience with the least effort. Since WMR has never had large market share, Microsoft made WMR compatible with SteamVR. The platform still doesn't have a huge market share, but with access to the Steam library, it doesn't matter as much. There are still titles only available for WMR, but many of the titles are usually also available on the Steam store, often with lower prices and broader compatibility.
---

OpenXR (open standard)
Headsets: most headsets support OpenXR
SteamVR has become a de facto standard, but it's still challenging to make software work the same on every headset. OpenXR is a software platform created by a group of companies involved with VR. Unlike other platforms, OpenXR wasn't designed for just a single type of headset. If an experience is designed for OpenXR, you can be pretty confident that it will work on your headset (SteamVR, Vive, Oculus, WMR). OpenXR is relatively new and not in widespread use, although you will see it embedded in some web sites. Without installing anything, you can launch virtual reality experiences by visiting web sites like Sketchfab. What a time to be alive!
---
Stores and Marketplaces
Depending on your headset, you may be able to buy VR apps at multiple marketplaces. How to choose? I'll introduce you to Steam, the Oculus Store, Viveport, Microsoft Store, and Itch.io.
You'll find that many apps are free. This might make you suspicious because "free" phone games often accost you with advertisements and in-app upgrades. The situation is refreshingly different for VR apps. At least on Steam, I've seen very little advertising in VR experiences, and I certainly haven't seen any in-app upgrades. That could change, especially with how Facebook/Meta is looking to monetize their platform, but for now, free usually means free.
Steam (Valve)
Steam is the most popular place to get games and experiences of any kind, and it has an even larger share of the VR market. When you shop, make sure that you are in the VR Titles category. You can filter further by tags, but unfortunately titles are tagged inconsistently, so you might need to just browse. If you're looking for experiences like the ones we cover on VR Voyaging, you could try the tags Education, Experience, Simulation, and Historical.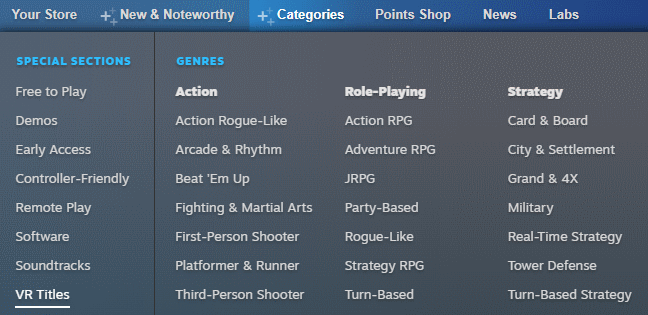 ---
Oculus Store (Facebook/Meta)
The Oculus Store exclusively carries games and experiences for Oculus headsets. They have a large and diverse selection with many excellent choices.
However, this selection includes a large proportion of 360° titles, which are much more limited than full VR experiences. They basically just show you a 2D or 3D movie that wraps around you. While 360° titles can be fun in their own way, they don't allow you to move or interact with your surroundings. In fact, if you move your head much during one of these videos, it might be uncomfortable, since your point of view won't change.
I also take issue with Facebook/Meta's decision to include many exclusive experiences in the Oculus Store. While the VR ecosystem is still so young, I think it's more important for VR companies to work together to grow it. This involves building a broad library of titles for everyone to enjoy.
---
Viveport (HTC)
Viveport, owned by HTC, is a store more like Steam in its cross-headset support. Although HTC only makes Vive headsets, Viveport caters to all SteamVR headsets.
Viveport has a paid subscription program, called Infinity, that gives you access to a library of titles. Similar to Netflix or Amazon Prime, Infinity doesn't require extra purchases once you subscribe. The lower tier of service is only available for some HTC headsets and is limited to a smaller subset of titles. The upper tier (as of Feb 2022) costs $12.99/month paid monthly, or $8.99/month paid annually. HTC claims "hundreds of titles" are included, though I didn't see a full list. Infinity sounds like a great deal, especially if you're more interested in games than I am. For a selection of included titles, you can visit the Infinity Vista page.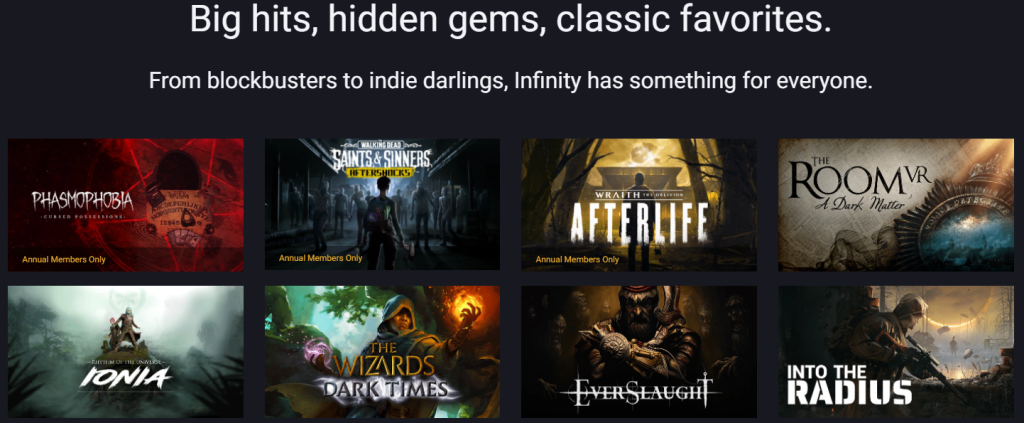 ---
Microsoft Store (Microsoft)
Microsoft Store is the general desktop app store that comes pre-installed with Windows. I would imagine many users never even open it since it doesn't offer a huge selection, but it does have a few VR apps for WMR headsets (not compatible with SteamVR or Oculus). In general, I rather like the Microsoft Store since it beats finding installers on web sites and hoping the sites aren't hosting malware. The VR experiences can be found in the Windows Mixed Reality Experiences collection. There are over 150 titles here, though very few new releases and many of the non-free entries seem to be low-effort apps that aren't worth the cost. It's not super impressive, but it's worth a look if you have a Windows Mixed Reality-based headset.
---
Itch.io (Independent)
If you don't mind things a little more "Wild West," you might want to check out Itch.io's VR section. These are almost all independent titles. Many of them are school projects or proofs of concept. Every so often, though, you'll find a gem. Because so many of these titles are unpolished, quite a few of them are free. You might just get what you pay for, but it's fun to see what's out there.
---
Caveats
There's always a risk when you get an experience made for a headset other than yours. For example, running an experience from Viveport on your Quest or HP Reverb may or may not work well. You may have trouble starting it up, or more likely, you'll try to interact with the game with the controllers and nothing will happen. You may be able to just press buttons until you find what works, but other times you just can't do anything. Steam supports changing the mapping of the controller buttons, but this is hard to get right and difficult for less technical users.
When you're not sure if a title will work with your controllers, don't hesitate to buy it anyway if you're on Steam or the Oculus Store. They will both give a refund within 14 days of purchase as long as you've played fewer than 120 minutes. Viveport seems to be much more restrictive with refunds, so buyer beware.
Summary
Figuring out which apps run on which headsets, not to mention which stores to use, can be challenging. Thankfully, the online stores that sell VR titles make it pretty easy to filter the options based on your headset. Not all online stores sell titles for all headsets, so you'll need to choose the right store based on your headset. I've summarized the options in the table below. Look for your headset brand in the left column. The X's in the rows mark your store options.
| Headset | Steam | Oculus Store | Viveport |
| --- | --- | --- | --- |
| Oculus Rift | X | X | X |
| Oculus Quest 1/2 | X1 | X | X1 |
| Oculus Go | | X | |
| SteamVR2 | X | | X |
| Windows Mixed Reality3 | X | | X |
Compatibility chart showing which stores support which headsets
Oculus Quest 1 and 2 work in two modes. In their primary mode, called "standalone," titles run directly on the headset with no need for a PC. In their secondary mode, called "tethered" or "Oculus Link," software runs on a PC and is sent to the headset wirelessly or with a special cable. Titles that run in the primary standalone mode are only sold from the Oculus Store. Tethered mode can be used for titles purchased from Steam or Viveport.
Headsets in the SteamVR category include the Valve Index and HTC Vive/Vive Pro/Cosmos/Cosmos Elite headsets. All SteamVR headsets support titles created for the SteamVR platform.
Like SteamVR, Windows Mixed Reality is a category of headsets, not a single product. Windows Mixed Reality headsets include the HP Reverb G2, Samsung Odyssey+, and others by Lenovo, Acer, Dell, and Asus. Buying one of these headsets provides compatibility with a wide range of titles.
Any other great places to find experiences? Sound off in the comments!
---