Setting your sights on web sites of world heritage sites
On VR Voyaging, we mostly cover VR experiences you can buy or download from stores. This isn't the entire world of VR, though. Thanks to the magic of a technology called WebXR, it's possible to present a VR experience directly from a web browser. Some of these web sites provide experiences similar to apps, while others just let you look closer at 3D objects and places.
Some web sites allow you to view real-world places in 3D. If you've gone house hunting in the past few years, you might have seen web-based 3D virtual tours of homes. These are created using a special camera that takes hundreds of photos, then feeds them into a photogrammetry process. Some of these houses can also be explored in VR.
Other sites showcase 3D models digitally sculpted by artists, such as statues, buildings, and vehicles. In a regular web browser, you can use your mouse to zoom and rotate the model. With your headset, you can interact with them virtually.
Read on to learn about some of the options for VR from your browser and expand your menu of 3D experiences without spending any money!
Sketchfab
The web site Sketchfab allows you to explore a huge collection of photographically scanned and digitally modeled 3D models. I love that it includes so many historical sites and items.
Sketchfab lets you explore a scene by clicking or using your arrow keys. You can also easily switch to VR mode: when viewing a model, click the little headset icon in the lower-right corner of the view ("View in VR"), put on your headset, and get ready to enter a new world! If you see an error, you can follow their help page to get things working.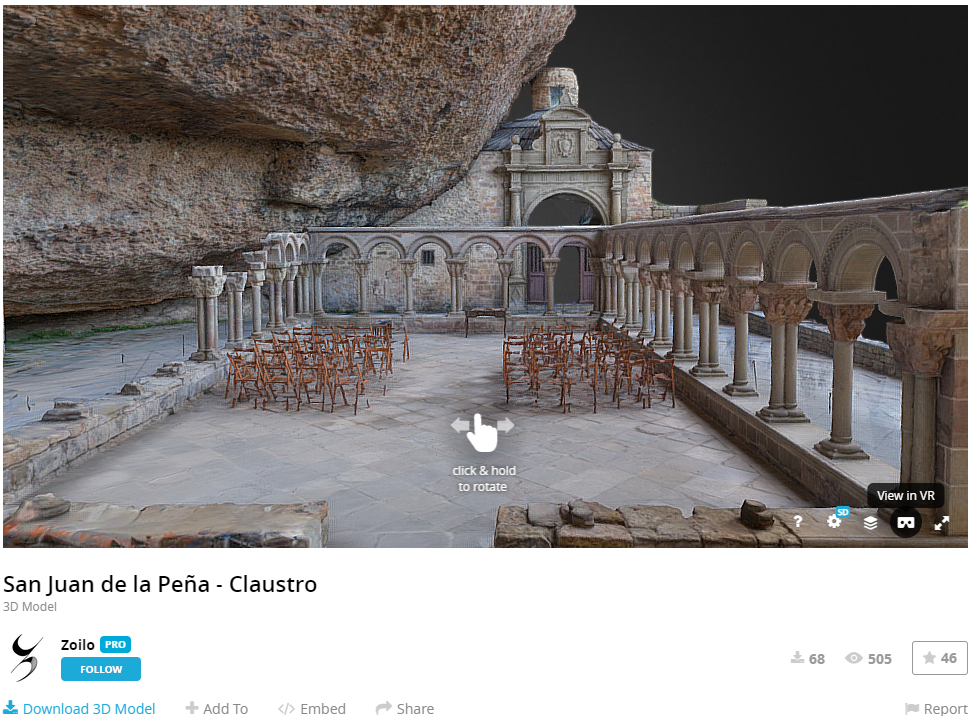 Once you click "View in VR" and put on your headset, you should find yourself on a stage with the object. You can walk around it and adjust its scale up and down for the best look.
One perk of web-based experiences is that they're just a click away. There's nothing to download and install. To explore San Juan de la Peña right now, click the "Play" button below.
From the Sketchfab home page, you can explore popular models. Click the "Explore" button in the upper-left to see relevant categories like "Architecture," "Art & Abstract," and "Cultural Heritage & History". It's a pretty massive collection of models, thanks to the community of people and organizations who create and contribute them. Many of the models are free to view and also available for paid download if you want to use them for a project.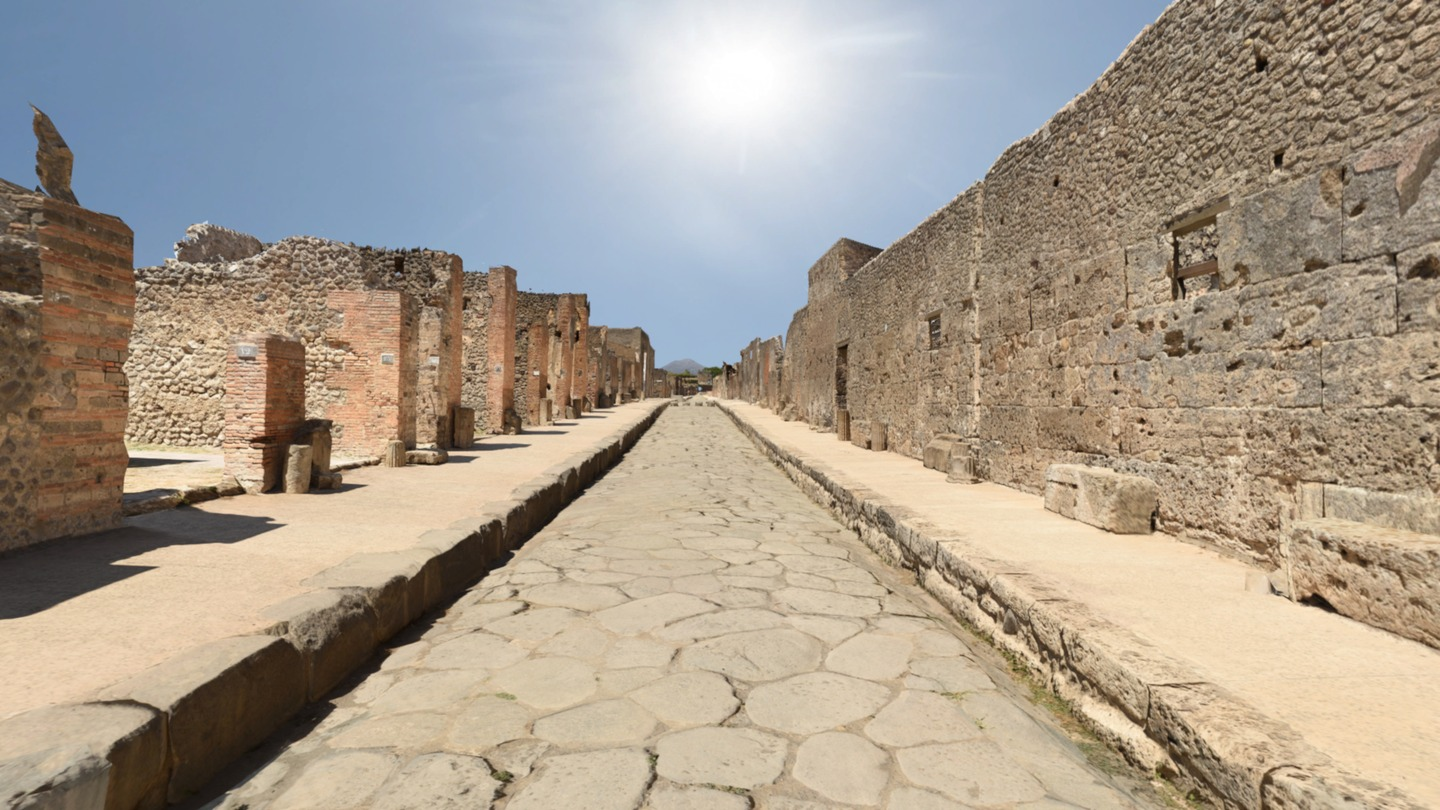 Sketchfab is such a great home for 3D models that many other sites use it for hosting and presenting their scans too. Basically, they're like YouTube for 3D/VR, including the fact that many web sites that need to share 3d scenes and models usually upload to Sketchfab and embed it on their page (as we did above with San Juan de la Peña).
CyArk
CyArk is another worthwhile place to look for content, though much less of it is VR, or even 3D. While Sketchfab has a database of models, CyArk specializes in cultural heritage. Motivated by the destruction of the 5th century Bamiyan Buddhas in Afghanistan in 2003, CyArk was founded to preserve the record of heritage places in case they are someday lost to environmental changes or armed conflict. They partner with various organizations, create some VR experiences, and present information about sites around the world.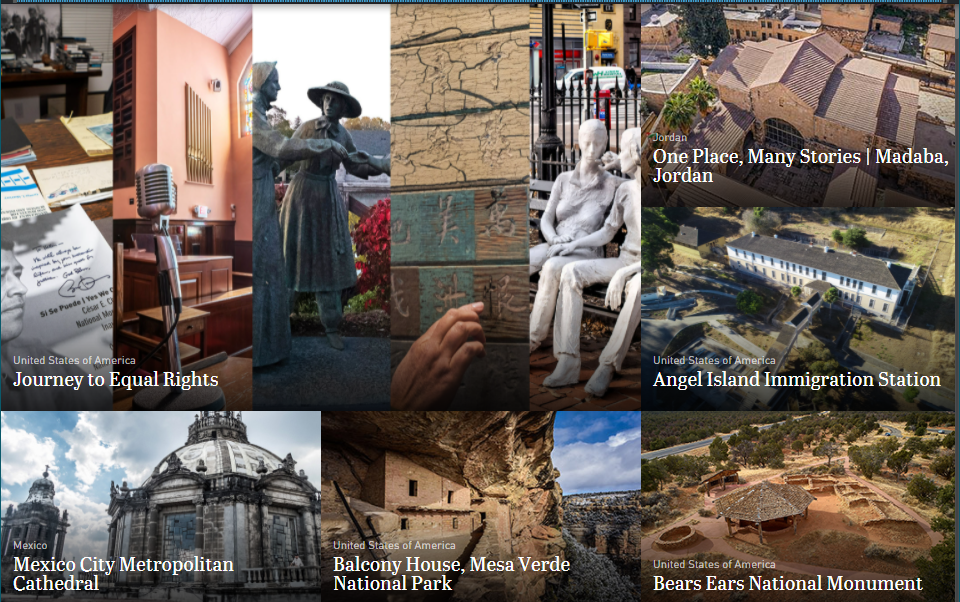 Once you choose a site from CyArk's "Explore" tab, you see the project resources that they've created divided into Video, Exhibit, Guided Tour, 3D Explorer, In Depth, and Lesson Plan based on what's available for each project. Unfortunately, few of the items are actually available in 3D, and still fewer in VR. Guided Tour resources let you look around scenes, often 3D, with audio narration. 3D Explorer presents places and items to explore in 3D, usually with a button to activate VR (these models are usually embedded from Sketchfab so share the same controls). The other resource types are mostly flat, two-dimensional experiences.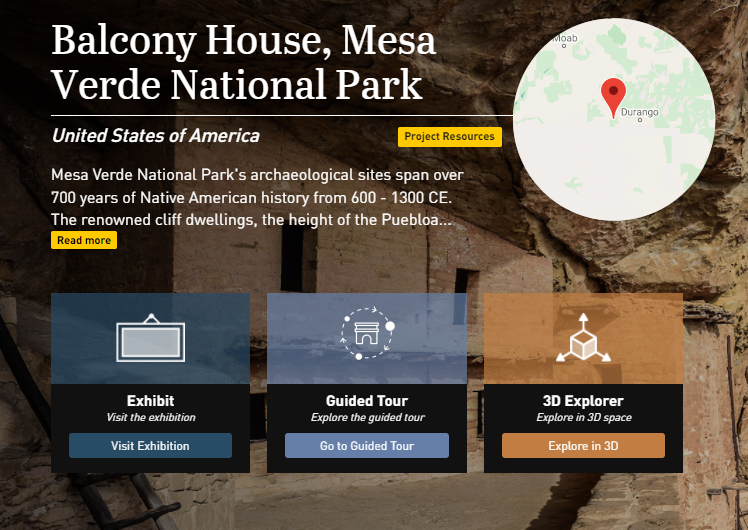 In the image below, we are in a Guided Tour on stop #1, "Historical Background." In this example, it's using an embedded Sketchfab model you can manipulate, while some tour resources are presented using the same technology as Google StreetView, so you can look around and change your position within 360° photos. I like that the tours have real guides, with photos and bio. It's a nice touch.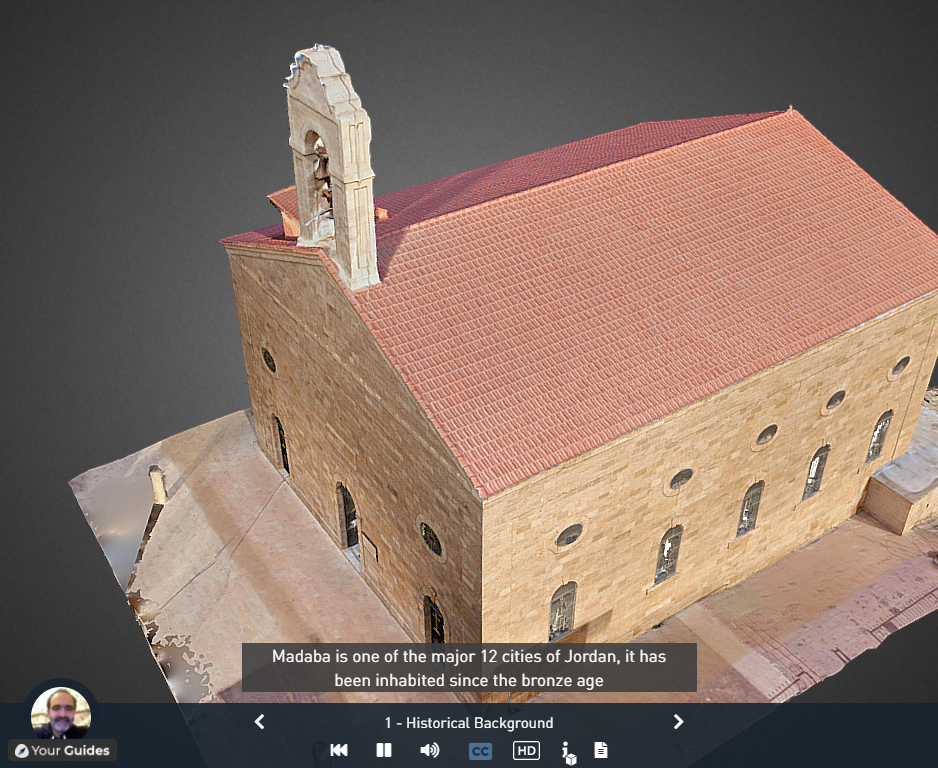 Google Arts & Culture
Google Arts & Culture is an amazing trove of over 200 exhibits and over 2000 items from around the world and across time, many of them in 3D. These culturally significant items include paintings, sculptures, and places. Many of the 3D items are only viewable flat in your browser, but some tours are available in VR. I would highly recommend spending some quality time with this site, both VR and non-VR components.
Google Arts & Culture offers collections that include objects hosted on Sketchfab. You could see the objects directly on Sketchfab, but Google Arts & Culture can sometimes make them easier to find. Other objects are hosted with their own web viewer, which sadly has no VR support.
Google has also partnered with CyArk for some collections. Some of these items are hosted on Sketchfab, and therefore viewable in VR. Some other scenes are viewable using the same interface as Google Street View. This is a nice way to explore, but it's not as immersive as VR.
Believe it or not, many of their actual VR experiences require the Google Arts & Culture phone app (Android, iOS). Even with the app, you need a special kind of headset that you place your phone into. Few people have headsets that support this, so I can't recommend these VR experiences very strongly.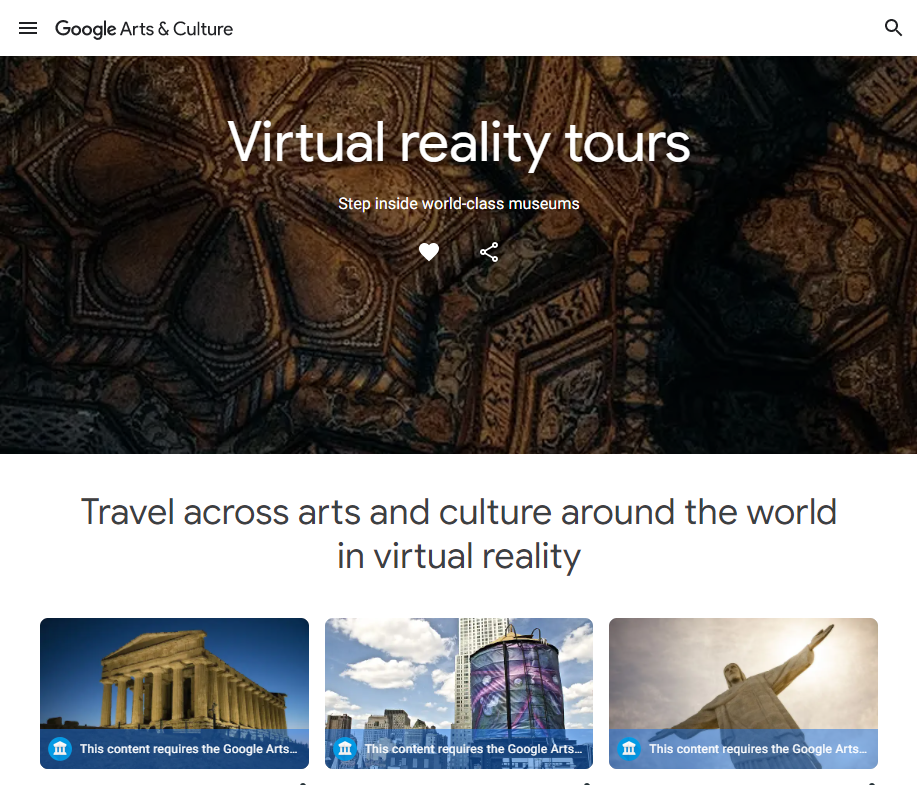 In the end, I recommend exploring Google Arts & Culture in your 2D browser. There's some really amazing cultural content. Just don't expect a wealth of VR experiences.
Matterport
Matterport is known for providing virtual house tours. In addition, they use their equipment to capture heritage sites. Check out their 3D Tour Gallery to see the small-but-mighty collection they have to offer. You can take these tours in the browser with your mouse or in VR with your headset.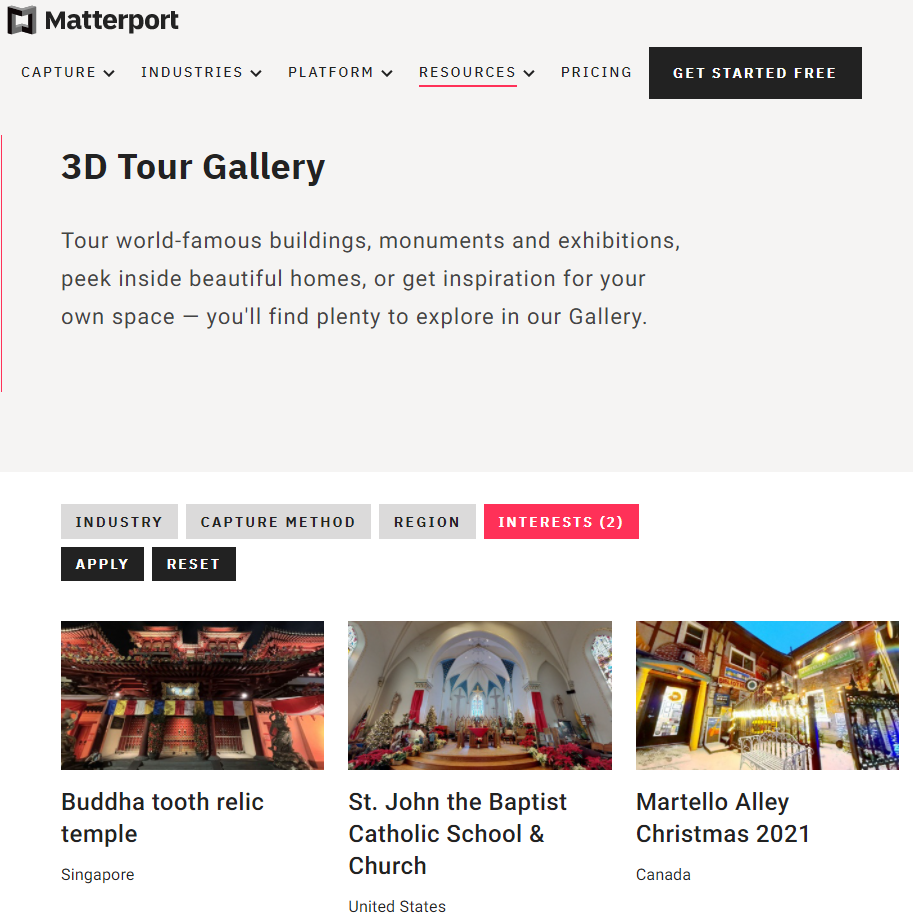 From the gallery, you can apply filters to find places of interest. Once you select a 3D space, you click "Explore 3D Space" to launch the view. As with Sketchfab, you use your mouse to look around in your browser. Then, you can click "View in VR" in the lower-right corner, put on your headset, and get ready for full immersion!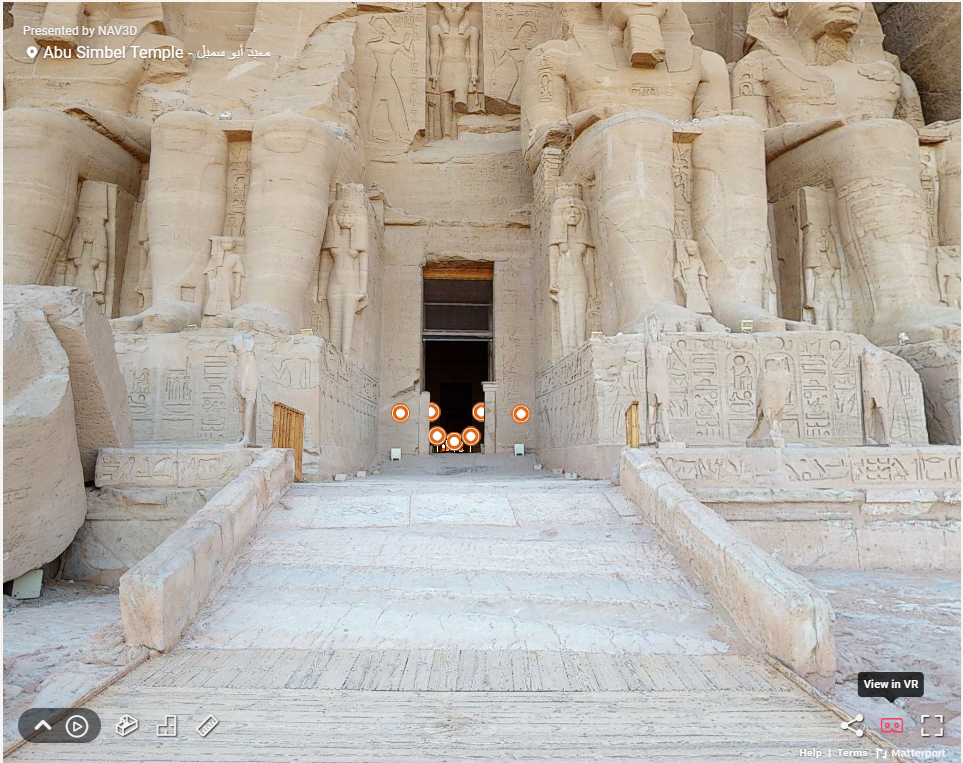 Even though this gallery is really just to advertise the Matterport camera and service so real estate agents will want to use it, it still a nice selection of locations. I think they should push harder into the cultural preservation space since it works pretty well for that.
Summary
As you can see, there are many world sites and artifacts to explore in VR even without downloading or buying anything. The largest selection is definitely on Sketchfab. CyArk provides a wealth of overall context and background. Google Arts & Heritage also provides context, as well as a large amount of categorizing and curation. It's a good resource, just not very strong in VR. Finally, Matterport is a fun option for general exploration.
Have you come across other web sites that offer similar experiences? Sound off in the comments!
---