What's the difference between XR, AR, MR, and VR?
XR, AR, MR, VR, …WTF?
New technologies come out all the time, and it's always difficult to keep track of what's out there and what they offer. In the realm of VR, you're faced with lots of different acronyms that seem to mean basically the same thing. Whether it's in commercials, movies, games, or the news, you're faced with hype and excitement about all sorts of different types of reality. XR, AR, MR, VR… in this article we'll go through them together and make some sense of them!
First of all, here on VR Voyaging, we cover news and reviews relating to exploring the universe from your headset. These headsets include the Meta/Oculus Quest, the HTC Vive, the Valve Index, and numerous other devices. The common denominator to all of these is that they offer virtual reality (VR) experiences. Most of our readers have or are interested in getting a virtual reality headset to immerse themselves in other realities. These other technologies you see or read about may cause confusion, especially if you're looking to buy a headset.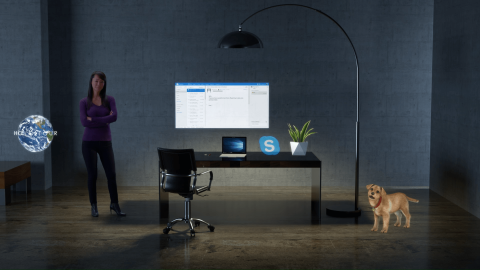 Regardless of the name, the baseline goal for any of these technologies is to be able to experience virtual content in a way that seems natural, without breaking immersion. There aren't any current products that truly achieve that, but it's something to measure against. A high-quality 3D or 360° movie might transport you away in terms of an immersive plotline or visuals, but it's not another reality. Similarly, seeing your speed or navigation details on a heads-up display projects useful information into your world, but it's not immersive.
What is Reality anyway?
The first "simple" question to consider is the very nature of reality. In psychology, there is the concept of subjective reality, which suggests that there isn't even such thing as "real" (objective) reality. Our mind just creates its reality from our perceptions and experiences. At the extreme end, that model means that reality is just the way we interpret electrical impulses. It doesn't require any "real" world. Think of the human prisoners in The Matrix.
This feels a bit over the top, but on a simpler scale, what is a color? Wavelengths of visible light that are absorbed by rods and cones in your eyes. How do I know that the color that I call "blue" actually looks like the color that you call "blue"? We can objectively say that it's the same wavelength, but our mind's eye may see differently.
If reality is what we see and perceive, then how is a dream different from our waking state? It feels pretty immersive to be flying in the air, clouds below me, wind in my ears. It didn't actually "happen" though. Which basically means that no one else experienced it. But if a tree falls in a forest and no one is around, does it make a sound?
Reality can also be subverted through clever storytelling or special effects. We can get so immersed in books that we may later doubt if a memory actually happened or was something that we read. Hopefully, this isn't common for most people, but it's something that can happen. If we suspend disbelief enough, it becomes belief — belief that it wasn't imagined after all.
The continuum of perception and reality
A better way to think about it is as a continuum. On one end, we can talk about "reality" as things occurring outside of us that can be seen and measured by others. The other end has imagination, stories, and virtual experiences. Daydreaming happens somewhere in the middle, while listening to a friend recount an experience is closer to the imagined end. Virtual reality (and similar tech) then is just using technology to move us further on the slider from reality.
Starting from unaltered reality, we move on a scale from low immersion to high immersion. The higher the immersion, the closer it is to feeling like a real experience. Even very expensive headsets don't get all the way there yet. Some companies are experimenting with neural links (interfacing with the brain) and better optics, but we're far away from fooling most people. In the meantime, let's cover our reality options.
XR (Extended Reality)
Just to get this one out of the way first, XR doesn't mean anything specific. It's just the umbrella term for all of these "enhanced realism" options. Anything that we might call "immersive media" or just digital content that uses a first-person perspective hopes to provide the user/player with the illusion that they are present in the experience. This presence is the foundation of VR, AR, and MR.

AR (Augmented Reality)
Augmented reality (AR) is minimally immersive and mostly serves to bring virtual content into your field of vision to assist you with decision making and actions. It's not intended to blend into your reality and therefore is more about convenience than reality.
By definition, AR can be thought of as a heads-up display (HUD) — directly seeing the real world with virtual elements overlaid. Instead of your vision being blocked by screens, you see through lenses to the real world, with transparent screens augmenting your reality with elements such as your speed, language translation, or incoming call details (think Google Glass). The key distinction here is that AR elements aren't anchored to your visual space in a natural way. This could be Imagined as the time of day visible to you in the corner of your eye (like a digital camera display).
Unfortunately, AR is what most people think of as providing hologram-like features, such as the game Pokemon Go. Games and apps that let you anchor an object to your environment technically aren't AR (see MR, below), but due to the term being so misused, it's hard to say if it's worth arguing anymore!
If you search Amazon for something like "AR glasses", you'll find a large number of impressive-looking visors. Unfortunately, they would be quite disappointing if you were expecting to be able to truly augment/supplement your reality. You can play games, watch movies, or even use the internet, but it's just your monitor floating there, nothing is present in your space. The real problem is that many terms are misused, making it difficult to find what you're looking for.
VR (Virtual Reality)
Virtual reality (VR) is a first-person experience that is both immersive and interactive. It replaces the user's actual reality with a simulated reality that provides a strong sense of presence.
If you've got a Meta Quest, Valve Index, HTC Vive, or other mainstream headset, you should be familiar with VR. Generally speaking, it replaces your reality with a virtual one. You can travel, watch media, or play games in a realistic way, but it's in place of your real surroundings. This allows you to travel to real or rendered locations such as buildings, landscapes, other planets, or even inside the human body. You can engage in activities such as high-speed racing, deep ocean diving, or wandering through a haunted house. Since your entire reality is replaced, it can be nearly anything.
With VR glasses, you're looking at screens in front of your eyes. The screens update their visuals based on where you move your head or your body, known as six degrees of freedom tracking (6DOF). You can only see visuals from your immediate environment if the headset shows you what it sees through cameras. This is known as "passthrough" mode and is becoming more popular with headsets like the Meta Quest and the upcoming Apple Vision Pro. More on that under Mixed Reality.
Passthrough mode is interesting in that the cameras capture your surroundings, add virtual elements, then feed them back to you as a unified image. It simulates being able to see through glass to your environment, with the combination of real and virtual elements enhancing the scene with added details. Virtual elements remain correct relative to where you look or move.
MR (Mixed Reality)
Mixed reality (MR) is content that anchors virtual content to the real world to provide an immersive and interactive experience in first person. Elements combine together to form unified environments, akin to the sci-fi vision of holograms.
Taking your reality and mixing in virtual elements, MR would let you shoot aliens in your living room or chat with Einstein in your kitchen. A popular device for MR is the Microsoft Hololens. Again, misuse complicates this term. Microsoft themselves used the term "Windows Mixed Reality", or WMR, incorrectly to refer to VR or AR apps developed for Windows. It made some sense since they had a unified set of tools for developing these apps, but it made it confusing to know the difference.
More and more VR headsets are making it possible to see around you while wearing them ("passthrough" as mentioned above). In this mode, the through-the-lens video of your living room is augmented with 3d models that behave like they're in your space. You can feel like you're in a museum with the works of art on your own walls, have a baby pet dinosaur running around your feet, or even take photos and videos and see them integrated into your surroundings. Imagine walking through a doorway of your own house into an ancient Roman villa!
Summary
Augmented Reality
(AR)
Mixed Reality
(MR)
Virtual Reality
(VR)
Examples
Heads-up display
Pokemon Go
Blueplanet
Optics
See the world through lenses with transparent overlays (Google Glass)
Could be screens (VR passthrough) or see-through lenses with micro projection (like the Hololens)
See the world by virtue of screens in front of your eyes (Meta Quest)
Immersion
Visual elements overlay your reality
Visual elements anchored to your reality
Replaces your reality — everything is virtual (though may integrate through-the-camera images
Hardware needed
Can be used from a phone
Requires a headset for true immersion, but can also run from a phone
Requires a headset
The continuum of reality from low immersion to high immersion
---