Apple gets into virtual reality with the Vision Pro… like only they can!
It's been rumored for some time, but Apple has finally officially announced that they will be releasing a headset early next year. Of course, calling it a VR headset would be too mundane for Apple. Even calling it an AR (augmented reality) headset wouldn't be cool enough for them! If you read their product page, you won't even come across the term "headset." It's a carefully crafted approach to selling the mystique of Apple within an existing product category.
You see, the Vision Pro is all about "spatial computing." This is nothing new, but they do lean into it pretty hard. They only barely focus on games or immersive experiences, instead talking about a new OS called visionOS (it's not the same as MacOS or iOS), running apps in your real-world environment (floating near you), and interacting with your hands (controllers aren't part of it).
Unlike SteamVR, Oculus/Meta, or Windows Mixed Reality, the home environment concept is more about an app launcher in a hyper-realistic setting. The distinction is fairly subtle, but they really aren't marketing the device as an immersion device, preferring to emphasize how it blends apps, collaboration, and reality.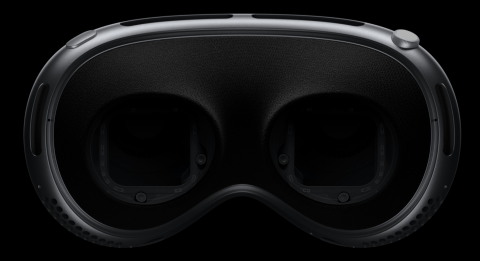 The visuals sound like they may be better than any other headset. A few years ago, they blew the competition out of the water with their "retina" displays on phones. It was really just using a denser screen and scaling their graphics properly so everything could be sharp, but it captivated everyone and definitely helped sales. Again now, their headset has very dense displays for a very sharp image. In addition, they look like they've done a great job at sealing against your face to keep out light and distractions without making it uncomfortable. Every headset attempts that, but they appeared to have done it quite effectively.
They've also gone with minimal external controls similar to the Apple Watch by using effectively two buttons. When well done, reducing the buttons can make things less intimidating. On the other hand, reducing them too much can cause confusion and be its own barrier to adoption. They also emphasize the role of voice in controlling your actions, although that never bodes too well when considering a work environment (unless you're working alone or at home).
Their sensors work in both directions, both pointing at your eyes and at the outside world. They can track where you look to make your interactions more natural (the Meta Quest Pro also has this), and they track what's around you so you (hopefully) can barely tell you're wearing anything. These external sensors also enable you to take photos and videos that retain the 3D depth. This is something I haven't seen on any other headset. You can capture 3D content and view it directly in the headset like you're in a sci-fi movie. This also works to some extent on your current library of photos and videos. I hope we start to see that on other headsets.
One standout feature which could help or hurt the Vision Pro is the addition of a color screen on the outside of the headset. Most headsets not only isolate the one wearing them from their surroundings, but also make you seem less present to others in the same room. When I'm wearing my headset, sometimes the volume is low enough that I can chat with my wife. She never likes it since she feels like she's talking to a slab of plastic (the fact that I can see her using the passthrough doesn't help). The Vision Pro uses the external display to project images of the wearer's eyes so it's more like a heavily tinted pair of ski goggles. It's a great idea, but I'm not sure it won't be its own version of creepy.
Of course, none of this is an actual review yet. I wasn't one of the lucky ones to get a chance to try one yet. My opinions are all based on their own press release, product page, and other references I've come across. I look forward to trying one once they are released, but for now I'm cautiously optimistic that it will be an amazing product. The question is just how many people will be able to justify getting one.
---