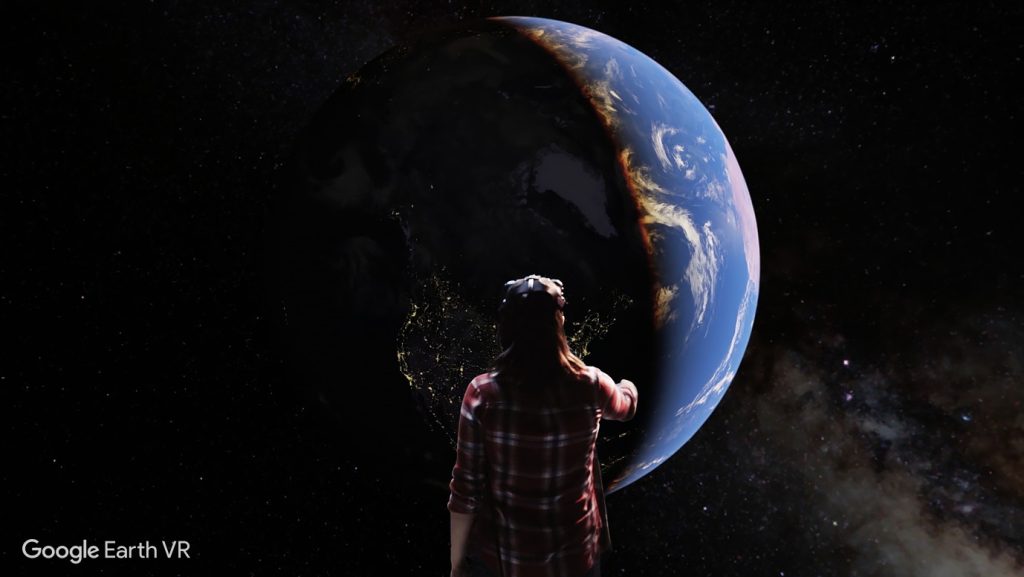 Google Earth VR lets you explore the world from totally new perspectives in virtual reality. Stroll the streets of Tokyo, soar over the Grand Canyon, or walk around the Eiffel Tower. This virtual reality app lets you see the world's cities, landmarks, and natural wonders. You can fly over a city, stand at the top of the highest peaks, and even soar into space. Earth VR comes with cinematic tours and hand-picked destinations that send you to the Amazon River, the Manhattan skyline, the Grand Canyon, the Swiss Alps, and more.

From the product description
About the Experience
Google Earth VR is by now a pretty old title! You might wonder why I'd even bother writing a review for it. Really, for no other reason than completeness. It may be old, but it's held up quite well. I won't even make you read to the end to find out that I love it! If you want to use VR as a way to travel and see things, Google Earth VR is a wonderful place to start.
When you first launch the app, you get a little intro that takes you to a few locations where you tower over the landscape. It shows you its capabilities right away and orients you with respect to controllers and menus. There isn't much to learn, but it's more than just a single click.
I've said in other reviews, my preference is for controllers to be naturally integrated into the environment. Instead, here you'll need to remember to use your left controller or right controller for certain things, and which buttons to press. They helpfully overlay the functions on the controller images, but they may or may not actually match your physical controllers so it might be a little frustrating at first to get the hang of it. I know I find myself suddenly switching to globe view when I'm trying to bring up the menu sometimes. It's not that big of a deal, but it's a shame they didn't design the user interface a little better.
Graphics and Sound
If you're accustomed to the graphics of Google Earth in a web browser, then you might have already seen these views. Not everyone has though. It's really quite striking. You can fully navigate around the real world like an enormous 3d model.
Mountains look amazing. You can look down as a giant or shrink down to human-scale and walk around. It's similar to photogrammetry but using only satellite photos (in most places). This means that you if you get close enough to things, they'll definitely lose details, but it's no less impressive.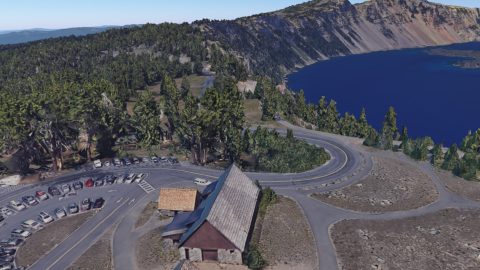 For fun, head to your neighborhood and look at your own house. It may be out of date, but it's still pretty surreal. I was pretty surprised to zoom out a little on my block and realize the full lay of the land. The way the roads come together, the patches of trees, and the slope of the roads all look so much different when you can take them in from different angles and altitudes. It makes you see things differently.
Information Content
Since it's basically just an interactive globe, it's not really a resource for learning details, but rather for getting a better grasp of where things are, the holistic view of a region, and even just the large empty areas on our planet. If you're used to maps as a thing with markers and borders on it, it's very different to just see the land as continuous. There are still labels for cities and countries, but you can also just take in the enormous land masses more naturally.
Navigation and Interactivity
Navigation can take place a few ways. You can just walk around on the ground if you want. You won't get anywhere fast at human-scale, but you can make yourself bigger if you want! You can also fly in the air. You won't feel like Superman, but it gets you around.
You can also use the in-app menu to navigate. There are featured locations, tours of related places, major cities and nature areas, plus you can save places you visit to return to later. You can also search by name.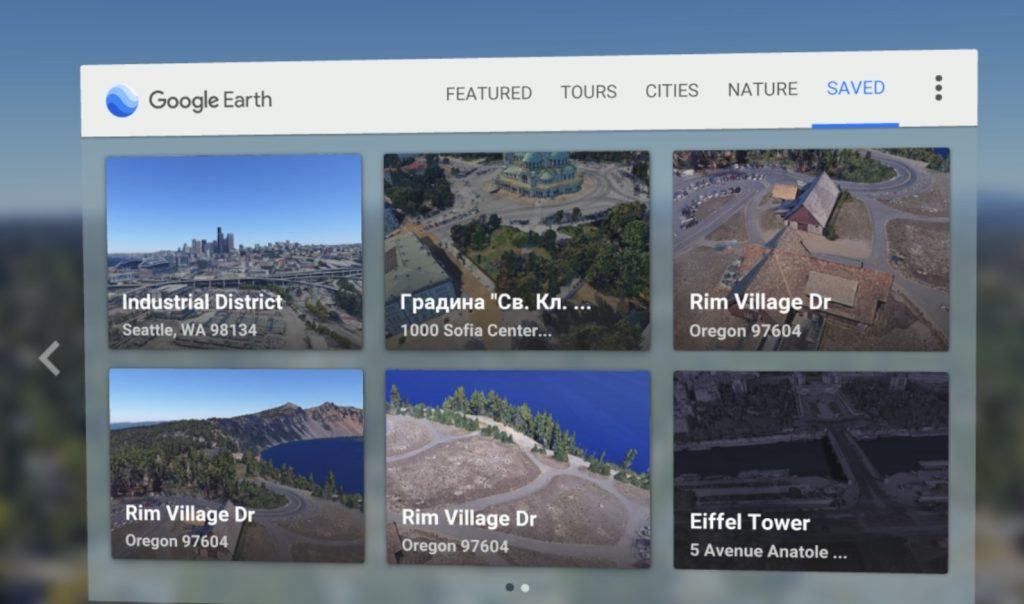 You can switch between ground and globe view to look down at the earth, spinning it, zooming in and out, and even changing day to night. Again, it's really just a lot of fun to get new perspective and learn in a very different way.
Finally, you can look at your controller to see if Street View is available for the location, and if so, to jump into it. At that point, you have spherical photos along with arrows on the ground for navigation. The last time we moved, we used Google Earth VR to get a feel for the new city and neighborhood which worked well. Unfortunately, you can't bring a friend along in VR, but you can still share through the mirrored view on your monitor.
Updates and Support
Unfortunately, Google has abandoned this app. It got an update or two a few years ago after release, but it's just been stagnant since. Fortunately, it's pretty solid and just works.
Summary
Pros
Amazing way to view the earth
Satellite and street view are both available
Cons
No ability to share the experience
User interface could be improved
New apps like Wander and possibly Wooorld (coming soon) have built on what Google created but look more modern. I really like the no-frills approach to Google Earth VR and it's hard to improve on the original! Especially considering the free price tag, there's no excuse not to give it a try.
FREE!
Rating:
Release date:
16 Nov 2016
Installation size:
4GB
Official Site:
Developer:
Google
Publisher:
Google
Supported headset(s):
Language(s):
Player mode(s):
Where to get it:
---