'The Holy City' review — Take a virtual trip to Jerusalem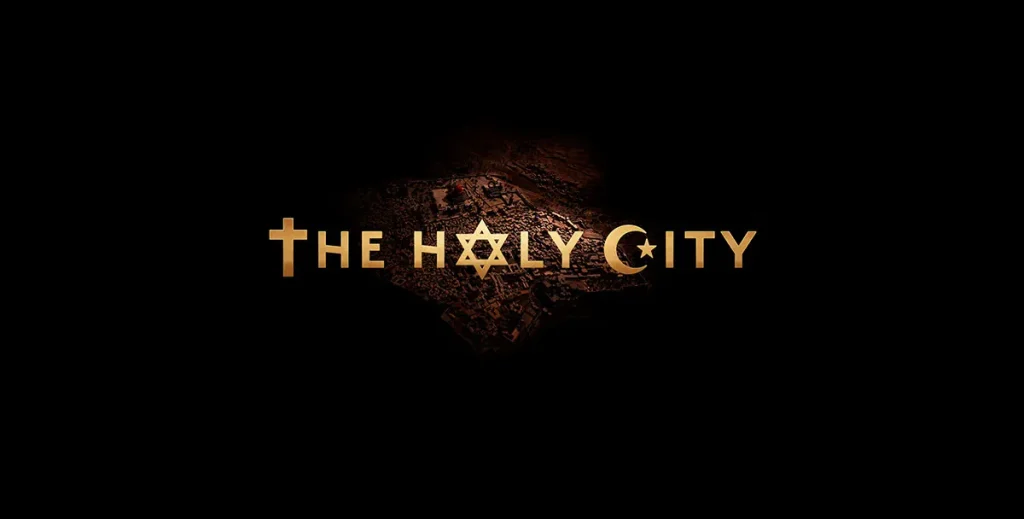 The Holy City is an immersive virtual reality experience that transports participants to Jerusalem and provides access to the most sacred rituals and the holiest sites of Christianity, Judaism, and Islam. With stunning volumetric captures of the holiest sites, you are immersed in Jerusalem, witnessing the timeless rituals of The Holy Fire, Ramadan, and Sukkot.

From the product description
About The Holy City
With a history stretching back thousands of years, Jerusalem, also known as "The Holy City", is a place with special significance to people from all over the world adhering to the three Abrahamic religions: Judaism, Christianity, and Islam. Many people have a life goal of visiting holy sites in Jerusalem (a pilgrimage), but travel is always a luxury, and for US citizens, the region often has active travel advisories.
Even if travel to Israel is impractical for you right now, you shouldn't have to miss out on the experience completely! You can make a virtual visit to the Western Wall, the Church of the Holy Sepulchre, and the Al-Aqsa Mosque and explore them immersively in VR. Keep reading to learn more about how this VR experience transports you to the Holy City and lets you explore the holiest sites.
About the Experience
Coming from the same folks who brought you the excellent Once Upon a Sea title about the Dead Sea, I had high expectations for The Holy City. My biggest complaint with Once Upon a Sea was the extensive use of video with more limited immersive scenes. This app is a better mix of interactive and non-interactive content, plus has a few very cool tricks up its sleeve.
In the initial room where you start, there's a round table with a small model of Jerusalem, the three holy sites, and city gates. There's a very slick looking clockwork metal sort of appearance to everything with sparks and coronas liberally applied. You choose the sequence of sites you want to visit by reaching out and touching them. You can also reach out and spin the table to access different sides.
As you progress through the areas, story elements play out around you. Some show silhouettes of people marching past using shadows cast on the walls, while others use a more futuristic glowing blueprint-like outline to show the progression of the city. I love the use of shadows since historians believe that some of the most ancient visual storytelling took place by making shadows from the fire in a cave. Having the story unfold around you like this is a great application of VR.

Graphics and Sound
Photogrammetry allows many virtual tourism titles to capture every detail and feel very real. Having high quality captures is really a basic requirement these days as you can use a cell phone camera and free software to do much of the capture and processing. For more impressive captures, high-end equipment really adds a next-level quality upgrade.
After you have an environment scanned, the next step is bringing it to life. Adding details like dynamic light and shadows, interactive elements, and animations like leaves blowing by or birds flying past take it from a 3d snapshot to an experience. It's also not uncommon to handcraft or patch up items in a scene to account for defects in the scanning. All of the scenes here show the extra effort of higher end equipment to create excellent results, although it's definitely possible to get too close in some areas. My only real complaint with the graphics were the use of embellishments. I found the glowing and floating embers and other objects a bit distracting without adding enough value.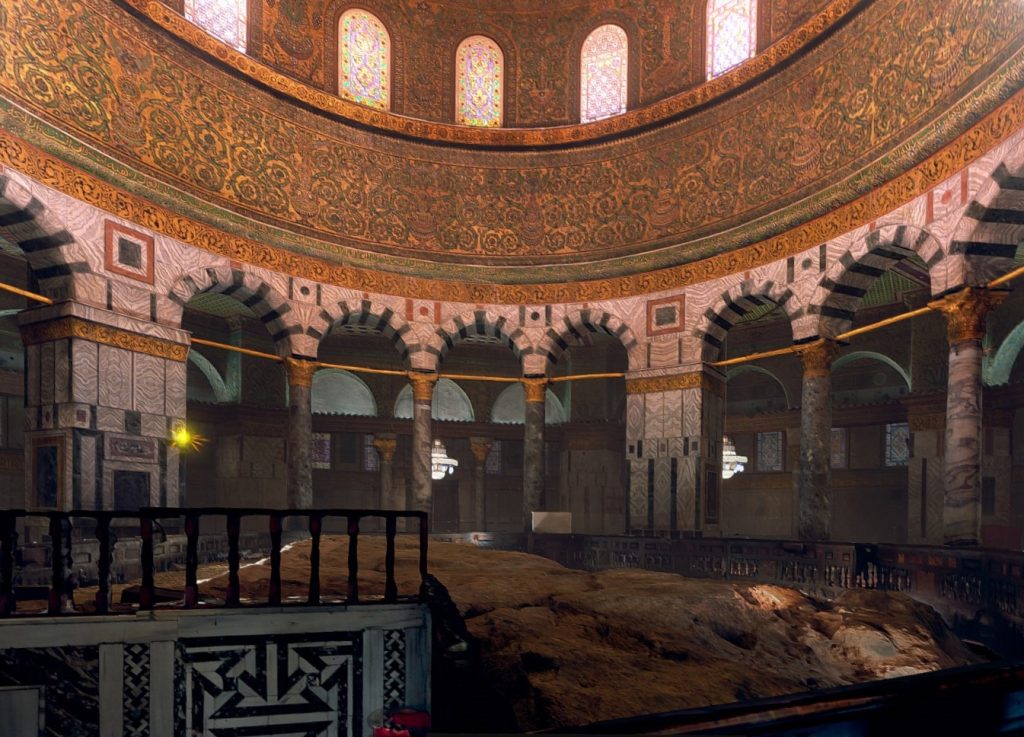 While the graphics in general are great, I was super impressed by the effort that went into some of their video content. Video is difficult to integrate into VR since it's either flat against a virtual wall, or it surrounds you and blocks everything else out. The best way to capture video is photogrammatically, but there's a catch. Walking around a room or using a drone to take hundreds of photos around an area takes time but is relatively easy (if time consuming). Capturing video requires every frame to be taken from every angle — all perfectly synchronized! Once that's all processed, you have a video clip that you can walk around and view from any angle or insert into another 3d scene. It's what we always imagined holograms would be like!
The Holy City uses this process, also called volumetric video, to capture presentations by a priest, a rabbi, and an imam (no, that's not the setup for a joke). You start in certain environments, then they appear and start talking. They are full-scale and captured from every angle, so have a very realistic appearance — nothing like video game characters. There's a certain shimmeriness to them as a result of the capture process, but it doesn't detract from the effect. Although they appear in front of you talking, you can walk around them and see them from every angle. Since it's video instead of 3D character models, they will continue facing forward. It really is how holographic recordings are shown in movies. If you like this effect and want to see more, you can check out some other VR titles using the same technology such as Luxe Sine and Sky VR: Hold the World.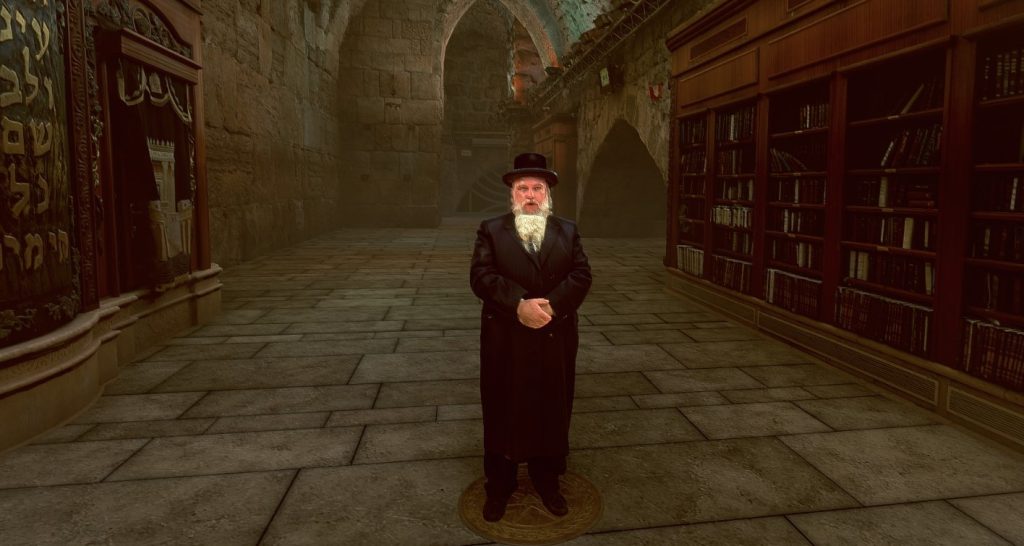 At different points, there are also the "traditional" spherical videos commonly seen in other VR experiences. In The Holy City, the spherical videos are where you can see events of each of the faiths. I'm not a big fan of spherical videos in general since the scale is almost always off and if I move my head more than an inch or two, I feel queasy. Still, flat videos look out of place within immersive experiences, and volumetric videos just aren't practical in every situation. Fortunately, the quality of the video is good.
Information Content
There's a good amount of information about the areas delivered through the three religious leaders and integrated into the videos. There's not much to read here — it's almost all audio and video. The content provides information on the history of the religions and the area's significance in addition to providing some context around the current political realities of the region. Hearing from each of the faith leaders is a good touch. All speak of peace, tolerance, and acceptance of everyone (stated goals of the app). It feels, perhaps, a bit idealistic as we all know that those adhering to the faiths don't always live to those ideals (back to those travel advisories mentioned above), but it's good hearing it reiterated by these leaders.
The inclusion of all three faiths in the same title is a good move, but I'm not sure I like how it's done everywhere. Being able to select from various sites on the map to enter the many areas provides a good amount of learning, but it's important to note that this isn't just an academic subject. Religion and faith are deeply held aspects of peoples' lives. It's always important to be respectful to avoid offense.
Unfortunately, I think it goes a little bit too far with inclusivity by merging the three symbols (cross, Star of David, and star and crescent) into a single symbol. It then goes a bit further by using that symbol everywhere as part of your guide. In the Church of the Holy Sepulchre specifically, we are able to enter the holiest site in all of Christendom. As a Christian, going in there with the symbols of other religions doesn't feel right. Some may feel differently given the virtual aspect of everything, but if you're using the app to serve as a personal pilgrimage, you may not like it.
Navigation and Interactivity
The whole app is more gamified than Once Upon a Sea, but it's certainly not a game. There are graphical flourishes and items to move around, but I'd call them mini-games at best. Think of them more like "activities." You need to complete them to move to the next area. Fortunately, the games aren't difficult, although simply figuring out the mechanics isn't always as straightforward as I'd like.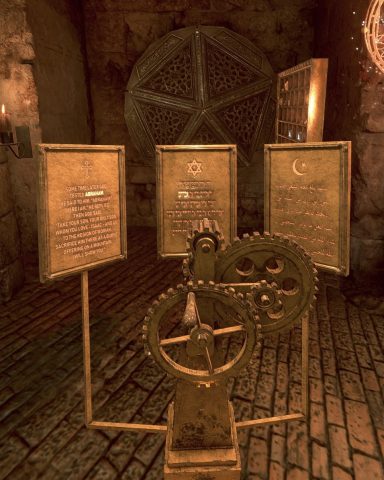 Getting around is mostly linear, although your "home" space is an interactive table where you can select which city gate or holy site to head to. Once you've selected the spot, you travel through the immersive spaces, do the mini-game interactions, learn from the speakers, and see some 360° videos.
The interactivity is fine mostly, but you "unlock" each religion by going through all of the content, then receiving some sort of pendant. These pendants then are added to the navigation table to allow you to proceed. Receiving a virtual game pendant as an abstract token would be one thing, but "physically" picking it up as an item embedded in realistic renditions of holy sites may seem sacrilegious to some.
Updates and Support
The Holy City doesn't seem to have been updated since initial release, first on Viveport, then on Steam. Fortunately, I had a pretty solid experience with no crashes.
Summary of The Holy City
Pros
Beautiful graphics
Volumetric video is rare and a treat to see!
Story telling in the navigation room is masterfully done
Cons
Mini-games don't add very much and distract a bit
Symbols of other religions within holy spaces could offend
For some, the flourishes may detract from a "spiritual pilgrimage" experience
I really liked The Holy City, although I do have a few observations. As I see it, there are three main points of focus:
A virtual pilgrimage (VR tourism)
An academic exploration of world religions (VR documentary)
A mystical experience set in Jerusalem (VR entertainment)
As a pilgrimage, you can get up close and personal with sites that may be difficult to reach, and certainly are never empty. This is great, but there are people who may not like the juxtaposition of other religious symbols over their religion's sites. Some might even prefer an experience that allows them to exclusively explore their religion of choice, although that is almost certainly at odds with the creators' intentions.
As an academic exploration, there is much to learn from exploring the spaces and watching the videos. It's like documentary, except that you are inside of it. I really appreciate the work that went into creating the content and feel like it's accessible to a wide audience.
As a gamified mystical experience, I'm not sure who the audience is. The effects are visually dazzling, and perhaps hopes to attract people who are less interested in religion, but I think they end up confusing the topic.
By combining these three points of focus, I find it a bit disjointed. It's not enough to take it down more than a star, but it's worth pointing out. To be fair, the app description refers to it as a "gamified and interactive documentary experience… to cultivate understanding by exploring our shared values and fundamental similarities." I think the end result is just what they set out to create, but straddling genres like this may not be appealing to everyone.
Overall, I think the creators did a good job of presenting information that is neutral and informative. With just these few caveats, I would recommend this to anyone seeking to learn more about the Holy City and the three major world religions.
Disclosure: Product received for free
Rating:
Release date:
5 May 2020
Number of locations:
7
Installation size:
31GB
Official Site:
Developer:
Holy City VR inc
Publisher:
Holy City VR inc
Supported headset(s):
Language(s):
Player mode(s):
Where to get it:
---