'Wander' review — A great way to tour the earth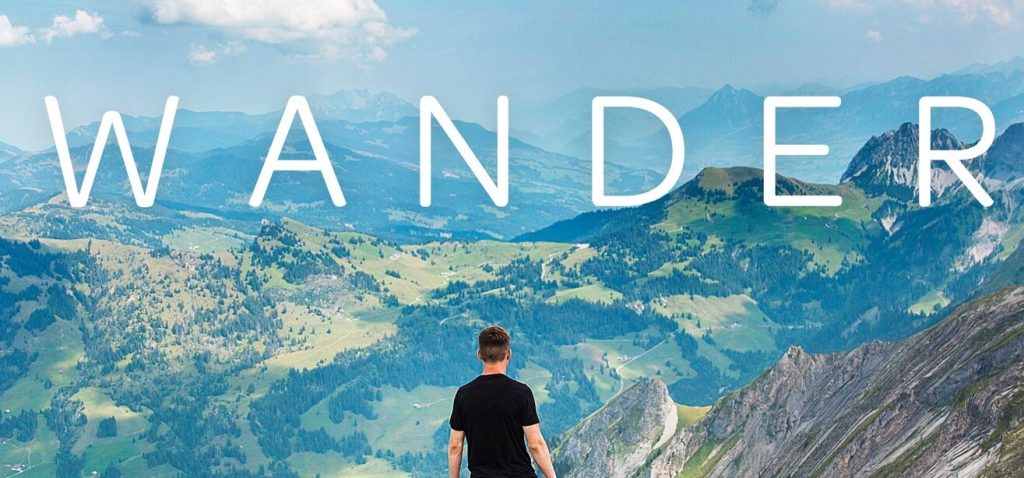 VR Voyaging has three keys to give away for Wander, courtesy of Parkline Interactive! To enter, just leave a comment at the bottom! Winners will be chosen at random on March 23rd, 2022.* UPDATE: Winners announced here
Wander the world openly through the magic of VR. From the comfort of your living room, you can teleport almost anywhere in the world – whether you wish to walk across the London Bridge, stroll the gardens of the Taj Mahal, or witness the enormity of the Great Pyramids of Egypt – unlimited exploration awaits!

From the product description
Who hasn't ever dreamed of being able to travel anywhere in the world in an instant? Until we have that reality, we have Google Maps. When Google Maps first came on the scene people were blown away. They weren't the first mapping service, but what they offered was higher quality and easier to use. As they innovated with satellite imagery and later Street View, they revolutionized how we see the world. Keep reading to learn how Wander lets you explore the world via Google Street View right from your headset!
About the Experience
Wander is a fun way to see locations around the world with some degree of immersion. If you've used Google Maps in your web browser or on your phone, you've probably seen Street View before. Even in a flat version on your monitor, it's pretty amazing to be able to see the actual view on a road or path.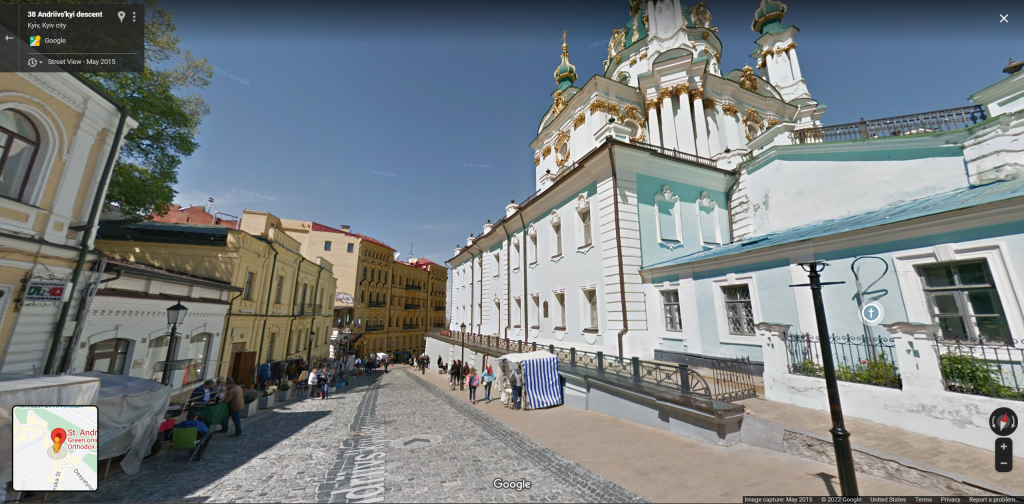 Wander is more than just map exploration though. You can set favorites, search by voice, and even get together with friends to share the experience.
When you first launch it, you'll get a nice tutorial presented as text and images on cards in front of you. If you look around, you'll see you're already in a map image, not just a generic menu screen. I highly recommend reading through the tutorial cards, especially since the controls aren't super intuitive otherwise. The controls are easy enough to remember once you go through it once or twice, but don't make it hard on yourself by skipping the help!
After the map, you're presented with a larger card with a search box, a map, and other tab labels below. I recommend tapping the microphone to search instead of typing since virtual keyboards are never fun. The map has standard controls for zooming, satellite view, jumping to your location, etc. You can point and hold your button to drag the map around or click to jump to a spot. The blue areas indicate where Street View is available.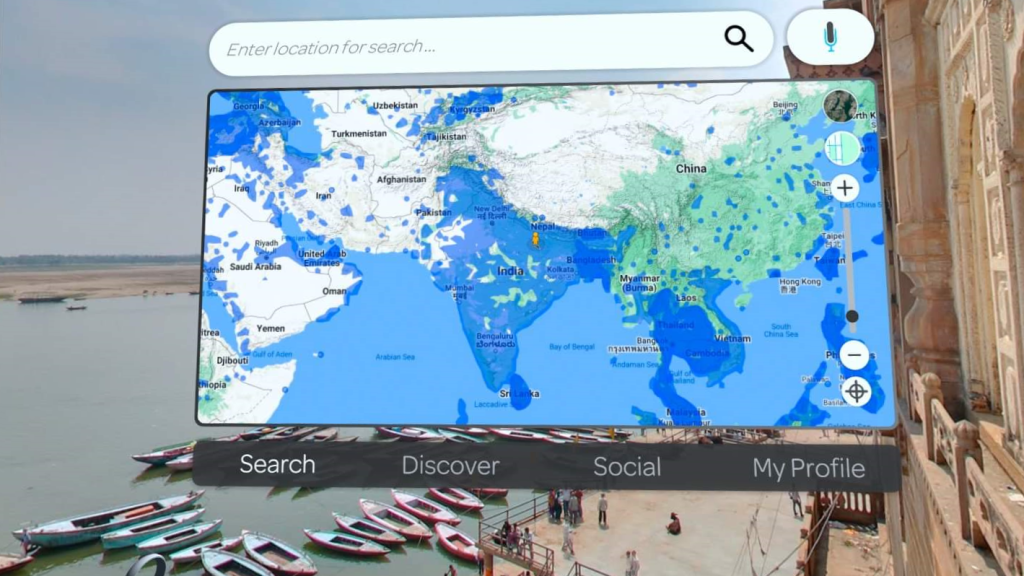 One complaint I had here, is that there are lighter and darker blue areas (ignoring the water!) with no explanation that I saw as to the difference. I believe that the blue areas are simply more densely captured. If you click an area without Street View available, nothing will happen. This seems obvious, but when you're zoomed out it may appear to be available when it's not actually at that exact point. There really should be a message indicating that there's no imagery at that point.
Even better would be to have it automatically select the nearest imaged coordinate if it's super close. It happened a number of times that I would click a blue area and have nothing happen, so I thought I was clicking wrong. Then I'd zoom in several times until I could see street level and it was clear that my click was probably in the middle of a block rather than in a street. The usability could be improved a bit here.
The Discover tab has a large collection of locations of interest to explore, including the International Space Station! The scale is off, so you'll feel tiny, but it's still a fun spot. There are collections from various countries and specific locations. It's well worth checking these out to see a great variety of places around the world. They are all things you could find on the map (excluding the ISS!), but having a curated collection is quite handy.
The Social tab lets you hang out with other friends as you travel. You can often find public meeting rooms you can join, or you can host your own room in public or private (invite-only) mode. In the room mode, you can voice chat with each other, point at things with your hand (your avatar gets simulated arms and hands based on where your controllers are), and travel. Travel works by tagging a person to follow, then you jump with them to new places. It would have been nice to have a group mode where anyone can click on the map, and everyone follows.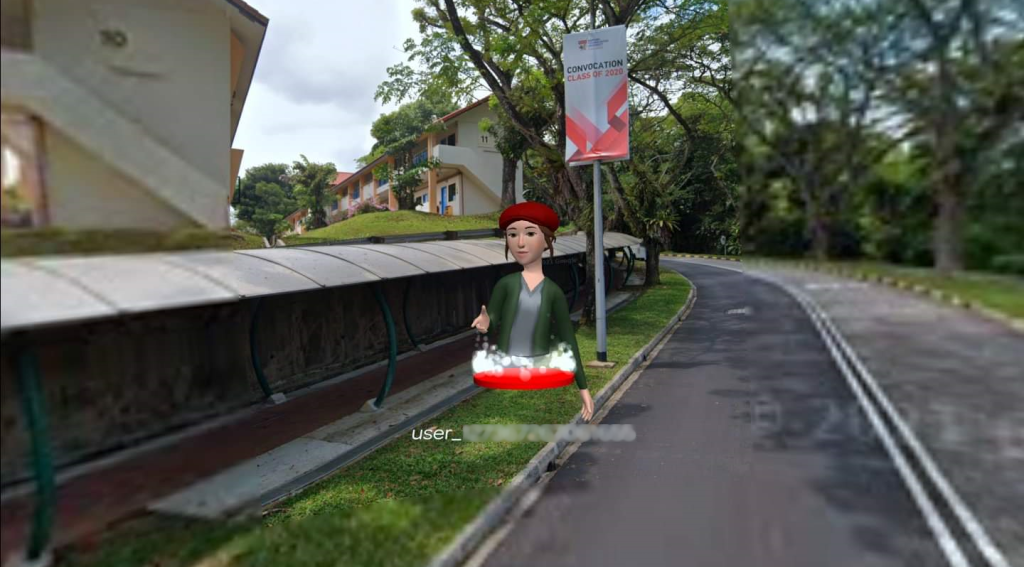 Finally, the My Profile screen lets you see your favorited locations and view your avatar. Being able to favorite locations is very useful. Your avatar is taken from your global avatar, so there is a button to go to the standard Oculus avatar manager if you want to make changes. You can also manage app settings here and see what the different buttons on your controllers do.
After exploring the various menus and options available here, you can press B or Y to hide or show the panel at any time. Once it's gone, you can look around and enjoy the scene.
Graphics
There are two types of images you'll see: Google Street view and user contributed. Either way, the images are 360° photo spheres. The official Google images come from their custom hardware they send around on cars and people. The user-contributed images can be taken with any 360° camera such as the Ricoh Theta SC2 or offerings from Insta360 (no endorsement intended). I usually don't love VR experiences based on photo spheres, but I'll excuse it here since it lets you explore most of the planet with real images!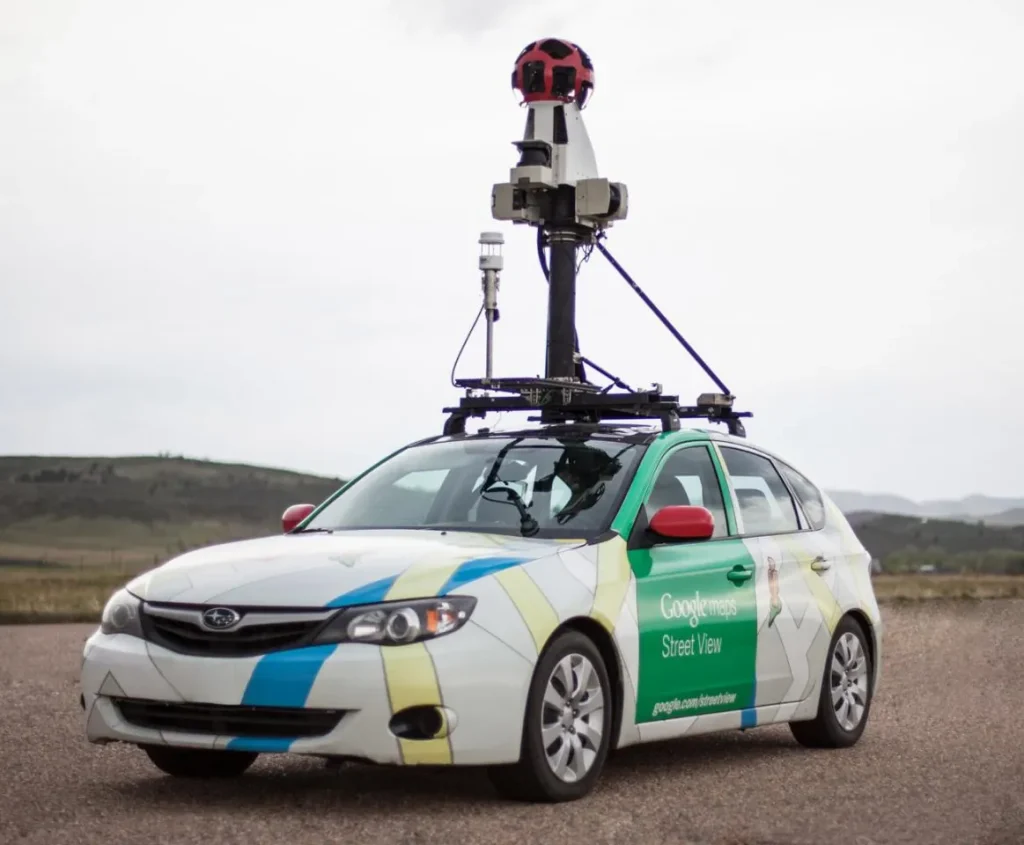 If you've ever seen Google's 3d map views, it's important to note that this isn't the same. The photos are spheres but are not three dimensional. Google themselves made a Google Earth VR experience a few years ago which let you walk around the earth like a giant, but they haven't updated it in years. It's also not available on the Quest store, although you can use Oculus Link to play it from your PC if you get it for the Oculus Rift or SteamVR.
Unfortunately, since every movement requires grabbing the imagery from Google, you'll likely see some inconsistencies for loading time like everything else on the internet. Street View images usually pop up pretty quickly. Other times I would jump to a location and the view would be blurry for several seconds while the data was transferred. Being immersed in a blurry photo sphere can be pretty uncomfortable (my wife felt disoriented and could feel a headache coming on). Based on the information in the tutorial, this was probably from user-contributed photos, which is why you can choose to disable those if you want to.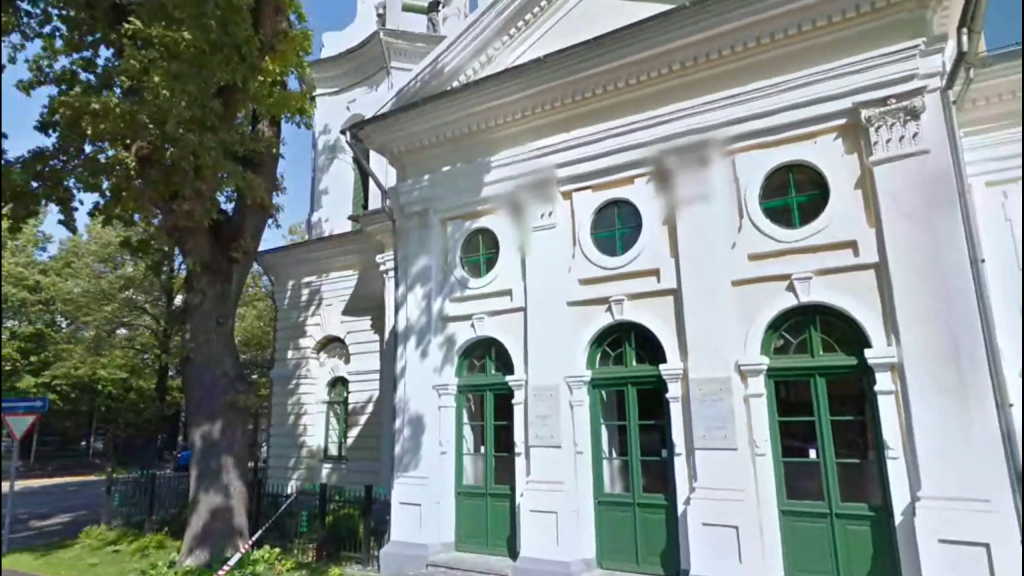 Interactivity
Most interactive control in Wander comes from the navigator interface seen on your left controller. This provides buttons around a flat round map. You can use these to see nearby points, jump to a random place (anywhere on earth!), add the current location to favorites, and a few other things. It's a lot of buttons, and they aren't necessarily obvious. I think I might have liked a different layout for the controls.
It's nice to be able to hold the map in your hand, but you can also choose to use the larger map mentioned earlier. Options are selected by pointing with a beam from your right controller. This same beam is used to pan around the map, zoom in and out, and to select a location to visit. This part works fine.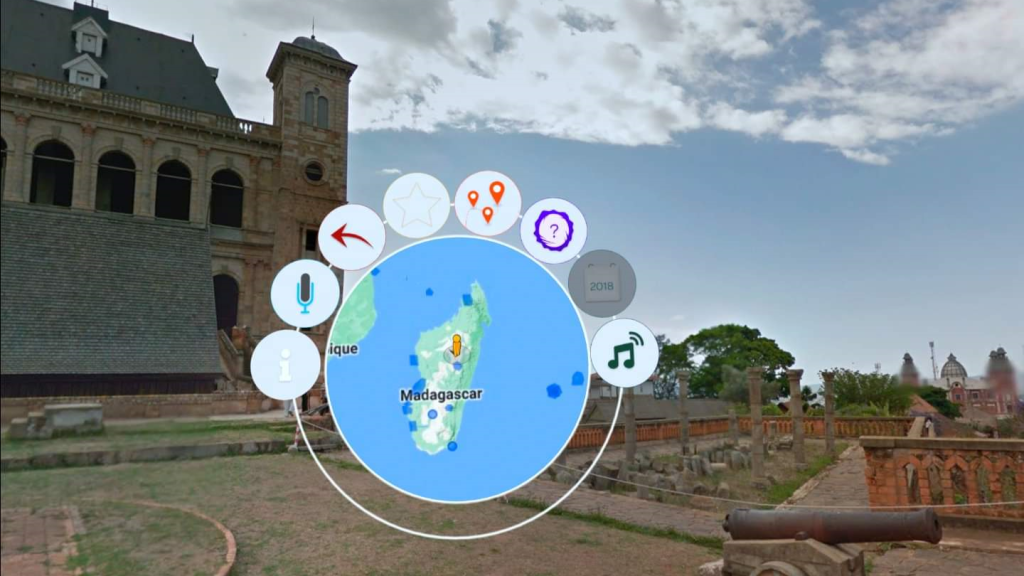 The round points on the map represent the user-contributed photo spheres. These provide a different experience compared to the other blue blobs which indicate Street View coverage. When you visit the Street View areas, you can click arrows on the ground to follow the road or path, but user-contributed images aren't linked together like that. This isn't Wander's fault though, it's just how Google does it.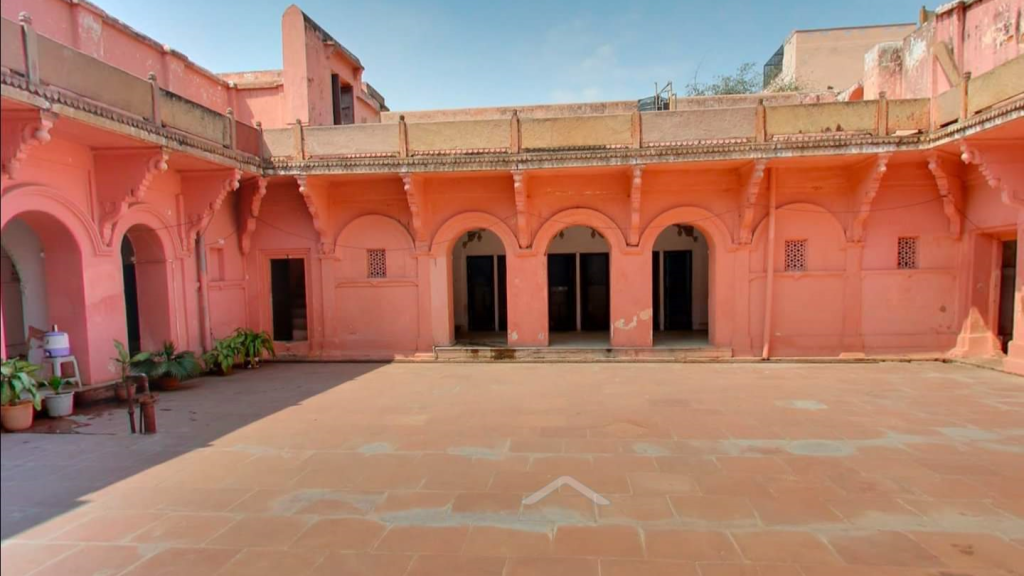 Information
This isn't an educational product, so there isn't much for information in general. Since Google has descriptions of most points of interest, Wander lets you see this information from your in-game navigator interface when you view nearby points of interest. There isn't usually very much information, but it's something anyway.
Future Potential
Wander is in ongoing development, so I expect to see new features added with time. I could imagine some improvements to map navigation and perhaps more social features. I'd really love to see them integrate 3d map data too, though that would be a pretty big deal.
Summary
Pros
Nice way to explore Google Street View in VR
Great collection of famous and notable locations
Social features let you tour the world with far-away people
Cons
Clicking on the map can be frustrating until you zoom in
Possibly a tad pricey
Wander is a good app for exploring the world. The current price ($9.99 at time of publish) seems a little steep, but the social features alone may make it worth it since there aren't many multiplayer exploration apps. The user interface is well done, and the inclusion of curated collections really provides a lot of value. It will be interesting to see how (and if) they adapt and compete with the upcoming Wooorld title. At this point, Wander looks to have a better user interface, plus it's actually available! If you have a Quest and want to see the world, it's probably a good choice for you.
---
Giveaway Fine Print
Winners will be chosen at random and multiple comments will not increase your chances of winning. Drawing will be held on Wednesday, March 23rd, 2022. VR Voyaging takes no responsibility for key activation in specific user account geographic region. No purchase necessary. You must be present on planet Earth to win. Good luck!
Disclosure: Product received for free
Rating:
Release date:
21 May 2019
Installation size:
409.5MB
Official Site:
Developer:
Publisher:
Supported headset(s):
Language(s):
Player mode(s):
Where to get it:
---