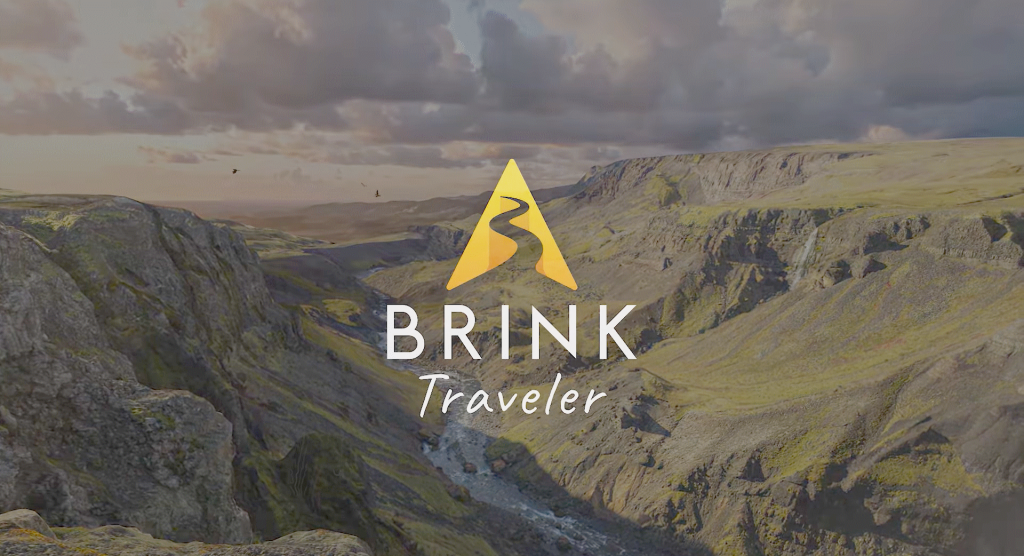 Ever wanted to visit Antelope Canyon? How about Death Valley? BRINK Traveler gives you the chance to travel to places of natural beauty without ever getting on a plane. If you like the idea of getting multiple locations from the same experience, keep reading.
About the BRINK Traveler Experience
BRINK Traveler is more than just a way to visit a natural location; it's a whole collection of location experiences that give you information to get more out of it.
When you launch BRINK Traveler, you start out standing on top of a cliff looking out at Horseshoe Bend. A narrator tells you how things work and fills you in about where you are.
When you are ready, you can bring up a menu to choose other places to go. Each destination appears somewhat like a postcard. Some details about the place appear on another card above. As you swipe through the postcards, the info card updates to reflect the location before you decide to travel there. If it's your first time visiting, you'll need to wait for it to download. Each location is around a gigabyte in size, so the faster your internet connection, the less you'll have to wait!
Throughout the experience, you are standing in a photorealistic environment with full freedom to walk around your space. The bigger your VR play space, the more natural it feels, but you can always teleport to move beyond your physical constraints. Stand at the end of the cliff to feel a pretty convincing sense of vertigo!
Locations, locations, locations!
BRINK not only brings you multiple locations, but also multiple spots within some of the locations, for a total of 32 spots across 22 locations. For example, in one of the desert locations, you can go to two spots by descending into a small valley and climbing to an alcove. Offering multiple spots is a great way to expand locations, because it would be unreasonable for the developers to capture miles of terrain.
Current locations include:
Initial release (9/2021)

Horseshoe Bend
White Pocket
Mount Morrison
Mount Whitney
Alabama Hills
The Wave
Arches National Park
Death Valley National Park (North & South)
Antelope Canyon
Crystal Crag

Update

Lone Pine Peak
Cirque de Gavarnie
Goblin Valley
Alabama Hills

January 2022 Update (v1.1.0)

Glen Canyon
Corona Arch (Arches National Park)
Mesquite Flat Dunes (Death Valley South)

Winter 2022 Update (v1.3.0)

Pulpit Rock (Norway) – Two spots
Ulsanbawi (Seoraksan National Park, South Korea)
Mount Sunday (New Zealand)

Bryce Canyon National Park – Two spots
Pilat Dune (Dune du Pilat, France)
Sand Dune Arch (Arches National Park)
Settings
In addition to the location selections, there are a good number of general settings to choose from. This experience supports an impressive number of languages (see the details at the end of the review). It lets you change subtitles, music, haptics (whether or not your controllers should vibrate to indicate touch), and a very welcome set of comfort options.
Comfort
Comfort is a crucial part of getting a VR experience right. Since virtual environments are usually bigger than our physical spaces, at some point we need to glide in a direction or teleport to a distant spot. Some people have no issue with the mismatched signals of their body—seeing smooth motion in VR without feeling motion cues from their inner ears—but it makes me feel sick to my stomach, and I often end up with a headache too. Comfort options can help with all those unpleasant side effects.
Since BRINK Traveler involves so much walking around on uneven terrain, it allows you to customize how you want that motion to feel. You can always turn your head in VR, but if you want to save time or make sure you don't trip on a cord, you can instead hit a button on the controller to rotate your point of view. I can handle this movement in 90° increments, but the smooth movement is not fun for me.
Overall, the right set of options can really make a difference for your comfort and enjoyment. I'm personally able to use BRINK without issue thanks to its configurability.
Graphics
The graphics are superb. I think you could be forgiven for thinking that screenshots are photos from the real places. The locations are captured in very high quality (hence the large download sizes) and really help you feel present.
An experience like this only works if the captures are done right, and they definitely are here. Every direction you look, the immersion is deep. BRINK Traveler really is the best way to experience these places without, well, literally traveling to the brink.
Information
As you swipe through location postcards, you see an information card above each postcard. The info cards remind me of national park information boards with some scrapbooking elements thrown in. Each card displays the date of capture, a few photos (perhaps taken while capturing the scene for the app?), some narrative, and a map. The map is actually three-dimensional, which is a very cool use of the VR medium.
In addition to this card, when you enter each location, a narrator reads the content to you. As you discover points of interest, additional details are narrated, and a photo is displayed.
Interactivity
There's a small amount of interactivity in the form of rocks that you can pick up and throw. Not a necessary feature, but it's always fun to throw rocks, so I'm not complaining.
The navigation and menu options are presented as a virtual wristwatch on your left wrist. I really like apps that present actions near your body. It's just so much more natural to integrate the user interface this way. The alternative is to memorize the buttons on your physical controller.
You can do three things with the watch: touch the face to bring up the information board about the current location; press the gear for settings; and touch the moon to switch between day and night. I love this last feature! It feels so different to be in these places after dark. I haven't seen the day-to-night feature in any other experience, so kudos to the BRINK team.
In your right hand, you have a compass. Hold it out to see cardinal directions. It also points you toward other features, such as points of interest and secondary spots for travel nearby. Very slick.
You can also take pictures whenever you want by holding your controllers out in front of you a certain way. This is a nice feature in theory, but something's missing: you! No selfies in VR. Also, the camera motion looks easy enough in the instructions, but in practice I had to try a few times to get it to work. If you do manage to take pictures, they will appear in your scrapbook.
Future Potential
Since I've bought this experience, several additional locations have been released. The team is clearly continuing to actively develop it, so it's getting more and more valuable!
The location selection screen includes places that are coming soon. Currently the queue includes Patagonia, Pilat Dune, and Lone Pine Peak. Keep up with their updates on their news page.
Summary
Pros
Great set of locations
Photorealistic views
Continued additions
Cons
In-app camera isn't very intuitive
I really don't have anything bad to say about BRINK. It's a great app with a gorgeous collection of natural beauty primarily around the USA to enjoy. The fact it's under active development makes it even more impressive and increases its value. If you like to visit natural places, especially state and national parks in the US, you'll love BRINK Traveler.
Disclosures and footnotes
We may earn a commission for purchases using our links.
Deals and Discounts
Quick Facts
Rating:
Pricing:
PAID
Category:
Release date:
9 Sep 2021
Number of locations:
13
Install size:
2GB
Official Site:
Developer:
Headset(s):
Language(s):
Play mode(s):
Where to get it:
---