'Blueplanet VR' review – The next best thing to a holodeck!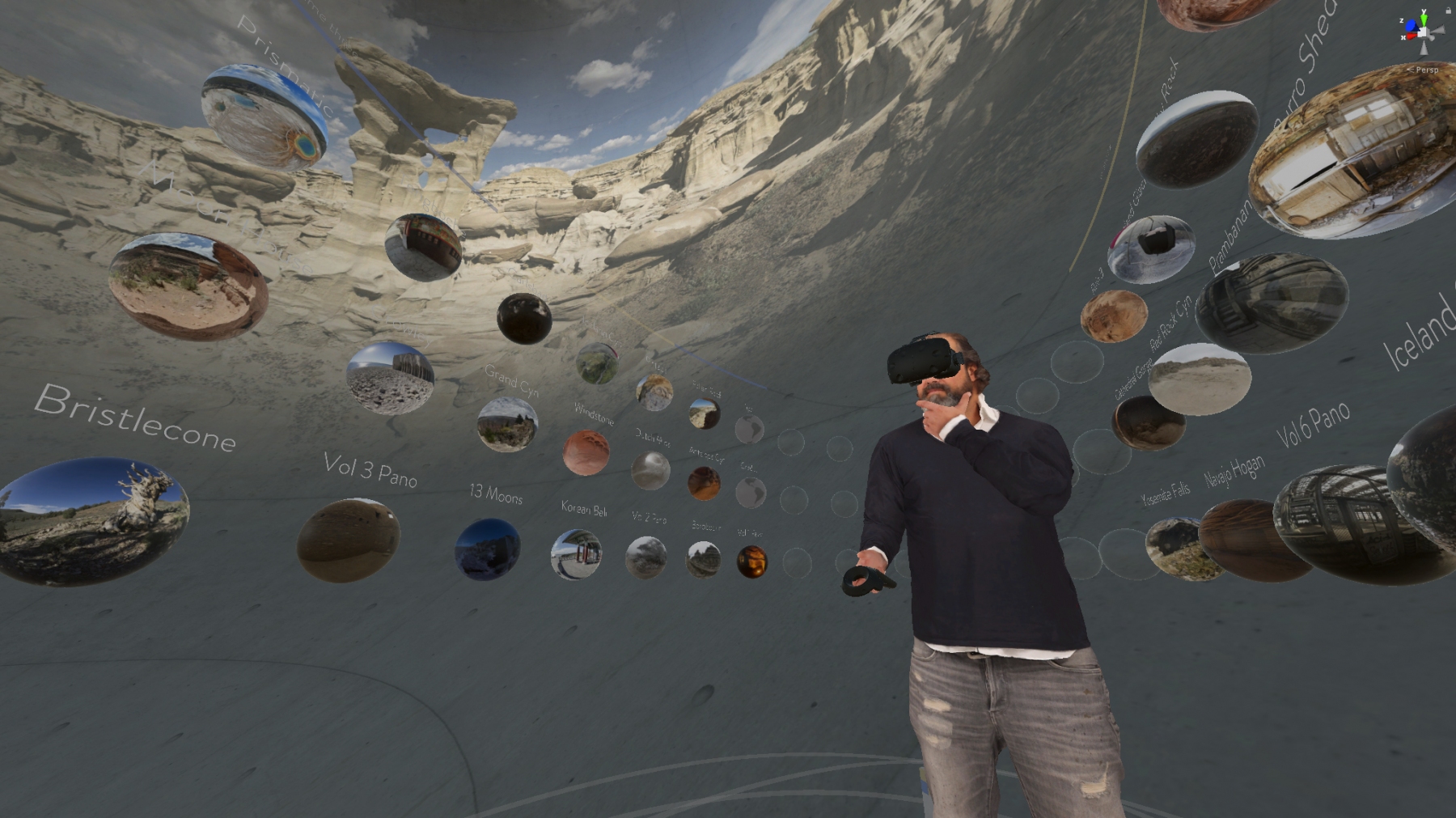 Blueplanet VR is a curated collection of over 40 volumetric experiences of powerful scenic and cultural heritage locations worldwide, ranging from Borobudur Temple in Indonesia to Bears Ears National Monument in the southwestern US. With a high level of photogrammetry execution and art direction, BPVR offers the viewer a strong sense of presence and open exploration within these remarkable locations.

From the product description
I've dreamed of having a Star Trek-style holodeck for years, but so far, we're not quite there yet. While there are a few places around the world that use a number of projectors to simulate a holodeck, they're not very accessible, and they're more like standing inside of a spherical photo.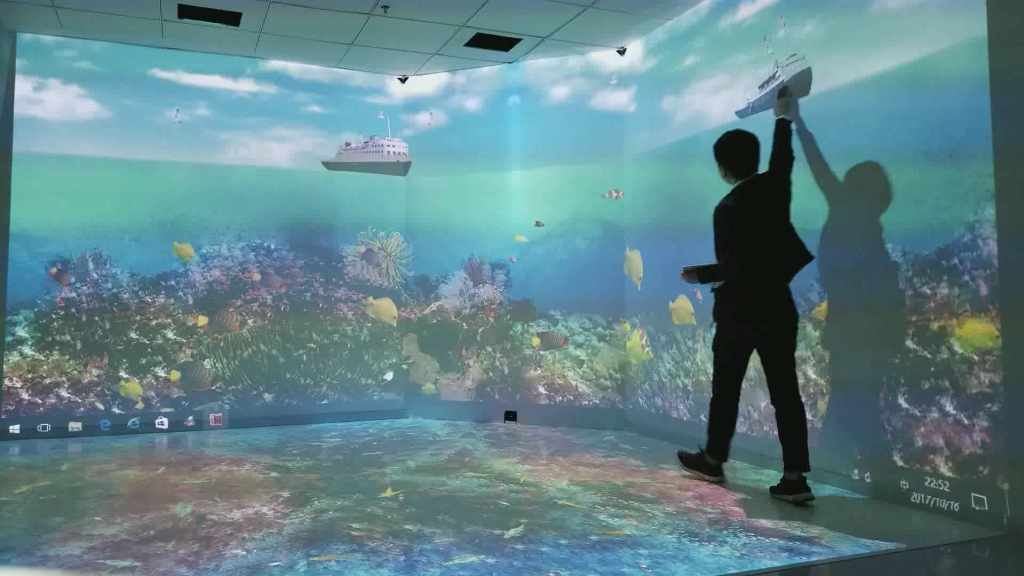 Real immersion lets me stand life-sized next to a wall or doorway, and even walk around an object and look at it from all sides. There are a number of experiences that immerse you in a given location, but few with as much variety as Blueplanet VR. Keep reading to learn more!
About the Blueplanet VR Experience
When you first launch Blueplanet, you are standing in an open room with an information board in front of you. There are only a few things to know before getting started, so take the time to read it or you might be confused once you're in a scene. Once you're done with this, you can simply turn around to see all of the locations laid out in front of you.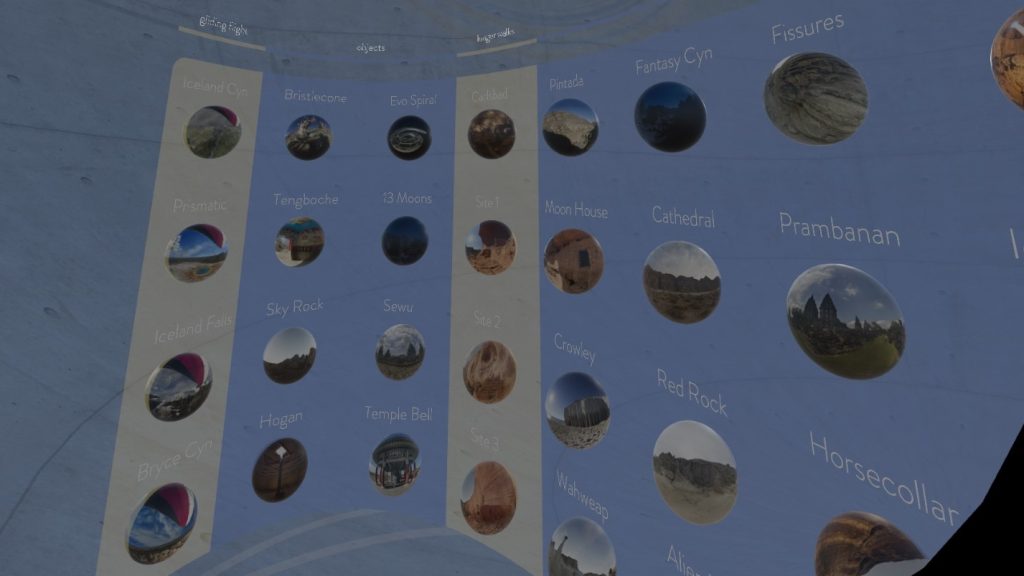 Selection is made using the photo spheres around you. It's interesting seeing the images presented as spheres since typically 360° photos place you inside. Unfortunately, they seem to just be flat images that are warped. It would have been an interesting touch to make these "thumbnails" themselves be 3d, like looking at snow globes.
Locations are grouped into a few categories so you can choose from volumetric scenes, photo spheres, and flight sequences. This is handy since you may have feelings of discomfort in some types of experiences (such as flight) so it's nice to group them separately. Overall, I think that using spheres with the title displayed above works well.
The highest quality, most immersive locations are the 40+ volumetric/photogrammetric scans. These are captured as still photographs from a large number of angles and then reconstructed into a scene you can walk through. The photogrammetric process is detailed more in a previous article. In short though, it requires taking hundreds of photos, then processing and optimizing everything back in the studio. It's a lot of work and takes a lot of time.
The other 30+ locations are captured as photo spheres with 360° cameras. The photo sphere snapshots are high quality and surround you, but you can't move around much without feeling uncomfortable since the camera has a fixed point-of-view.
The flight scenes have you high up in the air in a hang glider. There's a blue line in the sky to follow and you can steer somewhat and change your speed. I'm not completely sure how they captured these since you are able to move around in your glider to some extent. This wouldn't be possible with a simple video. If you struggle with nausea during VR forced movement, as I do, flying high in the air usually works much better than gliding along the ground. If this still doesn't work well for you, you can ignore this category and still have plenty of land-based experiences to choose from.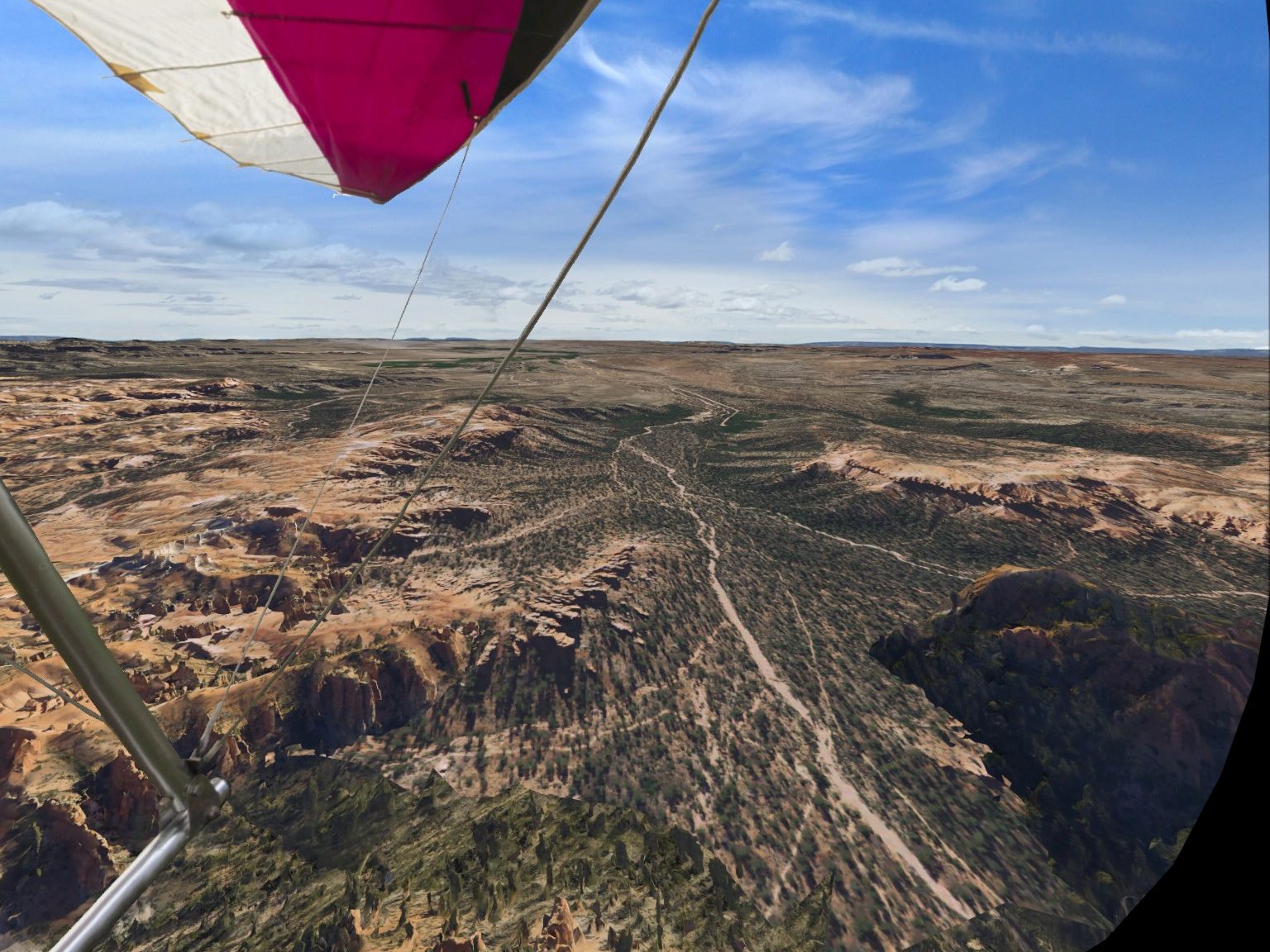 Once you reach out and make your selection, you wait a few seconds to load and are then transported. It really is convincing. You can see cave dwellings, mines, canyons, waterfalls, and so many other places. It's an enormous collection so you can really spend some time exploring. Unlike flipping through photos, you can walk around and try many different angles (for the volumetric ones anyway). You can get closer or stand farther back or walk around to see other angles.
While in a scene, you can toggle black-and-white mode (I'm not sure why) or change the scale of the models (make things bigger or smaller around you). Moving is via physical walking or teleport, and you can click floating glass spheres, when present, to change viewpoint. I did experience some glitches with being able to teleport to areas outside of a scene. It's easy enough to get back inside though, and if you have difficulty figuring out how, you can just exit back to the menu.
Graphics
Graphics throughout are amazing. These are very high-quality scans and the attention to detail is evident everywhere. As you bend down, look around, or walk toward elements, everything looks quite realistic. I think if you had legs and a body in VR, it would truly feel real. The panoramas and spheres are less realistic since they are a fixed point of view and can only surround you — you can never get closer — but they are still high quality given the capture method.
There are a few little extra touches like birds in the sky, but they could liven it up more with things like clouds and water. BRINK Traveler has done a great job with this type of detail (even simulating darkness), and Blueplanet VR would do well to add similar flourishes.
Information
When arriving at new places, it's always nice to learn something about where it is and why it's significant. In Blueplanet, scenes have a dashboard with icons for seeing the location on a map, seeing the entire location as a miniature in front of you (I love this!), help, and more details about the spot. You are greeted by an information card above the dashboard, and you can recall it when desired. There is no voice narration, but I didn't miss it.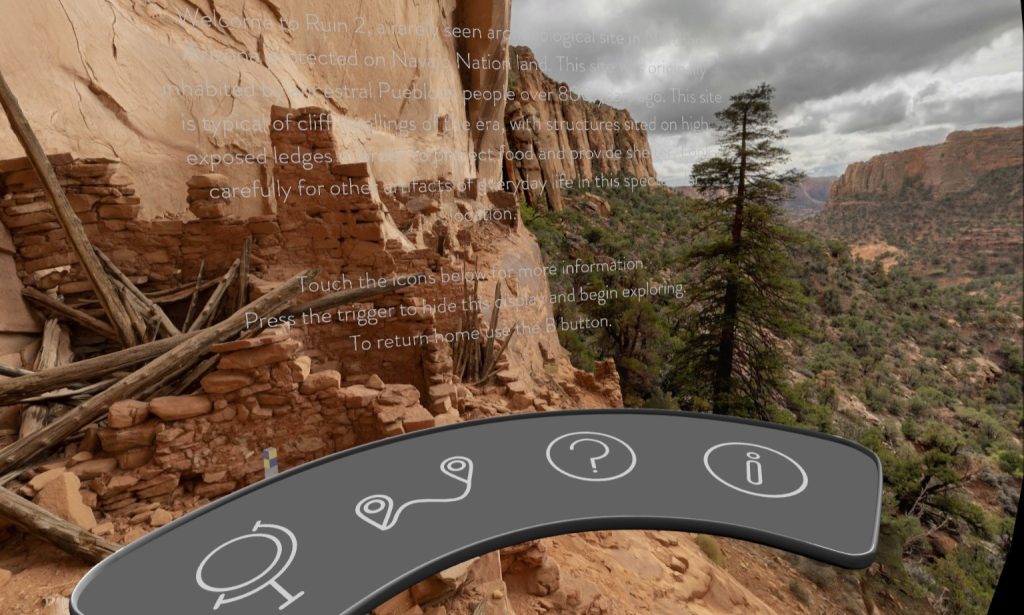 I love having the map view here. BRINK Traveler does this as well and it helps to make the place feel more real. It's not just a pretty view in the desert, it's some ruins in the north-east corner of Arizona. I could visit them in real life if I had a chance.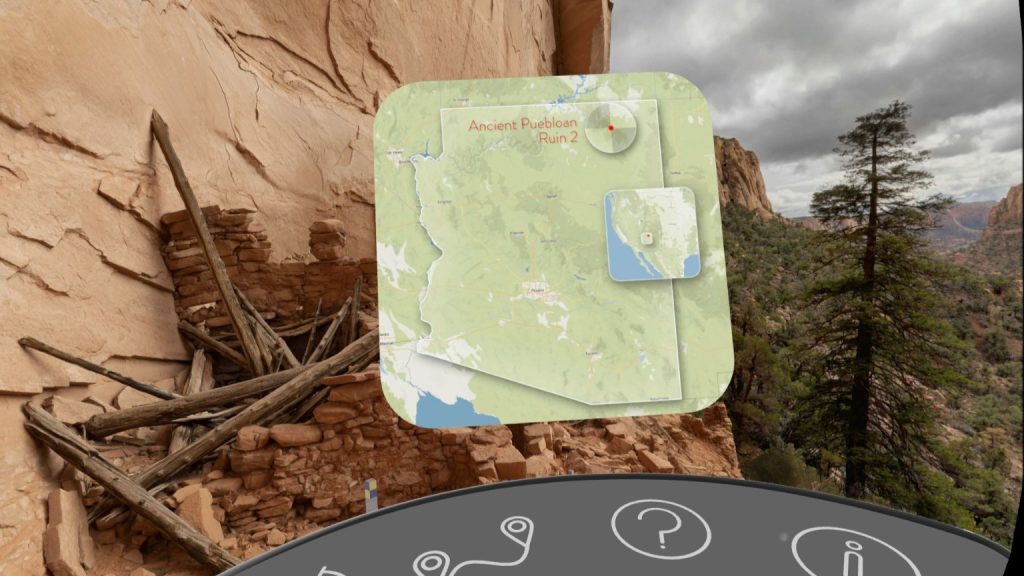 I thought I had explored all the locations already, but in my last session, I realized that from the Buddhist temple I could link to a monastery area. This took me from a volumetric scan to a 360° view but included a 2d video floating in the area with more imagery of the place. I'm not sure how many locations have that feature.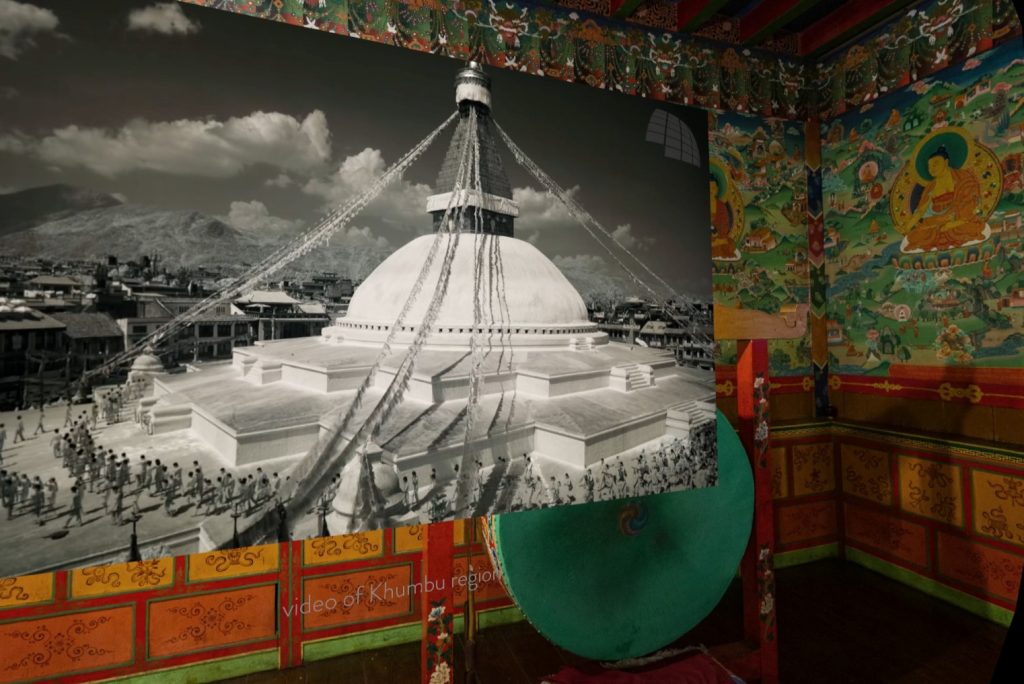 Interactivity
The scenes themselves aren't interactive, in that there are no items to touch. You can move around, change to alternate viewpoints, and change color and scale, but nothing within the scene itself. It might be a nice extra feature to provide artifacts in some scenes, but since the focal point is the location itself, it makes sense to keep it simple.
Future Potential
I've owned this title for over a year and have been delighted by new content updates several times. They're actually up to volume 6, plus they've improved the user interface from time to time making it better and better. Their web site still says that future updates are planned, but I'm not sure if that's still accurate.
Blueplanet VR Summary
Pros
Photo-realistic surroundings
Wide variety of locations around the world
Opportunity to see inaccessible places
Cons
Somewhat awkward selection screen (you'll get over it!)
Some teleport glitches
I really can't say enough in favor of Blueplanet VR! It's got a huge selection of locations to visit, and the capture quality is uniformly high. I love that they release additional content periodically and hope that they make even more. Even though it's a bit pricey as far as these experiences go ($24.95 at time of publish), it's well worth it for the quantity of locations and the quality of the work. If you still aren't convinced, there's a demo available that lets you explore four scenes. Check it out!
Free demo available!
Rating:
Release date:
16 Jun 2020
Number of locations:
40
Installation size:
17GB
Official Site:
Developer:
Publisher:
Supported headset(s):
Language(s):
Player mode(s):
Where to get it:
---