Stonehenge VR Sandbox review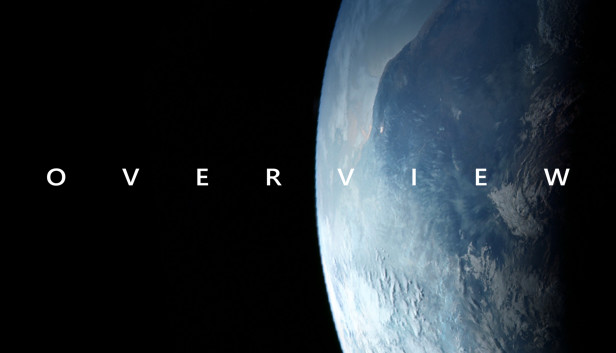 Stonehenge VR began its journey as a profound learning experience, enjoyed by thousands of families, when it originated as one of the first room scale VR exhibits on display in a museum. […] This VR experience includes narrated voice overs, interactivity, and animations that will give you a new appreciation for its fascinating history and beauty as you travel to the world-famous prehistoric monument in Wiltshire, England.

From the product listing
I would love to see Stonehenge someday. Unlike some sites, there isn't really much to see. It's a bunch of rocks! But I'd still like to experience the awe of seeing those huge stones that were moved into place thousands of years ago. It's fun to picture it in its original state and to think about how it might have been used. Was it a burial site? A place of worship? A community center? Until I can visit, I love that I can check it out in VR.
Excavations have shown that Stonehenge is thousands of years old. Human remains have been found underneath. Not only does the site include the stones that we see, but tunnels and passages once led from the site to nearby areas. I'm in awe of the magnitude of the effort involved in finding these giant stones, carving them, transporting them, and putting them in place. Humans have done some pretty amazing things.
About the Experience
Stonehenge VR Sandbox is more than just a walk around Stonehenge. Added features are always nice, but these particular features are a bit strange. You can choose between Museum mode and Sandbox mode. You must complete Museum mode before you unlock Sandbox mode, so the developers' odd choices are inflicted upon you before you can freely explore in Sandbox mode.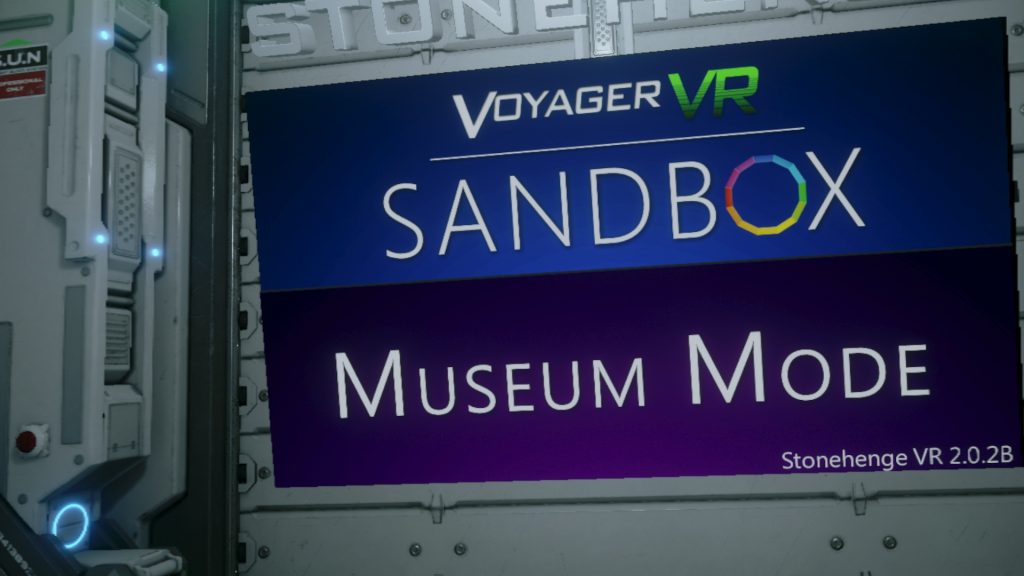 You need to listen to a few messages and watch several clips on how to get around before you can really do anything. It's a good idea to orient the player to how the controls work and what to expect in the game, but this process takes longer than I'd like.
This introduction explains the controls for the currently dominant style of controllers (used by Valve Index, HTC Vive, and Oculus Rift). Unfortunately, if your headset has different controllers, you may need to experiment to see which buttons on the controllers actually work. I had some trouble with my Windows Mixed Reality setup.
The aesthetic is a very confusing mix of futuristic and historical. For the introduction, you find yourself inside some sort of sci-fi hangar or shuttle bay. There's no reason given. It just is. You can try out your virtual camera (taking in-game pictures with your controller), and practice picking up and moving items. You might wonder why some things appear on screens and some objects float in an experience related to ancient history.
After the introduction, you teleport to the end of the hangar, a giant door opens, and there's a short walkway you traverse to get started. The lights fade, and you think you're about to see Stonehenge. But no, this is not to be. Instead, it stays dark, lit inadequately by torches. While you see some stones, you're not actually at Stonehenge yet. But wait! There's a table with a few small bricks. They look a little like the monument!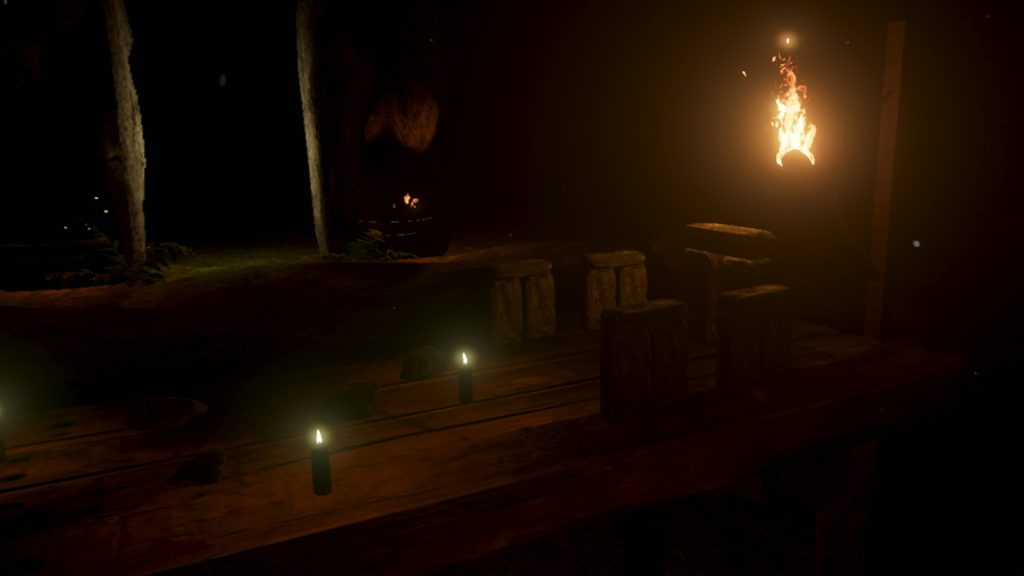 This is where the fun begins. You are instructed to pick up a brick, then turn around and throw it into a fire. Why? Umm….
Museum Mode
Once you've fed the fire, the lights fade again and now you are on a hovercraft! I'm not making this up. You inexplicably glide across the land (queasy alert) until you eventually see what you came to see. You're so close! Now you need to teleport from the controller to the ground (to the glowing blue circle). Once you get into the circle, the hovercraft glides away and another spot appears for you to teleport to.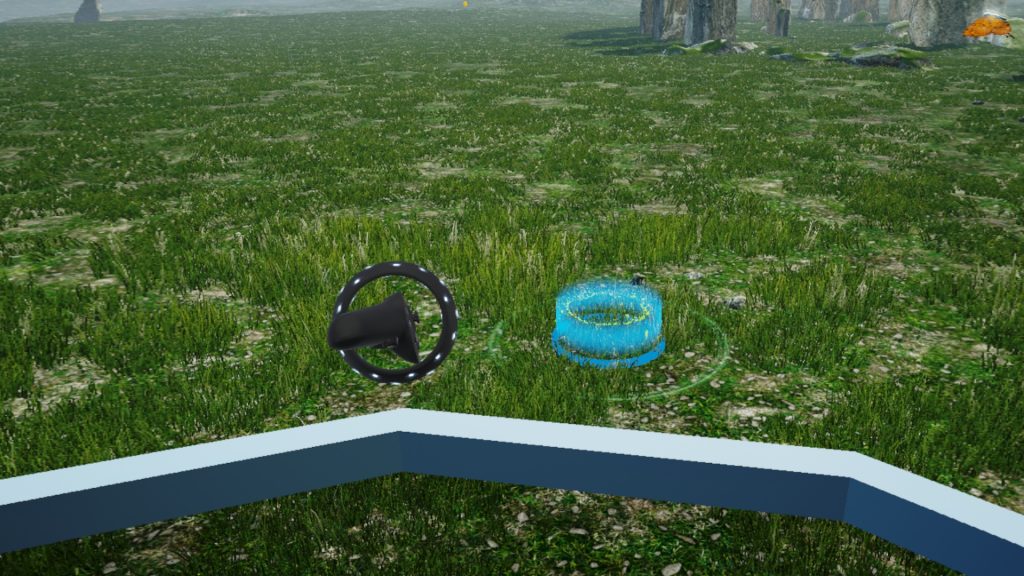 Each time you teleport closer, you think you'll get to explore. Alas, it never happens. On the plus side, you get to listen to voice-over that tells you about the area, the rocks, etc. Unfortunately, you need to wait in place while the voice-overs play. Only once the app is ready can you jump to the next point. Along the way, you can pick things up sometimes, but you can't keep them for long. You also get to light a fire within the circle for some reason. The tour takes you around several nice viewpoints inside the circle, then outside the circle.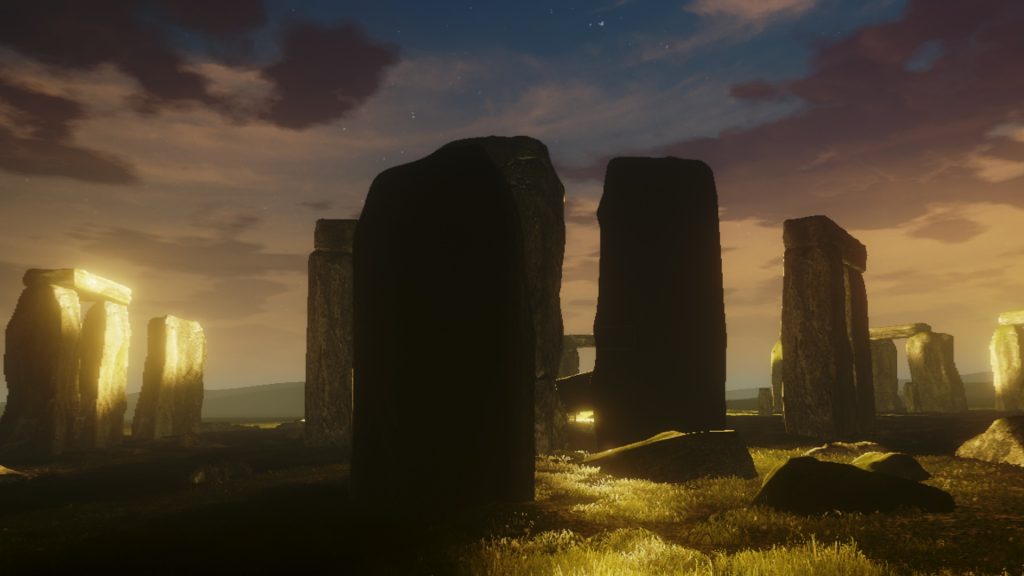 Once you've heard the narration, watched the 2D videos, and followed the teleport points, you are finished with the tour. At this point you are returned to the shuttle bay/hangar.
Sandbox Mode
Now that the tour has finished, you have full access to Stonehenge… kind of. At this point, you see another screen on the wall, a table with blocks, and your hovercraft.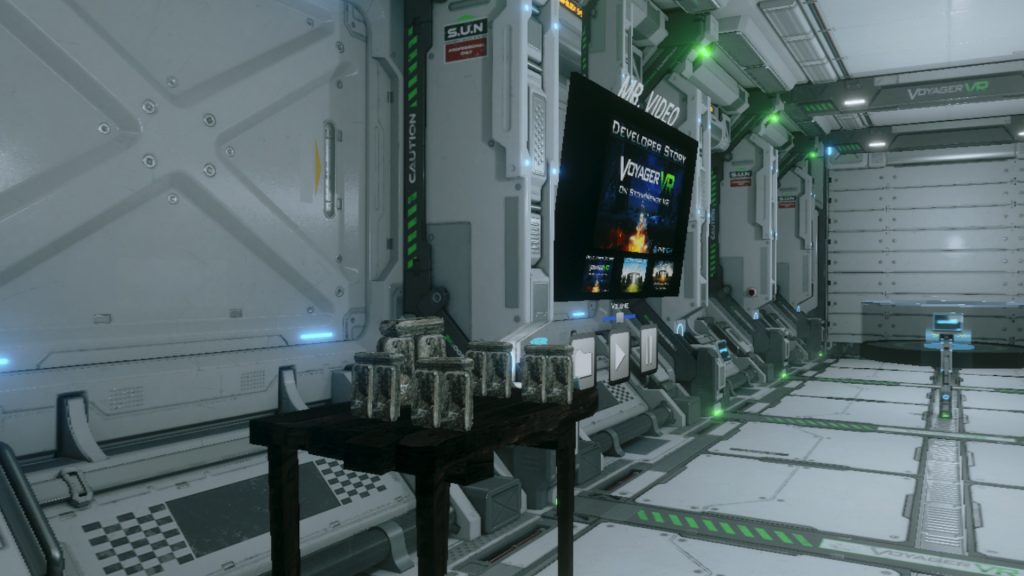 The screen on the wall, mysteriously labeled "MR. VIDEO," can play three different 2D videos about the developers and the experience. They videos don't add much to the experience, but you may enjoy them if you like bonus DVD features. I find it mildly interesting that this experience is the product of a husband-and-wife team.
The table with blocks doesn't do anything interesting. You can pick up the blocks, stack them, or just throw them around the room. I couldn't find a way to reset them other than exiting and relaunching. It's fun enough to throw things around the room and watch them bounce, but probably more fun for kids.
As far as I could tell, the hovercraft is non-functional at this point; all you can do is climb up onto it and make flying sounds (if that's your thing).
If you want to go back to the monument, you can go to the screen at the other end and point and click at "Sandbox". This returns you to Stonehenge but doesn't give you the exploration opportunity that I expected. Instead, you get to play with the rocks interactively (see Interactivity below). I'm not sure if there's a way to just walk around and look from various angles. Either there needs to be a third mode for Exploration, or if there is a way to do it, it just needs to be clearer.
Graphics
Screenshots of this experience look pretty good. The developers do a good job with lighting effects to simulate day and night, the grass is decently well done, and the colors look nice.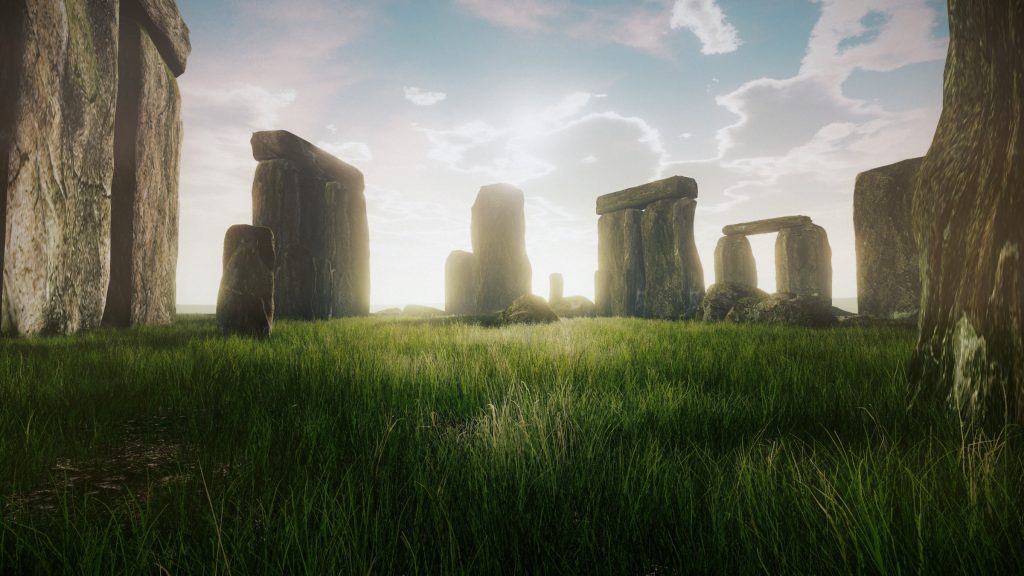 What screenshots don't show is the lack of realism up close. This virtual Stonehenge isn't a photogrammetric capture, but rather a created environment like a video game. If you want to feel the presence of Stonehenge, these graphics won't give it to you. Overall, the graphics are not very impressive.
Information
I'm primarily interested in the museum experience, and the provided information here is decent. The narration, available in English and Mandarin, provides good information at a good length. A few 2D videos appear as you move around the monument.
I don't like that the museum experience is guided so strictly and that you don't get to move freely until you unlock Sandbox mode. I would prefer to walk all around and activate information at points of interest. I would at least want to move freely at the end of the tour instead of first returning to the hangar.
Interactivity
The Museum mode, with its tour hovercraft, isn't very interactive. You can only pick up and drop a few items.
The Sandbox mode is where you get some "hands-on" time. You can place blocks however you want to make a new monument. You can do this with both small blocks (within the hangar) and large blocks (at the actual site). It's a cute idea, though it doesn't add very much to the understanding of the historic site. You can also throw the earth, sun, and moon around at different times because, why not?
They developers built a whole activity around stacking rocks, painting them, breaking them, and otherwise being your own stone architect. Your controllers get overlays so that you can switch between the different modes for painting, levitating, or throwing things. You can also change the time of day, angle of the sun, color of the sky, density of the fog, and other environmental factors.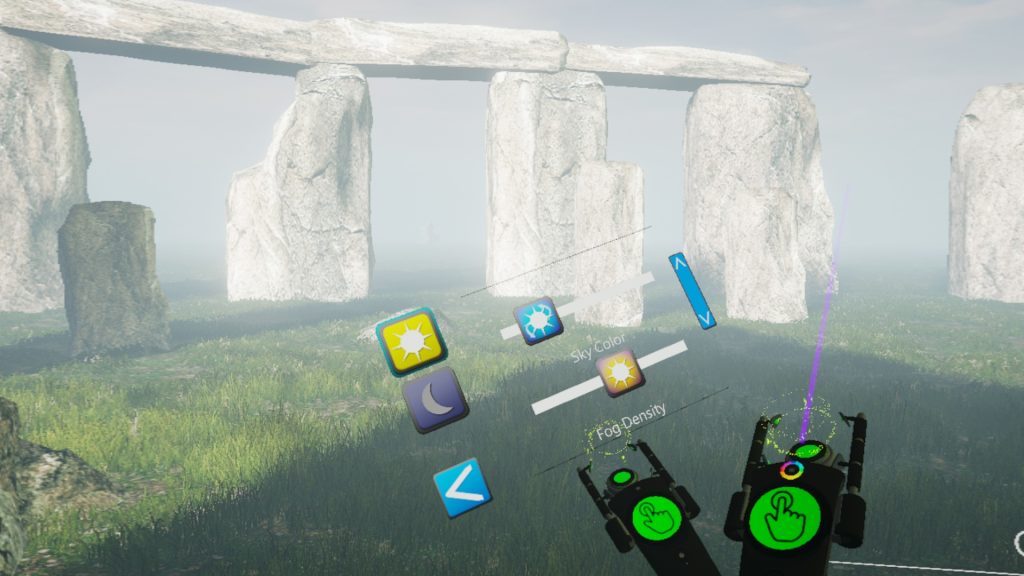 The tutorial would demonstrate some action, wait for me to perform it, then move to the next action. Unfortunately, I never got the Gravity Grab feature to work. I should have been able to point at the stones and create a tractor beam to move them around. Pressing the appropriate button, I heard a sound and a line of light appeared that looked promising, but nothing ever activated or moved. Since my HP Reverb G2 controllers just wouldn't activate Gravity Grab, I was unable to proceed to the next step in the tutorial thus ending the sandbox experience (you can't skip the tutorial). It's possible that this works with HTC Vive controllers, since that was the original intended setup. If that's the case, it's disappointing that different controllers cause such a problem. I finally gave up.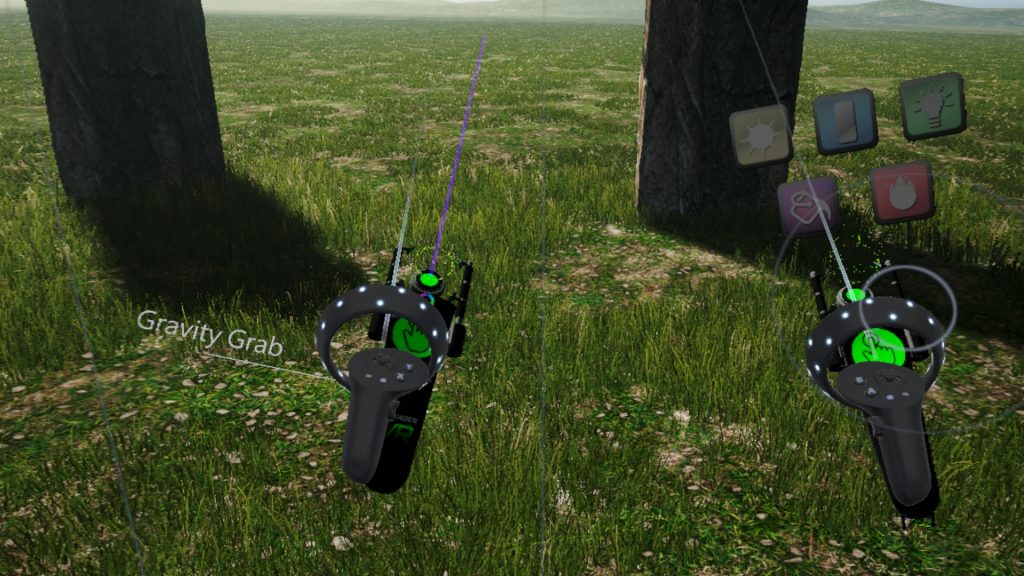 Even if I hadn't gotten stuck, I'm just not sure how much value I would have gotten from this activity. It may be fun for a few minutes, but it doesn't add to my understanding of Stonehenge. It might be more fun as a standalone activity separate from a museum experience.
Finally, you can take up to 30 photos with your controller. When you hold up the left controller, you can press the button to capture an image. I'm not sure where the photos go when you exit the experience. This feature was helpful for writing this review, but most people won't have much use for the images.
Future Potential
Updates haven't been released for a long time, if ever. This experience could use fixes for controllers and some adjustments to the general flow.
Summary
Pros
You can feel the scale of Stonehenge as you stand within it
Nice atmospheric and lighting effects
Decent embedded documentary
Cons
Odd futuristic element
Controller challenges
Not enough free explore opportunity
The price is steep. If you are interested in the documentary content, it might be worthwhile. If you've been waiting for a great Stonehenge experience, though, this isn't it.
Bonus
If you want a great Stonehenge exploration experience, you may want to try one of several excellent fully photo-captured models on Sketchfab. Sketchfab even offers historic reconstructions of the original Stonehenge. The Sketchfab experience is simpler: it doesn't offer narration, but on the plus side, it doesn't require installation. Worth checking out!
Quick Facts
Rating:
Pricing:
PAID
Category:
Apps and Reviews, Historic
Release date:
10 Oct 2017
Number of locations:
1
Install size:
5GB
Developer:
Publisher:
Headset(s):
Language(s):
Play mode(s):
Where to get it:
---