'Anne Frank House VR' review — A moving historical experience

Experience the world-famous Secret Annex in a never-before-seen way. […] Immerse yourself in Anne's thoughts as you traverse each faithfully recreated room, thanks to the power of VR, and find out what happened to the Annex' brave inhabitants.

From the product description
Like most people, I've been aware of Anne Frank and her famous diary for much of my life. It's a fascinating account of the life of a young Jewish girl and her family while hiding from the Nazis in Amsterdam during World War II. It's always been a story that is difficult for me to think about, so I haven't actually read it yet. I feel like after trying this experience, I really have no excuse anymore. It's pretty powerful to stand in rooms that she and those with her spent their final days before capture. She was clearly a smart, upbeat girl whose death was a tragic loss to the world. It's important that we learn from our past, and one way is by reading first-hand accounts. Another is to stand in the footprints of those no longer with us. VR allows us to feel a more personal connection than any photos can provide, plus we experience the setting without the crowds and guardrails that often accompany such places. Read on to learn how Anne Frank House VR serves as a gateway to the past.
About the Experience
When you launch the app, you have two options: a "story" mode and "tour" mode. Story mode takes place in a dark room and is a moving mini documentary where pictures and documents from Anne's life appear as a narrator talks about Anne and the inhabitants of the annex (their hidden living space connected to a warehouse). Tour mode is a free-roam experience of the various rooms with spoken snippets from her diary. The first time you launch, your only option is to start with story mode. Once this is complete, you can wander around and take the tour experience
The attention to detail everywhere is pretty stunning. Considering it's a free app, it's really quite impressive. I highly recommend that you take your time in each room. It's not just the visuals, but really thinking of spending day after day in this space. My first thought was that it all appeared bigger than I had always assumed. I hadn't realized that there were as many people up there though. Not even thinking of the psychological impact from the constant fear of being caught, being trapped in a few rooms with a group of people would be a trial for anyone.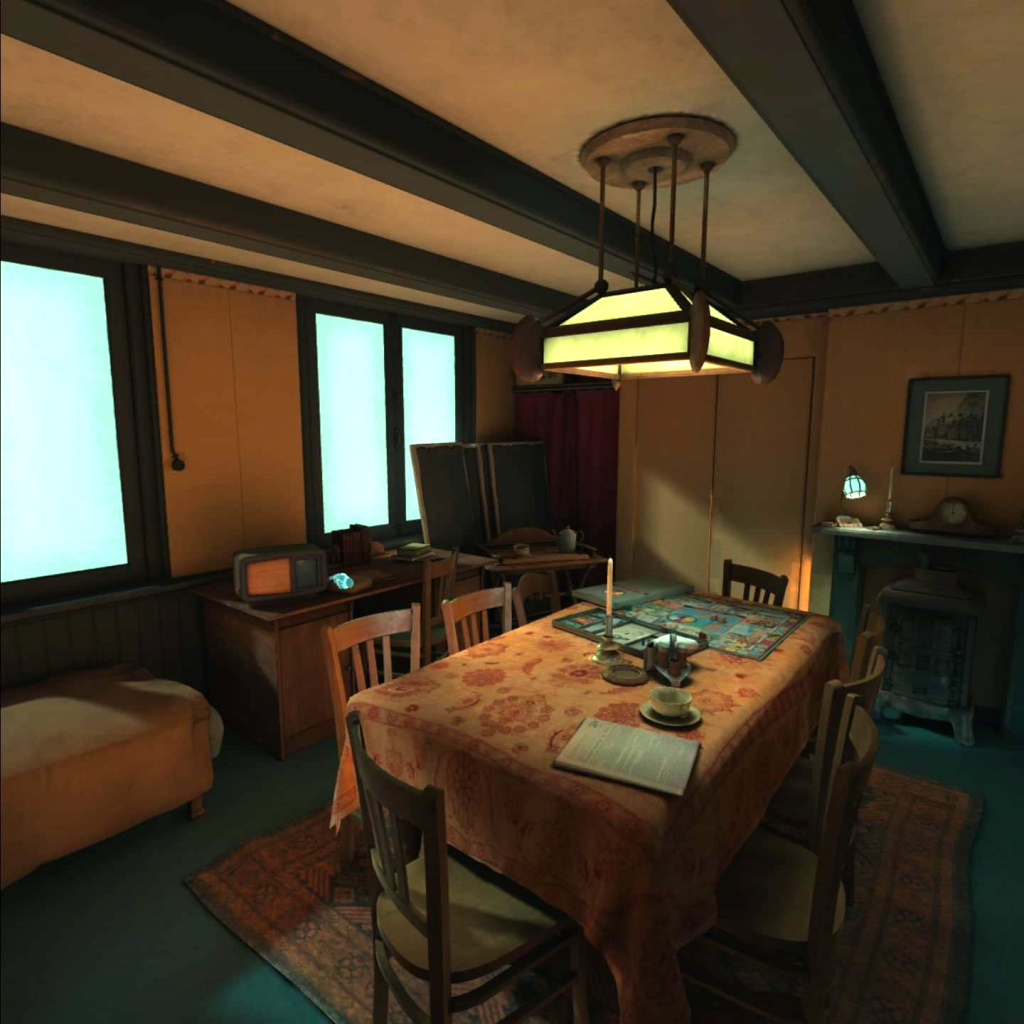 Graphics
I was really impressed by the graphics. They aren't photographic, but their quality is close. They meticulously recreated the floorplan of the original space and added back furniture and personal items relevant to the period and based on what was documented. The rooms almost feel real!
The other nice thing about the graphics is they did a good job of making it performance well. Even though everything is high quality, the Quest hardware has no trouble rendering it. I didn't experience any issues with images stuttering or losing quality at any points.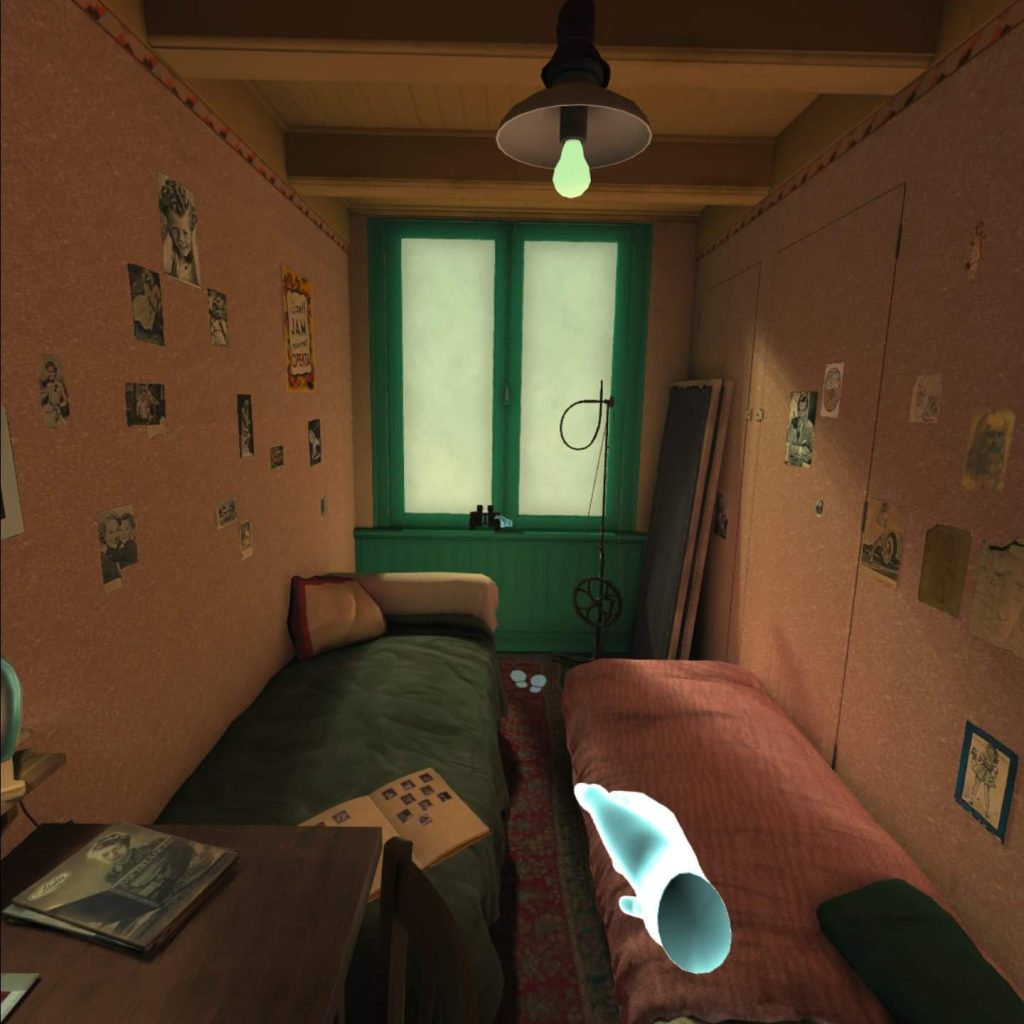 Information
The information content is top-notch. Not only background information, but snippets from her diary. There is Story Mode and Tour Mode. Initially, you see photos and documents appear in a dark space while a narrator talks about Anne. After this section, you begin a tour
It feels so much more poignant hearing these while walking around the space. I didn't time it, but I would guess it was 20 minutes or so. Documentary content in VR allows you to listen and learn while being able to wander around. It's like having exclusive access to a place with a tour guide to walk around with you, all while being able to touch things and take your time.
In the rooms, information was called out through double quote marks (") on walls and various objects and hands/gloves on other objects. Pointing and clicking the quotes or touching the hands would trigger related spoken passages.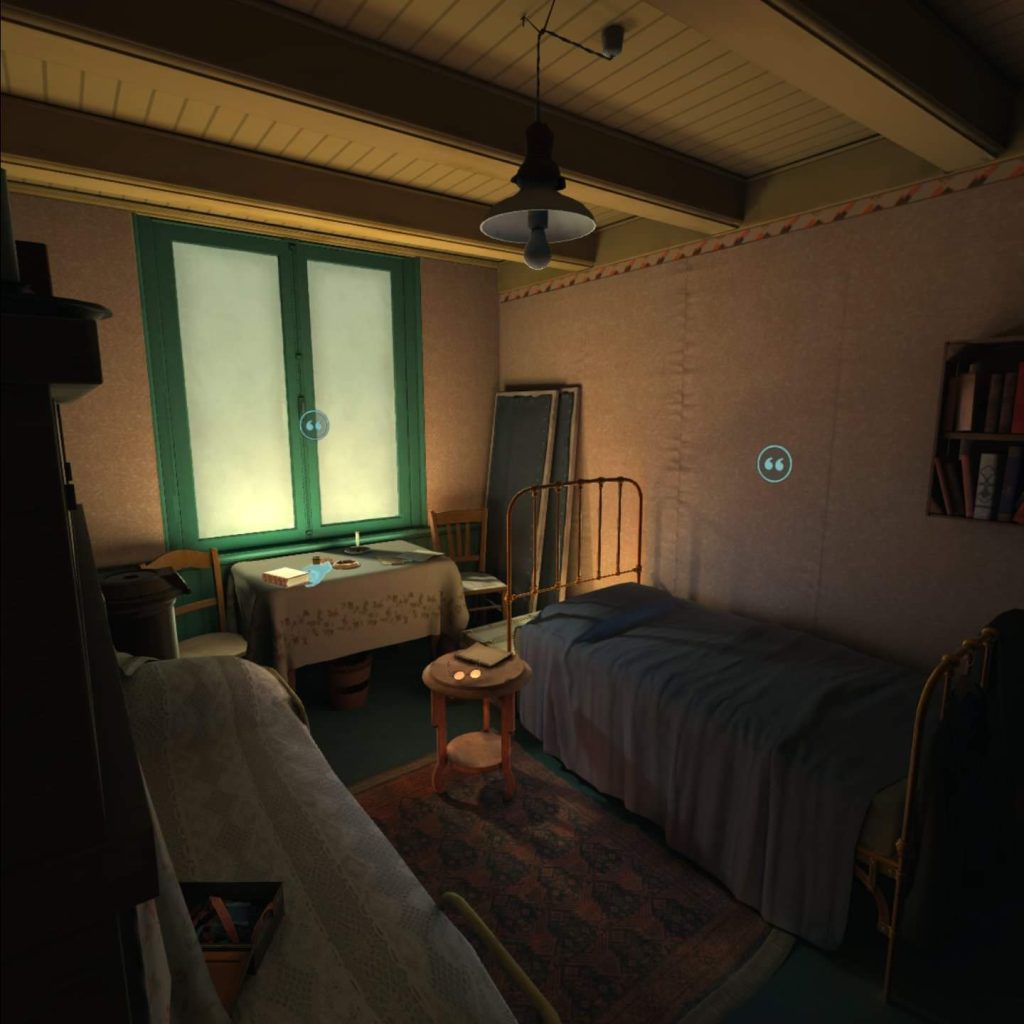 Interactivity
There are several items to touch or pickup which trigger voice-overs from the diary. Most items are just props that are fixed in place. You can't open or close anything, including the doors. Instead, you either point and click on an indicator on the door or place your hand/controller on the doorknob. You can freely move around within the rooms via walking or teleport, but if you go to a new room, you need to reposition your physical body on a spot they point out before the new room will fade in. You touch a door, it fades to black, then footprints on the floor tell you where to stand. Once you move to the physical spot, the next room appears. This would have been avoided by being able to just walk through the doors, but it's definitely not a deal-breaker.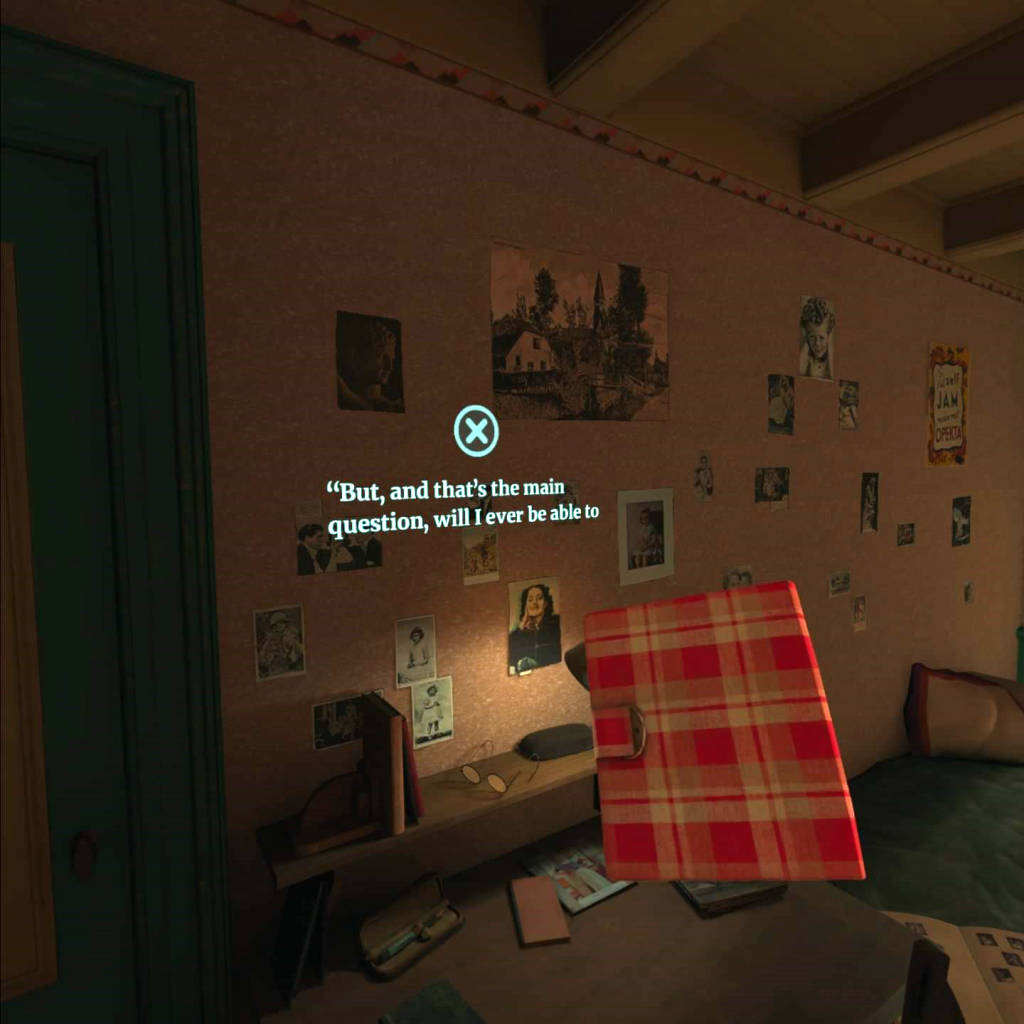 Future Potential
The Anne Frank Museum produced this a few years ago and wouldn't be likely to add more content in the future. It's a complete experience and there probably isn't additional content to release, although incorporating some of the other items from the physical museum would certainly be welcome. I would also like to see it released for SteamVR so other headset owners could appreciate it.
Summary
Pros
High quality throughout
Great blend of diary context with the rooms
Really makes you feel connected to her
Cons
Frequent resetting of position
I really enjoyed this experience… if enjoy is the right word. I felt immersed in the history and was able to connect with this young girl from decades ago. If I'm ever in Amsterdam, I would want to visit the museum since I understand there are many other items of interest there, but this tour was a great way to take a closer look without leaving my home. I highly recommend this to people of all ages, whether or not they've read the diary. If you haven't yet, you really should. I know I will soon.
FREE!
Rating:
Release date:
26 Jun 2019
Number of locations:
1
Installation size:
780MB
Official Site:
Developer:
Force Field
Publisher:
Oculus Studios
Supported headset(s):
Language(s):
Player mode(s):
Where to get it:
---