'Hagia Sophia VR' review – A close-up view of a historic religious site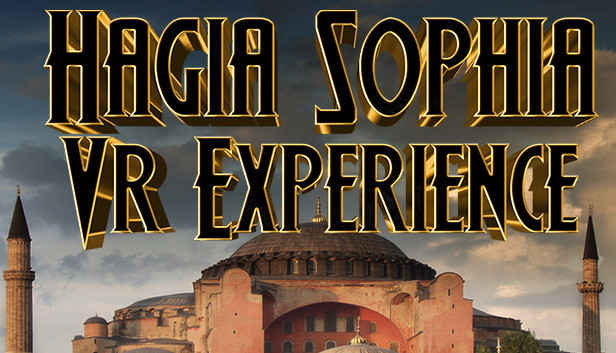 About Hagia Sophia
Someday, I hope to visit the ancient church of Hagia Sophia in Istanbul, Turkey. Originally built in 537, this building has been around a long time. In its lifetime, the church has belonged to the Eastern Orthodox, to the Roman Catholics, and finally to the Muslims in 1453.
As the church was converted to a mosque, the minarets outside were added, and most of the Christian iconography was removed. Some of this artwork was simply removed or plastered over, although a few paintings remain visible.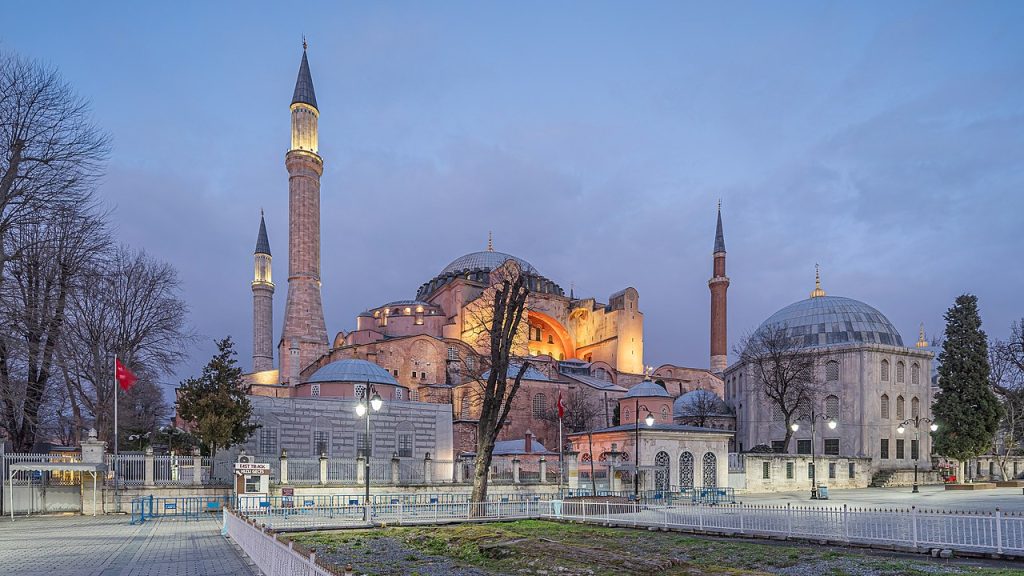 About the Experience
This experience allows you to walk around inside the current mosque/museum to take in its grandiosity. When built, it was the largest church in the world. Even now, it it's still in the top 20 at around 8,000 sq ft. Since it doesn't have as much interior support as many large churches, and has no pews, it feels all the larger. You can access most areas, but the upper balconies, the former altar platform, and a few other spots won't let you enter—presumably to preserve the respect due to the actual building.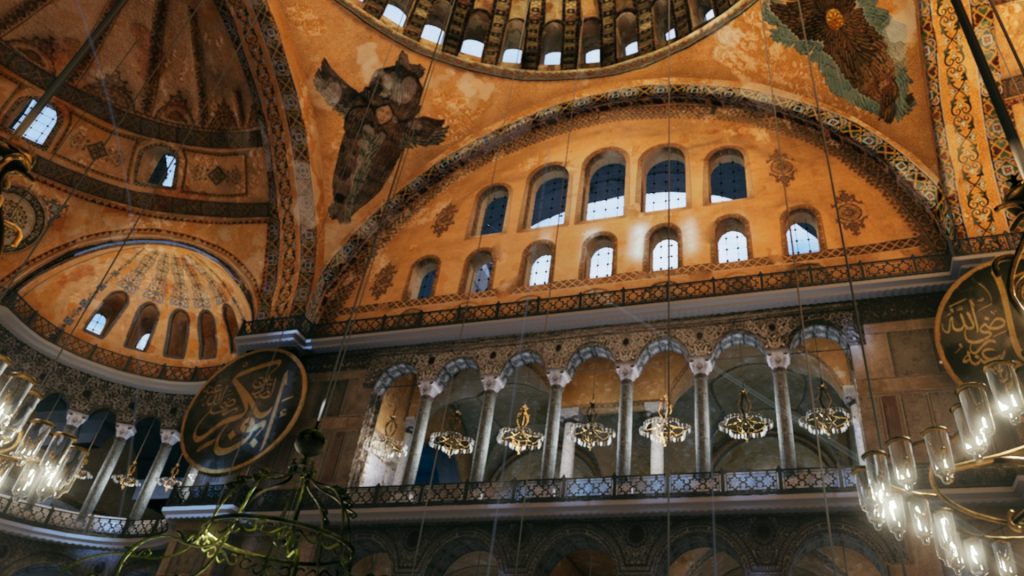 In addition to walking around to see architectural details, you can pick up interactive items to trigger voice-overs with more information. There is also a low-level soundtrack of melodic chant in the background.
Graphics
The virtual space is very well done, with none of the holes or gaps that sometimes appear in these digital reconstructions. Considering the high level of detail, I suspect that the designers started with a 3D model of the space (rather than assembling it from photos only) and then positioned the frescoes on the model. However, most of the imagery has less detail than I'd like to see. It's fine when you stand back and look around, but you don't need to get very close to the walls for them to appear blurry. I wasn't able to find any quality settings to manage the blurriness.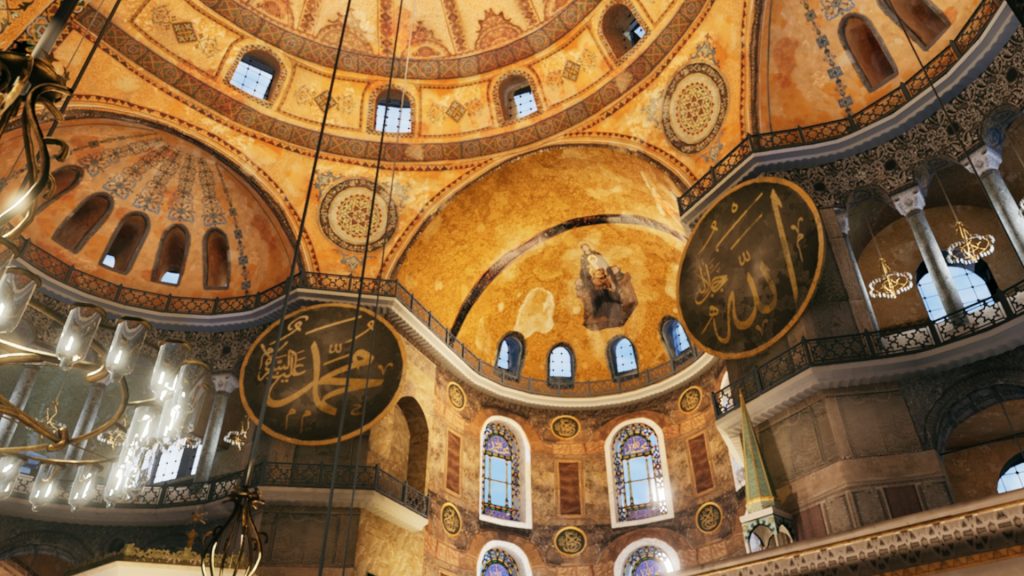 Information
Five locations around the building offer informative voice-overs. I enjoyed these callouts, but I would appreciate a few improvements. They contain a mix of historical information and verses from the Quran… a lot of verses. Especially if you're only casually interested in the Quran, this can get old quickly. I would have preferred more historical information, perhaps in more than five callouts. My biggest complaint: one of the narrators speaks English with a very thick accent, making it difficult to understand her. I'm always impressed by polyglots, but perhaps this particular narrator wasn't the best choice for an English-language presentation.
Interactivity
The only interactive features are objects at the five callout locations. In each location, you can pick up an item (such as a helmet or vase) to trigger the voice-over. Picking up the objects is a slightly odd way to activate them, but the advantage is that the voice-over continues as long as you hold the item. This allows you to continue to walk around while listening. This is a nice touch, with the disadvantage that your finger may get sore from holding down one button for several minutes at a time.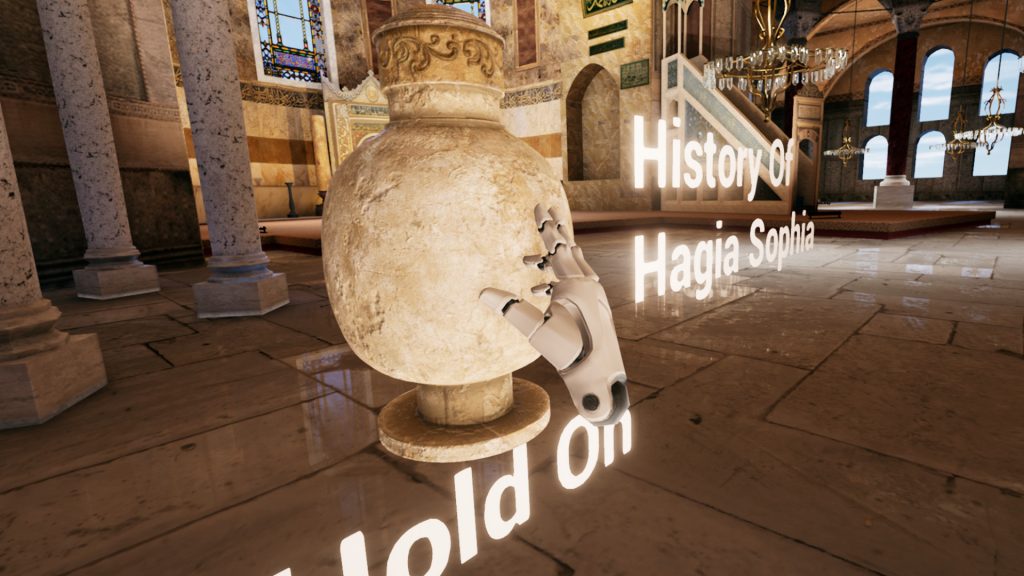 Future Potential
I think this title could greatly benefit from additional work on the information callouts or even the graphics quality! There's no indication on the Steam page that it will receive updates, though the developers assure me that there will be more content added (areas and information) in the next year and a half or so.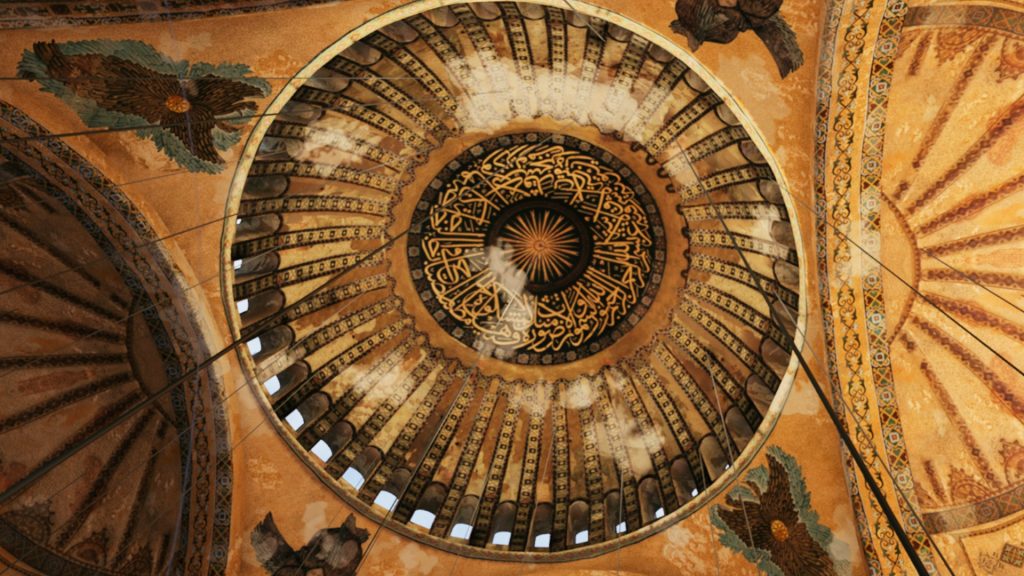 I had a great time touring this historic site as it appears today. What I'd love to see even more, though, is a glimpse at how it might have looked when it was a Christian church. Unfortunately, I'm not sure if we even have the necessary historical information; even if we did, such an experience would require much more effort to create.
Summary
Pros
Good graphics
Decent information
Cons
Narration could be more religiously neutral (maybe with option between history and Quran)
Some blurriness on closer inspection
I bought this title for under $5. Considering the price of plane tickets from where I live to Turkey to see the real Hagia Sophia, this is fair. Keep in mind that it's a relatively brief experience in terms of educational content, but if your main goal is to be able to stand inside and walk around, then it works well.
Even with the inconsistencies of the voice-over, the too-small number of information callouts, and the overall lower quality graphics (though not bad, by any means), I recommend this experience. If you are Muslim, you will love this experience of a beautiful mosque. If you are Christian or interested in history of religious sites, you can get a glimpse of what the church once was. Regardless of your beliefs, Hagia Sophia is a historic place worth seeing.
Rating:
Release date:
21 May 2021
Number of locations:
1
Installation size:
2GB
Official Site:
Developer:
ilhan özbay
Publisher:
Srio Studios
Supported headset(s):
Language(s):
Player mode(s):
Where to get it:
---