'Nefertari: Journey to Eternity' review – Step into the afterlife

In Egypt's legendary Valley of the Queens lies Queen Nefertari's tomb, one of the modern world's most detailed windows into ancient Egyptians' journey towards the afterlife. Now, state-of-the-art technology has made it possible to digitally scan Nerfertari's tomb with millimeter accuracy. For the first time ever, step inside the fabled tomb and immerse yourself in the story of its art, history, construction, and mythology through interactive elements.

Product description page
The tomb of an ancient queen. How many of us will ever get the chance to visit such a place in our lifetimes? How about all alone, free to take our time to study every last detail? This is the sort of experience VR excels in, and the reason I wanted a headset to begin with!
About the Experience
Nefertari: Journey to Eternity is an exploration experience produced by the folks at Curiosity Stream. The tomb was captured using a two-part photogrammetry process. First, they mapped the geometry and depth features of the space using a special type of tripod-mounted scanner.
After that, they took around 4,000 images with a high-end digital camera to capture every bit of color detail from the floors, walls, and ceilings. This two-step process yields a much more detailed result than photos alone. The result is spectacular. I'm just going to spoil the rest of the review by saying I can't recommend it enough!
One very cool bonus is that they made the captured 3D models available outside of the app. I haven't seen this done before and I love it. Try it out on Sketchfab (with or without a headset).
About the Experience
Nefertari: Journey to Eternity is a great introductory experience for VR—as soon as the experience begins, you can immediately enjoy it. When you enter, you'll feel like you've been transported. The flickering flames, the frescoes on every surface… you can just walk around and take them in. The paintings are exquisite, and the level of detail really makes it real.
You may need to be careful in a few rooms with lower ceilings. Since this experience is to scale, a taller person will stick through the ceiling! You'll need to physically duck to be able to see the interiors—just like real life, minus the lump on your head.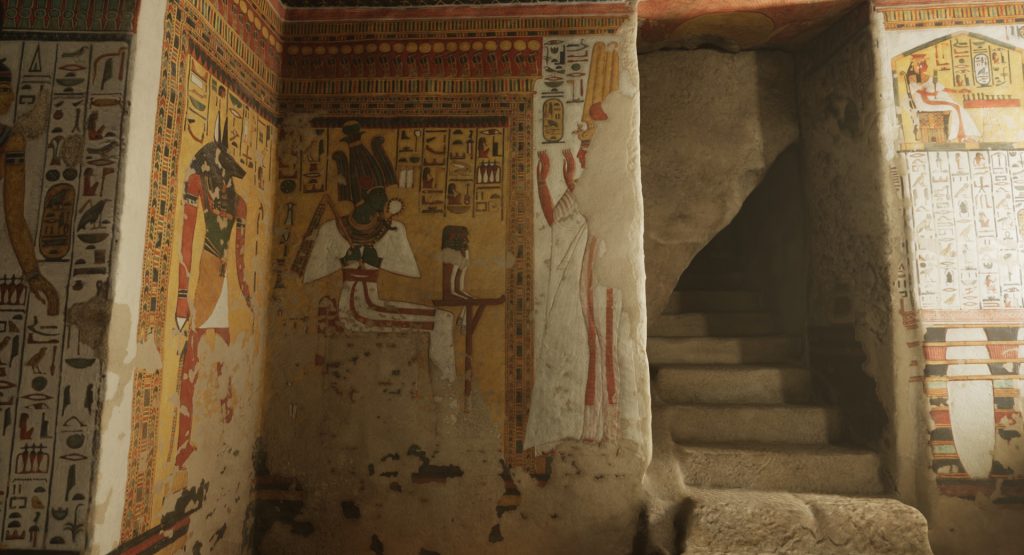 Graphics
The graphics make this experience shine. The imagery, the textures, and the lighting all come together to bring it to life. Keep in mind that the high level of detail will require a more powerful computer if this is being run on PC. Thankfully, you can turn down the quality a bit if you find that you can't move smoothly enough.
I love that the flashlight illuminates areas of interest. There are also flickering oil lamps and dust particles.
Information
From the moment you enter the tomb, voice narration begins. After a brief general voice-over, you can choose specific narration throughout the rooms.
As you look at the walls, look for glowing regions. These indicate elements with narration to provide more context. Point at the area and click the trigger on your controller to hear details from a narrator. These are well-written, clearly spoken, and provide a good level of detail while exploring.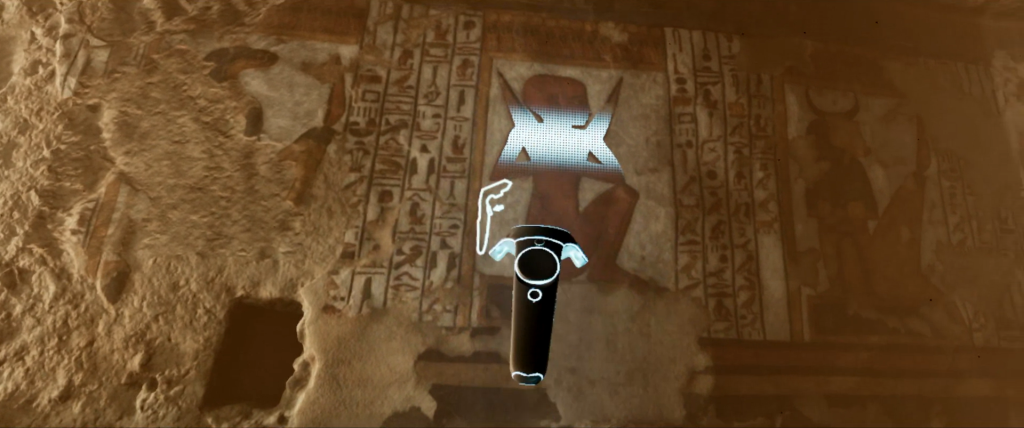 Interactivity
There are no items to hold or interact with. Sorry, no knocking the oil lamps to the floor! The only element of interactivity is that you can use the controller as a flashlight. There really isn't anything else you might want to interact with, so the low interactivity isn't a problem.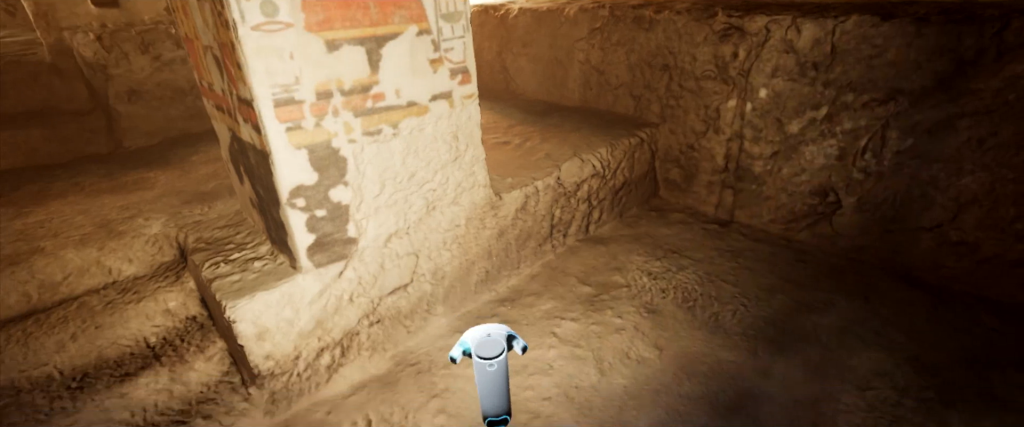 Future Potential
The publisher, Curiosity Stream, stopped creating VR experiences after publishing this one in 2018. This is pretty disappointing, since I think Curiosity Stream makes excellent documentaries and has the potential to make more great VR experiences.
Unfortunately, because the publisher has orphaned this experience, the original developers aren't able to make any updates. Thankfully, aside from the distortion bug, this experience is in good shape.
Summary
Pros
Very high-quality visuals
Lots of points of interest with narration
Good lighting
Cons
Weird distortion when turning head
In case I haven't been clear, I give this experience a strong thumbs up. Even at $10 I would recommend it, but somehow, it's free.
My biggest concern is with the Windows Mixed Reality support. On my HP Reverb G2 and an older Lenovo Explorer, I run into distortion issues when I turn my head. This mild fishbowl effect was enough to make me a little queasy, but it wasn't an issue when I moved my head slowly or just studied something up close. Since this experience was originally written for the HTC Vive, I'd expect it works fine on that platform. I appreciate that this experience runs on non-Vive headsets at all; just keep in mind that it's at its best on its native platform.
Some people measure value by how much time an experience offers, and this experience does offer plenty of narration time. For me, though, it's more about how much I enjoy exploring at my own pace. Thanks to the high-quality scanning and image capture, I have returned to this experience several times just to feel immersed in the history. I hope you will too!
Additional links
FREE!
Rating:
Release date:
28 Jul 2018
Number of locations:
1
Installation size:
14GB
Developer:
Publisher:
Supported headset(s):
Language(s):
Player mode(s):
Where to get it:
---