Meta Quest 3 – VR headset review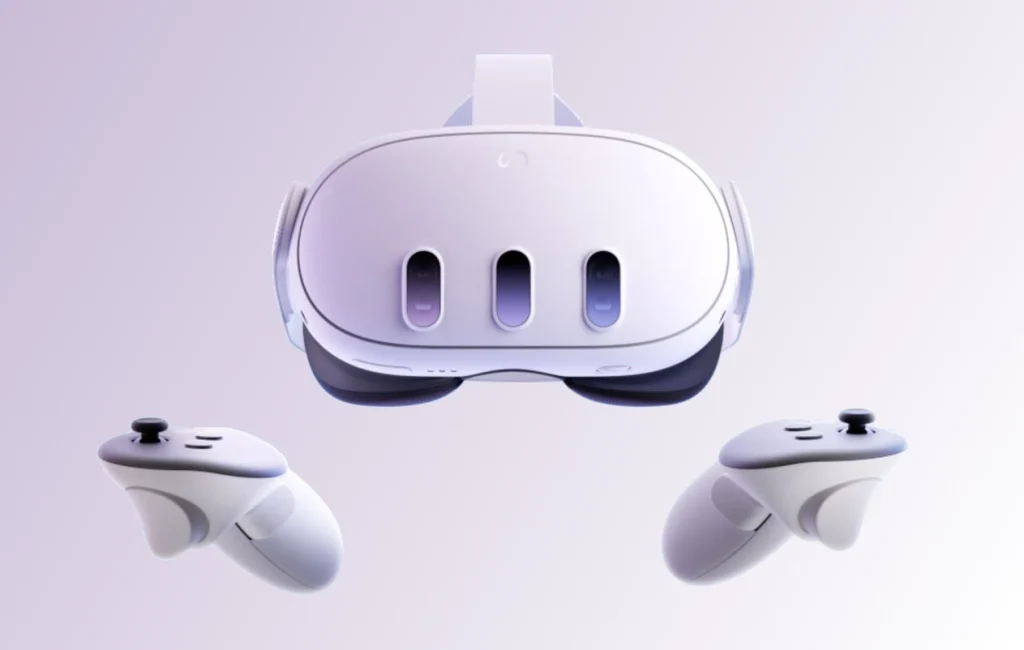 If you need some general background on buying a VR headset, start with Choosing the Best Hardware for VR. We cover some of these topics in more detail so check it out if you're feeling confused.
Just in case you haven't heard the news yet, the Meta Quest 3 VR headset is finally available! The Quest 2 has been an excellent headset for standalone and connected experiences, but it's getting a bit old. The Quest Pro had greatly increased visuals and even eye tracking, but it was released at way too high of a price, and even after its big discount, it's still over $1000. With the Quest 3, we have a worthy successor at a reasonable price.
VR is always a bit of a pricey hobby to get into, and the Quest headsets have been at the more affordable end of the range. The Windows Mixed Reality headsets were also quite well priced, but they just didn't make enough of a dent in the market, and they've pretty much disappeared.
The Quest 3 Headset
It's slim and somehow feels lighter! That's the first thing you'll notice when you pick it up. It's very familiar if you had a Quest 2, but also just… less. It's actually the same weight, but balance and dimensions give it a smaller feel. This is a good thing for sure. The optics use a technology referred to as "pancake" lenses where less distance is needed from the built-in screens to your eyes, so it has less depth. The general shape and strap configuration remain mostly unchanged, though if you bought any accessories for your Quest 2, they won't fit, so you'll need to buy new versions, assuming you still need them.
Controls (volume, power, etc.) and sound/power connectors have all moved. I keep going to hit the power button and realizing I'm at the wrong spot. It's a little annoying, but I'll get used to it soon enough.
Visuals
If you like good visuals in VR (I'm assuming you do…), you'll be happy with the upgrades here. The resolution went from 1832×1920 per eye to 2064×2208 pixels per eye — a 30% upgrade. They also increased the screen refresh (effectively, the framerate) from a max of 90Hz to a max of 120Hz (also 72Hz, 80Hz, and 90Hz). Higher framerates mean more power which means less battery time, so different experiences will make different choices here.
Lenses
The pancake lenses not only reduce the depth of the front visor, but also offer more uniform focus and less distortion. Less depth means less weight, more room for hardware, or some balance of the two.
The lenses are a required part of headsets because there's no way you could focus on a tiny screen an inch or two from your eyes — a proper lens does the focusing for you. Imagine turning the dial on binoculars. This moves the lenses closer or farther apart to change the focal point. For a fixed point, physics dictates a given distance/separation between your eyes and the headset screens*.
Traditionally, refractive lenses would be used to simply focus the light from the screens to your eyes in a straight line. Pancake lenses are polarized (similar to some sunglasses) so they reflect light in one direction, and let it pass through the other. The light from the screens is also polarized so they pass through one lens, reflect and change direction at the second lens, reflect and change direction again back at the first lens, finally reaching your eyes. The same focus ability can occur with less physical separation.
*I'm not a physics expert. This is a simplification!
Pixels
In addition to the improved lenses/optics, the screens have higher resolution and higher density. Things really look sharp which helps to increase the feeling of immersion. Like with all current headsets, you'll need your normal glasses since the optics are calibrated for 20/20 vision. This could actually change in the next one or two generations of headsets, but so far, it's still important.
Another welcome feature is the IPD adjustment knob, going from 53-75mm. This is on the underside of the visor, making it much more accessible than on the Quest 2 where you needed to actually pull the lenses apart. That always felt like a bad idea, so it's a welcome change.
Glasses
Finally, if you do wear glasses, it's always a good idea to get lens inserts instead of actually wearing your glasses. It can be uncomfortable having your frame pressed against your face, but it can also be bad if the lenses touch each other and end up creating scratches. Sadly, if you bought lenses in the past, you'll need new ones since they won't fit the new shape.
One nice new feature with the 3 is the easy ability to slide the face guard forward or back a bit to give you just a little more space to protect the lenses. You push a little release button inside the headset on either side and slide in the direction you want I didn't realize what it was at first (maybe I should read the manual…) but it works nicely.
If you're looking for new lens inserts, you can find some great options at VR Lens Lab. I've personally tried their Quest 2 lenses and their universal VR frames and they've been perfect. Hopefully they'll release their Quest 3 lenses soon.
Passthrough
Mixed/Augmented reality (AR/MR) is the hot new thing in VR headsets. Being able to see through the visor into your physical environment opens up amazing new possibilities for games and other immersive experiences. Your living room can be a museum or a last zombie stronghold. The Quest 3 upgrades their passthrough feed with two RGB (full-color) cameras plus a depth camera in the center. These upgrades bring color, but also much less distortion and clarity to your room view. The result is the ability to interact in VR while seeing your surroundings, and even to place virtual elements around you. I am loving this!
Audio
As with the previous Quest headsets, there are built-in speakers, but you can also plug in headphones. Considering the sound quality is quite good, I'm not sure why you'd bother, but it's an option if you have a preference.
Tracking
Unlike SteamVR headsets, there are still no base stations to setup for tracking. Built-in cameras actively map the room based on what's around you. It's really pretty amazing and quite a step up from the Quest 2. You can now simply look around your room to map it in 3D. Looking around as a mesh builds up around your walls and furniture looks very futuristic! It's also much quicker and easier than drawing outlines like before.
Controllers
The controllers are very similar to the Quest 2 controllers with the exception of the tracking rings, which are just gone now. All the buttons are the same and in the same place.
Ergonomics
Since the overall shape hasn't changed, you won't have any issues with the ergonomics if you liked the Quest 2. The Quest Pro has an interesting twist on the controllers in that you can turn them around and use them like smartboard pens, but I'm not sure how much they're really used that way. I don't think it's a loss. I've always been fine with the grip feel and my fingers find the buttons and joystick easily.
Controls
The controls are the same, as mentioned, with the exception of the capacitive pad where your thumb could rest on the Quest 2 controllers. I'm not aware of any app ever making use of them, and since all the buttons appear to be able to detect your touch without pressing now, it's not a loss.
Tracking
Controller tracking has always been good with the Quest 2, provided they're in view of the headset's cameras. If you reach up or back too far, they can no longer be tracked. With the Quest 3, the headset cameras have been rearranged slightly to enable a larger field of view. There are the 2 RGB cameras (the same ones used for passthrough), plus two IR (infrared) cameras tracking their position. The controllers themselves also do a better job of keeping track of their angle and velocity in space, so the overall tracking is good.
Like with the Quest 2, you can also use your bare hands without the controllers. With the updated cameras on the Quest 3, hand tracking has improved considerably. Some apps use this to let you manipulate things in a more natural fashion, but an exhibition or event could benefit from not needing controllers at all since they can be lost, stolen, or broken.
Compatibility
As expected, all previous Quest titles work with the Quest 3. Any items in your library automatically carry over. Of course, Quest 3 apps may or may not be able to run on earlier headsets. The increased memory (6GB to 8GB), higher powered processor, and better visuals mean developers may want to develop for the high-end and leave the past behind. I don't expect that will happen quickly though as the Quest 1 was only phased out by Meta pretty recently.
The other great thing about the Quest 3 is that you can connect to a PC to run Oculus Rift or SteamVR titles. You can do this wirelessly (Wi-Fi 6E), or with a USB-C cable. It works amazingly well wirelessly, but if your home network isn't very fast, you can use the wire. Remember that it's your home network speed that matters here. A slow internet connection only matters when connecting to servers outside the house, so you can connect from your headset to a home gaming PC based solely on your in-house speed.
How to buy it
You have a number of options for buying the Quest 3, but I bought mine directly from Meta. Right now, if you buy either version, you get a free copy of Asgard's Wrath 2 when it's released (12/15/2023). If you buy the 512GB version, you get six months of Meta Quest+ for free. This lets you download free titles each month that you're a member. I'm not sure how much use it will be if you aren't a gamer, but it's worth taking a look at.
Versions:
128GB version: $499 (current promo includes Asgard's Wrath 2)
512GB version: $649 (current promo includes Asgard's Wrath 2 and 6 month Meta Quest+ trial)
Meta Direct – 128GB or 512GB
Conclusion
There's not much to complain about here — the Meta Quest 3 VR headset is a great device. If it's too expensive, give it six months or so and you'll probably see a price drop or at least sales. If you're happy with your Quest 2, you can probably wait since there probably won't be many exclusive titles at first. I'm very happy with mine, and if you're ready to buy a headset, I'm happy to recommend it to you.
---