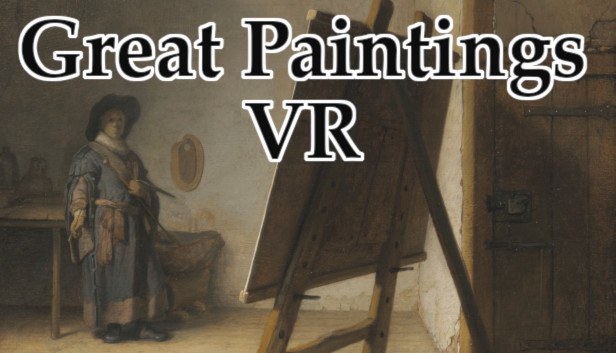 Great Paintings from Great Museums of the World in Virtual Reality. More than 1000 paintings, including famous paintings from Sandro Botticelli, Hieronymus Bosch, Caravaggio, Georges de la Tour, Jan van Eyck, Johannes Vermeer, Leonardo da Vinci.

From the product description
About the Experience
Being able to view artwork by the masters any time we want from the comfort of our homes is one of the great gifts of the internet. Now with VR, we have the ability to immerse ourselves in different environments and experiences to really feel connected to history and other places. Great Paintings VR is a gallery experience that helps you explore works by famous artists throughout the ages.
Unlike most museums, virtual museums have all the space they need to show an effectively unlimited number of items. Great Paintings VR includes just over 1,000 paintings and adds more from time to time. You can view them in a few modes, plus customize your environment. Since the intention here is to present as many paintings as possible, it's not modeled after any particular museum. Instead, it's kind of a "build your own" museum/gallery model.
When you first launch the app, you'll be surrounded by four rotating carousels of paintings turning slowly around you. Directly in front of you is an interactive panel with buttons to get started.
Modes
There are three modes to choose from. The first two are Individual Paintings and Art Galleries. These take you to rooms for viewing the paintings. In the viewing room, you'll either have framed paintings on each of the walls so you can walk around naturally, or with Individual Paintings mode you get a single frame in front of you, and you can change what it displays with a floating navigation panel.
The third mode is Photo Galleries. This is a newer addition to the app that displays photos in the frames instead of paintings. The best part about this feature is that you can include your own pictures and create your own galleries! There have been surprisingly few photo gallery apps for VR yet, so it's nice to see the developer add this feature.
Graphics and Sound
The graphics consist of the museum settings and the artwork. The images for the artwork come from digital scans. These are all good quality, and you can stand pretty close to see more details. One of your controllers acts as a magnifying glass for an even more detailed look. This is a nice idea, but mostly just reveals the limits to the pixels.
Unless you turn it off, there is also classical music to accompany your wanderings. You can choose by composer and pick from several songs each, or just turn them off. This is a nice touch that keeps it from being artificially quiet the whole time.
Information Content
Each item is accompanied by a panel beneath it with metadata such as name, artist name, art movement, current location, size, and more depending on what's available. It's nice having this integrated so naturally. Just having paintings without context is a bit pointless as far as I'm concerned. That said, it would be nice to be able to tap the various elements as navigation aids.
Navigation and Interactivity
Unfortunately, I feel that navigation is the weak point here. Having over a thousand images is a great start. Being able to choose date ranges or various groupings is nice, but I don't find this aspect of it to work very well. I should be able to tap the artist, location, art movement, or other details to bring up related items. Perhaps selecting an artist could bring up various pivots such as other works, other artists part of the same movement, and just other contemporaneous artists.
I would suggest looking at Google Arts and Culture for looking at innovative ways of finding artists and their works from a huge repository. Google lets you search by dominant color, holding museum, time periods (not just numeric years), and much more. In Great Paintings VR there are 10 different buttons for navigation: first/last, prev/next, -1/+1, -25/+25, and -50/+50. In the end though, these might as well be random shuffle buttons since you have no way of knowing which painting will show next.
As mentioned, the initial room when you launch the app uses four levels of carousels consisting of paintings spinning around you. It appeared like I could use my controller to point and click on paintings of interest to see them close up, but it didn't actually seem to do anything. This would already be an improvement for locating things to see from the whole.
You also have some options for personalizing your gallery appearance, although I didn't try this out. You can tint the walls, the floor, and even the frame. It's a nice touch, and probably most welcome for the photo galleries.
Updates and Support
Considering this is a free app, it's been getting pretty steady updates, the most recent in October of 2022. In addition to multiple updates to add new content and bug fixes, there is also a DLC (downloadable content) item available for a few dollars. Formerly, the DLC was just to allow for players to essentially donate to the author (since it's free and requires work to maintain). In the October update, this has been updated to include a Where's Waldo-like game where you search for hidden items within paintings by masters such as Hieronymus Bosch, Pieter Brueghel the Elder and Hans Jurgen Press. Buying the DLC now lets you give back and get a little perk too!
Summary
If you're looking for a way to browse through a large collection of paintings in VR, this may be the app for you. Being able to create photo galleries makes it even more attractive. It's a great collection of art somewhat marred by a complicated user interface. I'm not sure what's the best way to present very large collections of art, but this isn't it. Other than navigation though, it's well done.
Pros
Nice selection of artwork
High quality scans
Variety of customization options
Cons
Difficult to browse and find artwork
Carousels are a missed navigation opportunity
Details
FREE!
Rating:
Release date:
January 14, 2021
Installation size:
7GB
Developer:
hublab
Publisher:
hublab
Supported headset(s):
Language(s):
Player mode(s):
Where to get it:
---