Eye of the Owl – Bosch VR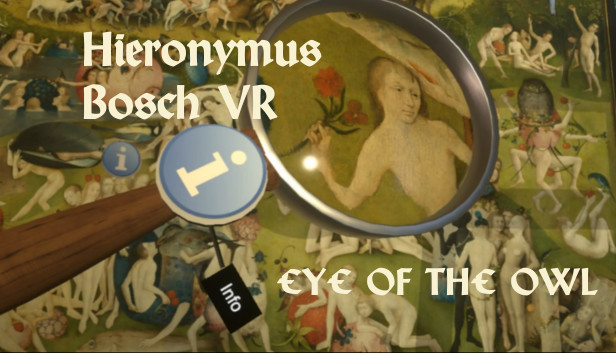 Go back in time over 500 years to Hieronymus Bosch's studio and explore his masterpiece – The Garden of Earthly Delights.

From the product description
About the Experience
Experiencing famous artwork up-close and personal is a great strength of VR. Computers made it possible to zoom into high-resolution images taken from paintings many years ago, but only recently have we been able to feel like we're standing in front of them, seeing them at their actual size. I'm often shocked when I learn the true size of famous paintings. Michaelangelo's Mona Lisa is relatively tiny at just under two feet wide, and Botticelli's The Birth of Venus is comparatively huge at nine feet wide!
Truly experiencing and appreciating artwork is best done in front of the original, but this is often impractical. Even when you can visit it, you're probably in a museum surrounded by other viewers, seeing it on a wall surrounded by other works of art. What if you could stand in front of it in the original painter's workshop, even in the presence of the artist himself? That's the main conceit of Eye of the Owl, and it works well.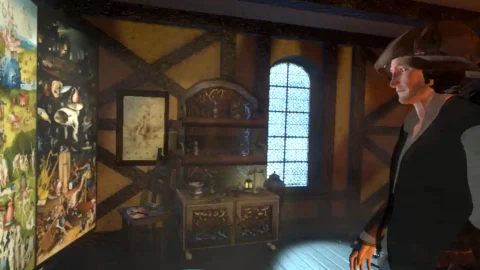 When you launch the app, you are thrust into Bosch's workshop. You are surrounded by the same environment as he would have been influenced by during the creation of the masterpiece. You can walk around and see the furniture, the paintings on the wall, and of course, the canvas of interest.
Graphics and Sound
Graphics are excellent. The painting is captured in very high detail, and you can not only move close to it, but you also have a magnifying glass to hold up and see even more. The glass is interesting as it has that slight curved distortion around the edges of the lens that it would actually have.
To bring it to life further, great care has been taken to supplement the static painting with various effects. A section of the painting with some smoke has animated smoke as though it's coming out of the painting (without altering the look of the painting itself). A section with birds is augmented with additional birds flying around, and water flows from fountains.
Not only is it enhanced visually, there are also quite a few areas of interest to examine where you'll find sound effects that match the setting, such as sounds of nature, licking flames, or people crying out. It all works together to bring it to life.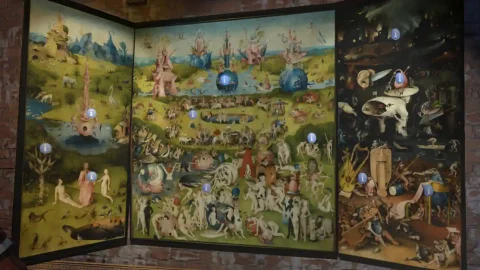 Information Content
The two main purposes of this experience are to have a chance to see the painting up-close and to learn more about its context and history. To that end, you can walk up to it and just take in the details, but you can also use a magnifying glass tool to look even closer. Many spots have small "i" indicators where you can activate more details. The narrated details are spoken by Bosch "himself" as he stands in his workshop next to you to explain his creation. His voice is a little bland, but it's all quite informative so easily forgiven.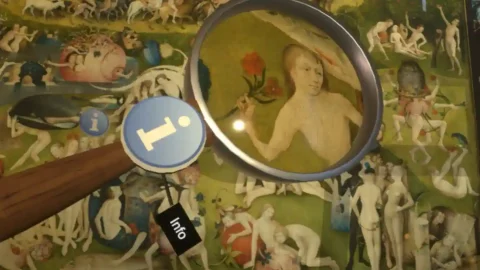 Navigation and Interactivity
There's not much navigation in the app since it's all about experiencing the painting, but as already covered, it's very interactive. Using the magnifying glass and activating the information callouts provides enough interactivity.
Updates and Support
This is a one-off experience with no ongoing content updates.
Summary
I can easily recommend Eye of the Owl to anyone interested in exploring art and its history. I've seen the painting before and wondered about many elements of it, so being able to "meet" Hieronymus Bosch himself to learn about it was a great experience. You might consider it a little mature for young audiences, but it doesn't add anything more explicit than what's already contained in the art.
Pros
Great choice of subject with a complex and detailed work of art.
High-quality graphics, sound, and embellishments add life to the masterpiece.
Setting the experience in Bosch's workshop heightens the immersion and context.
Cons
The voice could be a little more fun.
Quick Facts
Rating:
Pricing:
FREE
Category:
Apps and Reviews, Historic
Release date:
23 Dec 2016
Install size:
2GB
Official Site:
Developer:
Publisher:
Headset(s):
Language(s):
Play mode(s):
Where to get it:
---