Get Lost in Nature with Luke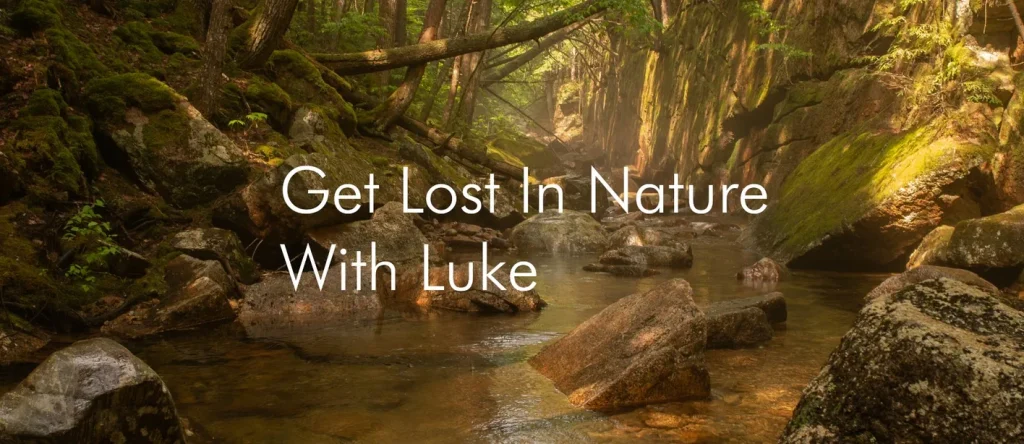 America's East Coast is home to some of the most beautiful canyons, beaches, mountains, gorges, mountains, and rivers. We want you to feel the vitality, the rawness of these beautiful places in the same way you'd feel if you were visiting these places for the first time.

From the product description
About the Experience
Here at VR Voyaging, we're always looking for the best ways to travel and see the places we can't get to. Apps that capture locations for immersive visits are our favorites, and we're always on the lookout for them. There are plenty of great options out there, from specific locations to apps like Blueplanet and BRINK Traveler with 20 or more destinations.
It can be hard to know where to spend your money since quality can vary a lot. Thankfully, Get Lost in Nature with Luke is free, which is surprising given the overall quality and the number of locations. There's the initial cave (which unfortunately doesn't seem to have any information), then a small gorge, then about five locations you can travel to from there. Each location has around five different points you can jump to. All locations in the northeast region of the US:
Cave (unknown spot)
Small gorge (unknown spot)
Rafe Chasm, Gloucester, Massachusetts
Waterville Valley, New Hampshire
Rainbow Falls, Watkins Glen State Park, New York (upper and lower trail locations)
Wetherill State Park, Jamestown, Rhode Island
The "Luke" in question is Luke Farrer of Lost Eagle, a company that has also produced Claustral Canyon, Horseshoe Bend, and Flume Gorge in Winter, all excellent titles too. I'm not sure if he's an authority on these places or just felt like being part of the apps, but he seems like a pleasant enough person to hang out with.
Graphics and Sound
The graphics are wonderful. The images are crisp, detailed, and vivid. The locations are fully volumetric (photogrammetrically captured) with several ideal viewpoints hovering. The app doesn't really encourage wandering around (wouldn't want you to get… lost!), so the hot spots ensure a good view.
If you physically walk around, you can see more, and you'll also see the glitches that are always present in captures like this since of course it's not reality. If you walk into a rock or past a railing, you might see patches of emptiness. Some apps prevent this by bouncing you back, others let you see beyond. It might be nice to see this expanded with a marked border for ideal viewing (like in BRINK Traveler or Blueplanet), but the hot spot orbs basically serve that purpose instead.
A number of the scenes have water and it's animated so waves crash or streams flow. This really makes it feel more immersive. BRINK also has features like animated water, but there they either create simulated water effects, or very carefully choose video to loop. In this case, the motion is from the original captured video and simply loops every so often. It's not too jarring, although one of the beach scenes has a bird frozen in the air overhead which stands out, or people who flash in and out of view!
There's background music, but it doesn't contribute much to the experience. In one of the locations, it's a bit overpowering which is unfortunate. You can disable the music if you'd like only the ambient sounds, but starting the Luke narration unfortunately automatically brings the music back.
Information Content
There are no text callouts. Instead, Luke shows up at most locations (again, not the cave) and chats about the area. He actually plays back as video within the current space. If you move around, he'll disappear but keep talking (he's 2D so only works from a single spot). Even if there are multiple hot spots (viewpoints), his video is tied to only one of them. It's one of few apps I've seen that use a real human personal guide to show you around. It's a neat touch and makes it stand out from the crowd.
The initial cave has no description, but some info popups and a Start button. This brings you to a very small
Navigation and Interactivity
Navigation is easy. Point and click on the hotspots in the scene. There are no items to interact with (no rocks to throw), but rather just a series of points to sit/stand at and look around. You can do everything with one controller and can sit for the whole experience. Instead of a full in-app menu, there's a floating vertical bar to mute, return home, or exit. You can toggle this on and off. There's no teleporting, though you can turn around in place with the thumbstick.
As mentioned, you can walk around if you want. This is very nice since there's a wider range of view than the hot spots allow, but this isn't as nice if you're confined to your seat and can't move around. It also has the unfortunate effect that the popup menu can get lost. It seems to be selective about where it appears. I would expect it to appear next to you. Then, if you walk away from it, you could toggle it off and back on, but instead you need to return to where it's floating (which might behind a wall if you've been walking around and turning with your controller). Even better would be persistent controls on your wrist.
Updates and Support
The product description promises "frequent" updates over time, including locations outside the US, but so far nothing has materialized (released in 2021, early in the pandemic when virtual travel was definitely a priority). I've reached out to Lone Eagle and will update this review if I learn anything.
Summary
This is a wonderful experience in nature in the New England region (northeast) of the United States! The locations are great, and there's some nice narration by Luke. Who is Luke you might ask? I don't know! Someone I don't mind getting lost with, I guess. As with Lost Eagle's other experiences, you'll likely want to come back and visit again, or share it to show off the potential of VR.
Pros
Nice graphics
Informative narration
Animated elements are nice
Cons
I'd love to see some new locations added
The music controls should be separate from ambient sounds
Better in-app menu would be nice
Disclosures and footnotes
We may earn a commission for purchases using our links.
Deals and Discounts
Quick Facts
Rating:
Pricing:
FREE
Category:
Release date:
25 Mar 2021
Number of locations:
7
Install size:
4GB
Official Site:
Developer:
Luke Farrer
Publisher:
Headset(s):
Language(s):
Play mode(s):
Where to get it:
---