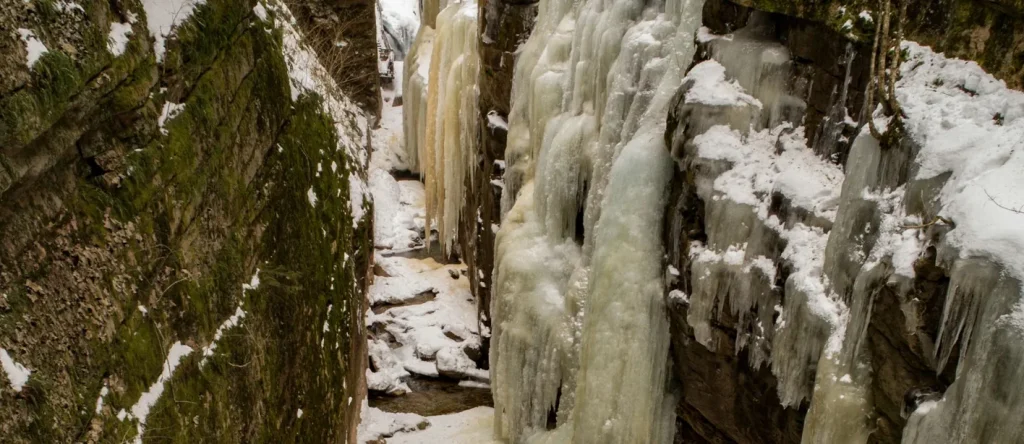 Immerse yourself and glide serenely through one of New England's most well-known gorges, Flume Gorge. Unlike in summer, when the place is busy with visitors, you'll be experiencing this lovely place in winter where it gets transformed into a beautiful winter wonderland.

From the product description
About the Experience
I've never been to New Hampshire, but if I ever get a chance, I hope I get to visit Flume Gorge. Though you can't see a very large area, Flume Gorge in Winter lets you experience a section of the area while covered in ice and snow during the winter. It's a beautiful area you can visit from the warmth of your home.
Graphics and Sound
This is a very realistic looking experience created using high quality photographic imagery. You can move around to explore, although you don't have complete freedom. Most angles are sharp and look great, but the best angles are highlighted with green circles.
Information Content
Though there could have been some narration, this is just for the scenery.
Navigation and Interactivity
You can fly around many angles, and there are also green circles that represent certain camera positions. Click the circle to slide through the air to the position, then look around from the new point of view. Note that if you are very sensitive to smooth movement, this might bother you.
Updates and Support
This app does not receive ongoing updates or new content.
Summary
Overall, Flume Gorge in Winter is a nice experience to take a look at a park area in New England. It's clearly a very nice area, but it's more about getting to float around it than really feeling like visiting it.
Pros
Beautiful natural gorge
Nice views
Extra touches like running water
Cons
Feels a bit constrained, though that's how gorges are!
Designed more for floating around than a feeling of walking on the ground.
Disclosures and footnotes
We may earn a commission for purchases using our links.
Deals and Discounts
Quick Facts
Rating:
Not yet reviewed
Pricing:
FREE
Category:
Release date:
25 Jun 2020
Install size:
4.3GB
Official Site:
Developer:
Luke Farrer
Publisher:
Headset(s):
Language(s):
Play mode(s):
Where to get it:
---