Finding hidden VR apps in Meta App Lab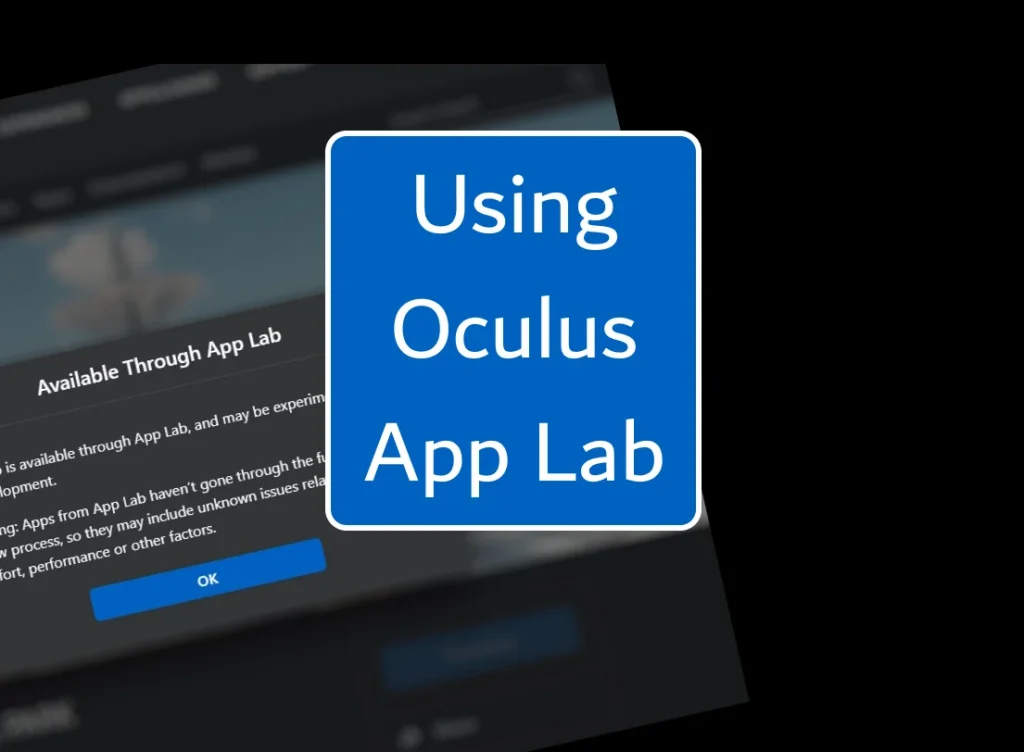 If you have a Meta Quest headset, you've probably spent at least some time on the Meta App Store (online and/or in the headset itself). This is the main place people go to find VR titles, and there are many of them! But what if I told you that there was an entire hidden part of the store that you may not have seen? We're talking about hundreds of titles that won't show up in your searches yet are available to check out or buy/download.
Hidden beneath the surface
The Meta/Oculus store is where you go when you're looking for official/certified apps or games for your Meta Quest 2, 3, or Pro. Meta performs rigorous testing and review based on their quality requirements. Everything that passes this process is searchable within the site and may be showcased or bundled.
The Meta quality guidelines are notoriously difficult to meet, and they serve as a bar to keep only the highest quality titles front and center. This has led to criticism from established developers who may be approved on other stores (Steam or Viveport) yet can't approved by Meta. Even more so, it unfairly penalizes independent developers who often come up with high-quality titles that people love, but they can't get into the store.
In order to allow a more diverse collection of titles, Meta created a new channel for releases: App Lab. App Lab allows almost anything to be published, free or paid, full description and app details, and even reviews. The biggest limitation, and it's a big one, is that they provide no way to discover the apps. You can't search for App Lab titles. They won't show up in the Meta Store in your headset. You need to already have a direct link. You're also greeted with a warning when you get to the listing page.
Why App Lab?
So why would someone publish to App Lab? If a person or organization is developing an app, they might want to make it available for limited testing before a real launch. A student might want to develop an app which is usable, but not professional quality. I've seen a number of smaller organizations with limited resources create VR experiences that they don't want to submit to the whole review process.
App Lab allows users to learn about and install apps without requiring them to sideload. Sideloading lets you make any Quest app available without the Meta Store or App Lab, but it requires some extra steps to install. Sideloaded apps also don't auto-update, nor do they show up in the regular apps list on the headset. This can be a high bar for some folks.
Searching for App Lab Titles
Since you can't use the regular Meta Store search function to find these titles, you might wonder how you'd actually find them. This usually comes down to the developer promoting it, or perhaps on recommendation from a web site or friend. Another way is to use a third-party site that catalogs all of the titles for easy searching and sorting. Once you find something interesting, these sites redirect you to the official Meta store page. This means that you don't need to worry about malware or other dodgy practices by the search sites.
The two sites that I recommend for finding App Lab titles are AppLabGameList.com (also known as Oculus App Lab) and SideQuest VR. Both provide thumbnails, descriptions, and full search, and neither are affiliated with Meta. The biggest difference is that SideQuest VR has a larger selection than Oculus App Lab.


It's possible to find some decent titles this way, but the quality is definitely hit or miss. As mentioned, these haven't gone through the normal vetting process, so results may vary. App may crash, graphics might be low quality, and performance is likely unoptimized. For all that though, it's still got some gems worth looking at.
Search tips
There is definitely a skew toward more games in App Lab, although you can find non-gaming experiences if you a bit harder. I recommend searching on terms like Exploration, Educational, Travel, and Documentary & History. Unfortunately, there's no specific tag for game vs non-game. You can usually tell from the titles and thumbnails when you find potential choices. Click the thumbnail to learn more about the title.
Installing App Lab titles
Once you get to the store page, you'll see the following disclaimer: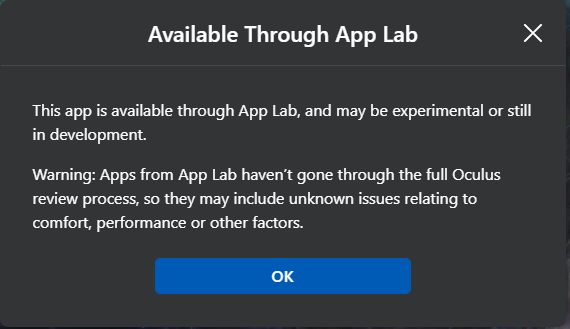 No need to worry though! It's as simple as clicking the OK button. Once you've dismissed the message, you'll see a normal store page with details and reviews. Click the Get or price button to add to your account and install it on your device. Anything you install from App Lab gets regular updates as they come available, and they run on the headset without any additional messages or warnings. Other than searching being more challenging, everything works the same. Just like regular titles, these may be free or paid. Be sure to read the reviews before buying a title.
Closing
I hope this helped to demystify Meta App Lab. It's fun finding a whole new channel for finding titles. They aren't all winners, but I've been pleasantly surprised by a few. It's worth the time to see what's out there!
Disclosures and footnotes
We may earn a commission for purchases using our links.
Deals and Discounts
---