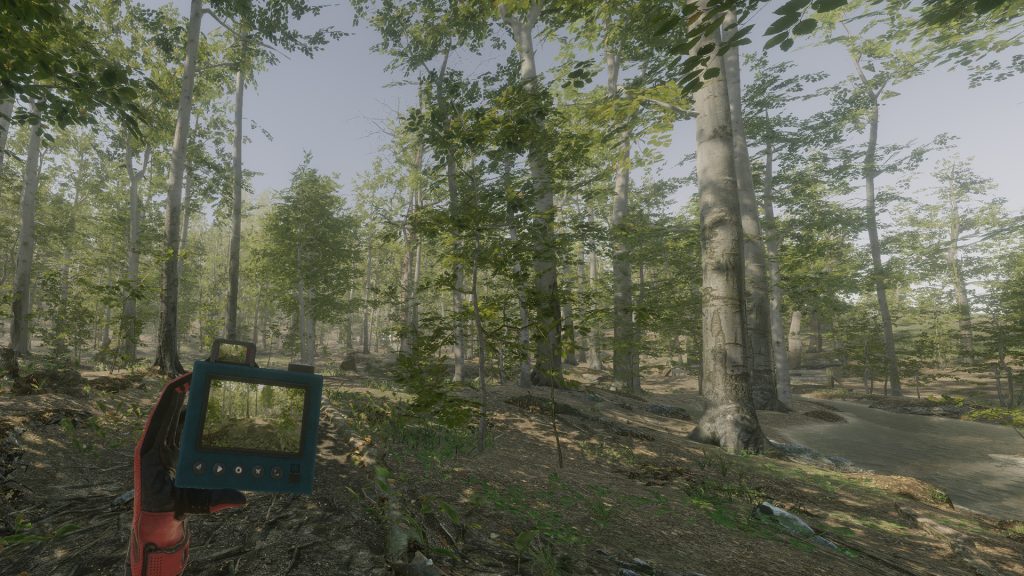 VR Walking Simulator lets you explore numerous realistic natural environments from the comfort of your room. The game supports SteamVR fully, so customize it to your liking. Play sitting, standing, or walk around. There are also multitude of extensive graphics options so that you can get the most out of rig.

From the product description
Virtual reality is great for transporting you to other places, whether real or imagined. Looking around and being surrounded by a whole new landscape in an instant is magical. Experiences based on real-world locations often start with photos and recreate the spot in 3D. These can look great but are usually pretty limited in how big of an area they can cover due to the effort required to put it together and the size of the files that it creates. Creating locations from scratch, as done in most games, reduces the sense of reality, but can allow for much larger spaces. Read on to see how VR Walking Simulator uses created locations to provide a virtual get-away.
About the Experience
I must admit, I was a bit confused when I first started the app. There was no menu, and I wasn't in any lush nature scene. Instead, I was in an office. I'm still not completely clear why there's a small office in a walking simulator, but I suppose it was a way to create a landing zone to get started. If you're happy in this space, then there's no need to keep reading. Just call it "Office Simulator" and get to work!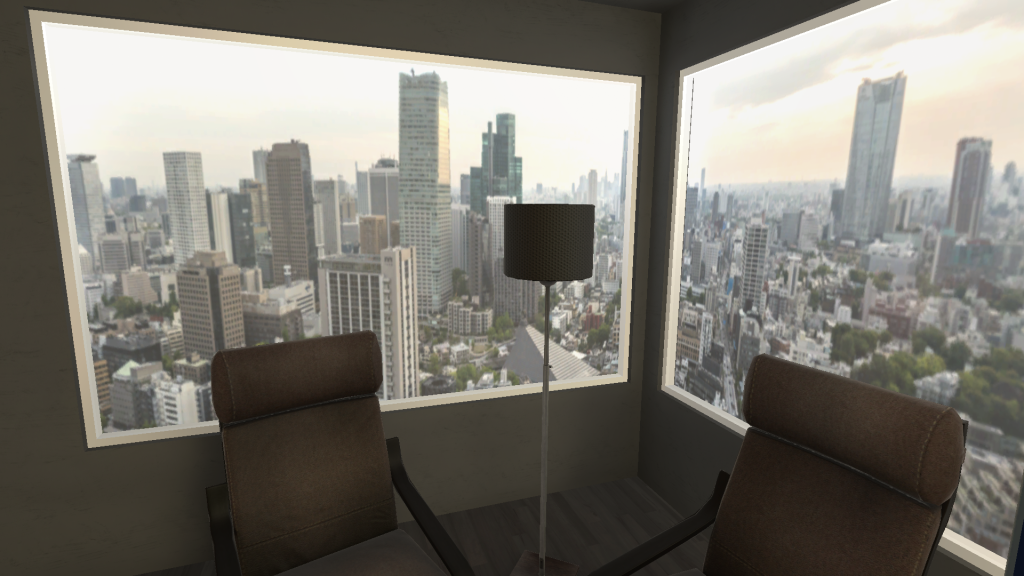 There's not much to do in the office other than try out the controls and grab the camera. You can throw a coffee cup, so that's something. With camera in hand, you can take photos, then pull out the Polaroid-like snapshots to examine your handiwork. You can throw these around too. The pictures you take are stored in a somewhat inaccessible folder which you may or may not be able to find.
I wish apps like this would pop open the window on your desktop when you shoot your first photo so you wouldn't need to hunt it down later. It's not a huge thing, but I can see it causing a problem for less technical folks. The app does display the full name of the folder on the screen, but you can't exactly write it down, and it's long (this may vary depending on how you have your Steam library setup).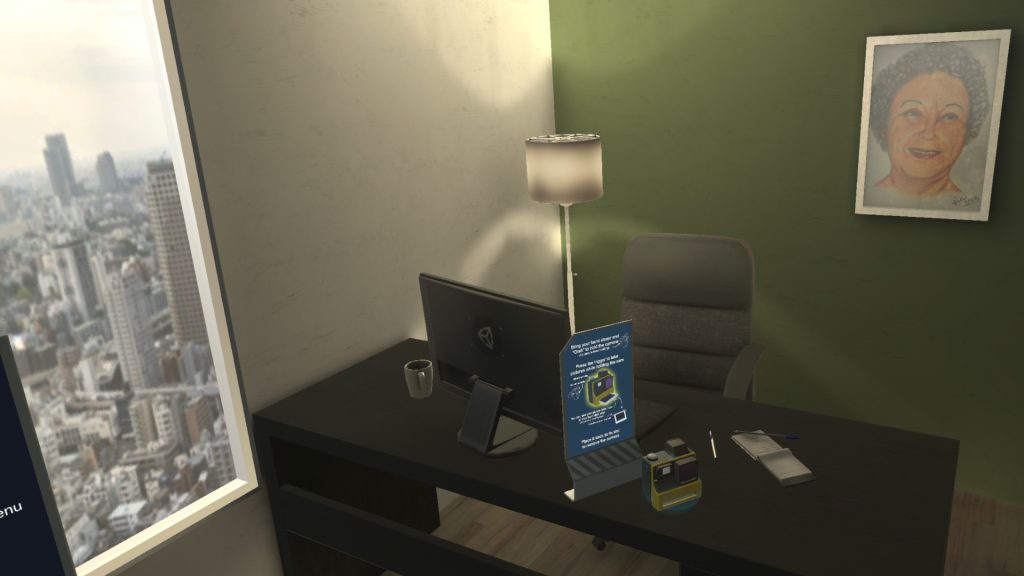 There are nine environments to choose from. Quality is similar between them. All of the environments are handcrafted with vegetation, terrain, water, and more. I suspect that at least some of these were created by others and made available to download (called asset packs), likely for free. This isn't a dealbreaker by itself, but it does indicate a lower level of effort. It still takes some work to put it all together into a single experience, but it makes the somewhat high price questionable.
These are the available locations:
Alien world
Forest
Mountain Lake
Deserted Town
Fantasy Land
Mountain River
Rainforest
Meadow Creek
River
Graphics and Sound
Graphics are fair to decent. In some areas they're really quite good. There are lighting effects, clouds, and birds in the air. There is also movement of grass and trees, although it's not very well done. The grass is made up of flat sections which move a bit like cardboard cutouts sliding back and forth. "A" for effort, I guess.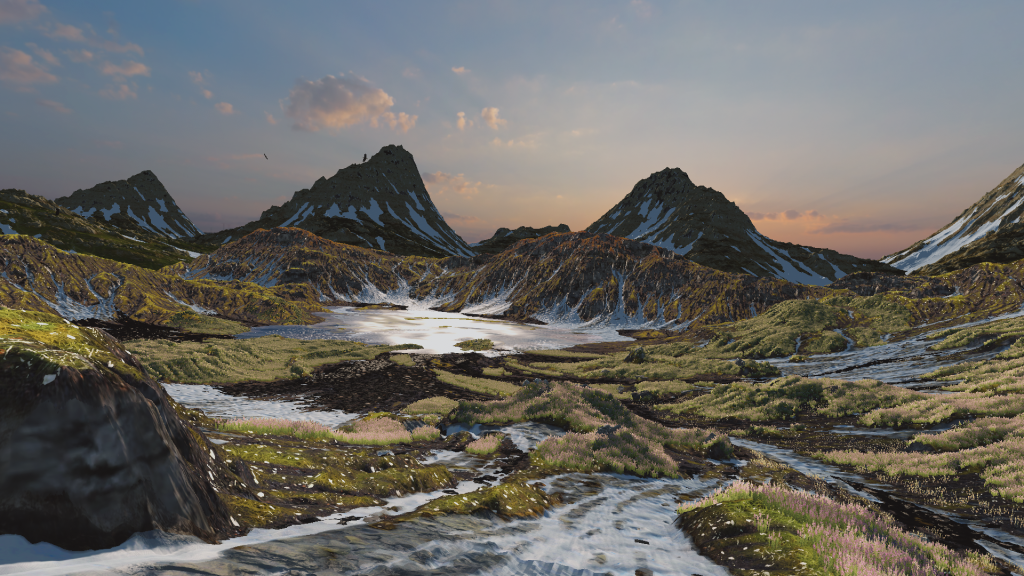 The main areas of the different environments are pretty well done, but you definitely need to watch out for the edges (a virtual world can only stretch so far). In some worlds, if you make it to the ends of the earth, you'll hit an invisible wall. In others, the ground drops off. Occasionally, the world is effectively infinite since it just generates new land as you move around (the game Minecraft does this). Here, they basically take the wall approach, but as you can see below, the scenery continues for some distance. It definitely doesn't look right though! It's a bit like peeking behind the curtain at a theater or at an amusement park. Stay on the guided "path" or you won't like what you see.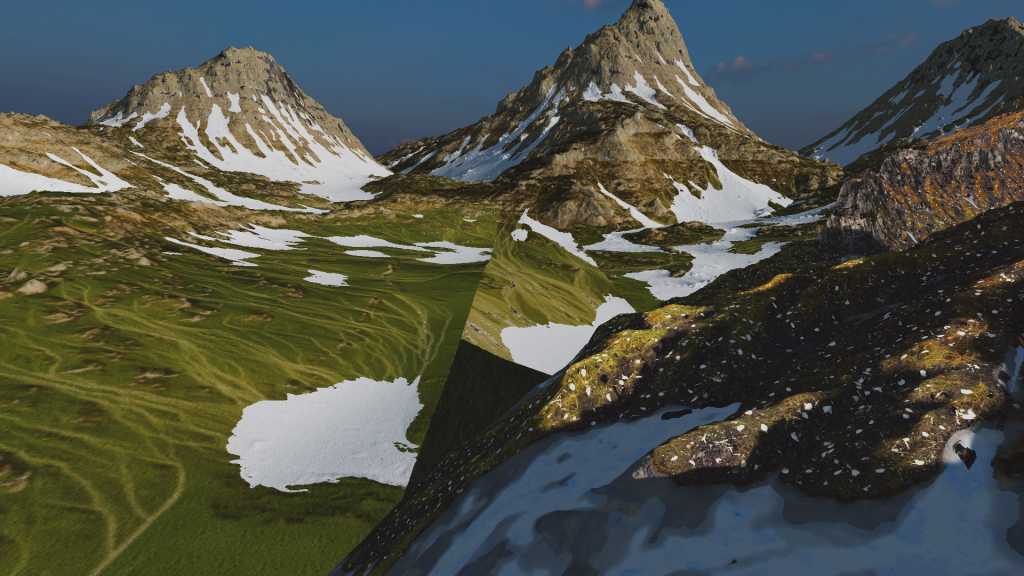 There are other imperfections to be found as well. Some elements are well detailed, and others really not (even at higher quality settings). In larger areas, things may pop in and out of view. This isn't unheard of in the realm of computer graphics, but better experiences use tricks to minimize the effect. It really does produce some pretty good wallpaper images in some scenes, but it doesn't hold up to closer scrutiny. The general quality in each environment can vary quite a bit too. This is to be expected though if the different environments were obtained from different sources.
Information Content
As the name implies, this is purely a walking simulator, and a fantasy one at that. There's no educational, informative, or documentary content to be found.
Navigation and Interactivity
Getting around requires you to use a menu "clipboard." By default, your camera and the menu stay by your waist. Reach down to grab them and use your other hand to manipulate them. The menu lets you change location, adjust the graphics quality, and change a few things about how the experience works.
Once you're out of the office, nothing is interactive other than the clipboard and camera. It would be nice to see rocks, branches, or other elements to mess with. Maybe even make a ring of rocks and a pile of sticks to create a fire pit. As it is, you can just teleport or smooth move around and see the environments from different vantage points.
Updates and Support
This has not been updated since initial release and is not described as having future content updates to look forward to.
Summary
Pros
Still images in some areas are quite nice
Good lighting and other ambient effects
Cons
Quality of graphics and animated elements is hit or miss
Glitches can break the illusion
Seems to be somewhat of a low-effort collection
At the end of the day, I can't really recommend this. It's not terrible, but I don't like the sloppiness. Some locations are pretty decent, but none of them are done well enough to feel real. Even photogrammetric locations rarely fool the brain, but it's not just about realism. It's about consistency and a tightly controlled experience. Clearly it took some work to develop this, but it needed more polish to really come together. Maybe it would be worth it on sale just for the variety of locations, but I can't imagine returning to it very often.
Agree? Disagree? Let me know your thoughts in the comments.
Disclosure: Product received for free
---