Ten great destinations to explore in Wander
With Google seemingly giving up on their great Google Earth VR app, it's up to other companies to fill in the gaps. While some apps like Blueplanet and Brink use their own images to let you explore limited locations in great detail, Wander VR does a great job of letting you browse the maps and Street View imagery from around the world as provided by Google. If you're looking for some places to visit that don't have dedicated VR experiences yet but have the 360° Street View captures, there are many locations to get excited about.
Using Wander VR
Note that when you are browsing the maps, you can drag and zoom the map around anywhere, but for the immersive imagery, you want to look for the blue elements.
The Blue Lines indicate continuous Street View, generally captured by Google themselves with their special cars. These are usually very high quality and stitched together so you can move around from one image to the next. They are literally views of the streets or sometimes popular paths so can only get you so close.
The Blue Dots indicate individual 360° photos taken by Google as well as by individuals. The quality can vary greatly for these, but for areas not accessible by the Street View cars, these may be the best option. For example, national parks and building interiors are often only captured by individuals with fancy cameras.
Following are ten noteworthy locations from around the world for you to visit virtually. They are all amazing places, and the list is in no particular order. Take an afternoon and explore them all with Wander! Remember you can use the microphone from the small popup menu or the search box above the map view to set your destination.
1. Machu Picchu
Machu Picchu is known around the world for its amazing look at a civilization that thrived in the mountains of Peru. It's pretty amazing what the Inca were able to accomplish in the 1400's. Take a tour with Wander and it's like being there.
2. Venice, Italy
Known for its beautiful canals, bridges, and other classical architecture, Venice is a city rich in history and culture and is a popular destination for anyone interested in art, architecture, and history.
3. The Great Wall of China
One of the world's most iconic and well-known landmarks, the Great Wall of China stretches over 4,000 miles through northern China. Google Street View allows users to explore various sections of the wall, including the famous Mutianyu section.
4. The Pyramids of Giza
Located in Egypt, the Pyramids of Giza are some of the oldest and most well-known pyramids in the world. Google Street View imagery allows Wander users to explore the pyramids and the surrounding area, including the Great Sphinx.
5. The Taj Mahal
Located in India, the Taj Mahal is a beautiful mausoleum built in the 17th century. It is a UNESCO World Heritage Site and is considered one of the most beautiful buildings in the world. Use Wander to see Google Street View images to explore the exterior and interior of the Taj Mahal.
6. Petra, Jordan
The incredible city of Petra was carved out of stone in Jordan, between the Dead Sea and the Red Sea, somewhere around the 4th century BC. Another UNESCO World Heritage Site, it's described as "one of the most precious cultural properties of man's cultural heritage."
7. Large Hadron Collider at CERN (Switzerland)
Seeing the Large Hadron Collider at CERN is a pretty amazing experience. This is one of the few places on the list that I've personally been to, although not with the same level of access you'll get from the Street View imagery in Wander! See just how massive the complex is and be amazed at what humanity has achieved.
8. Everest Base Camp, Mount Everest, Nepal
There are two base camps for Mount Everest. One on the China side, and one on the Nepal side. The South Base Camp in Nepal has been captured by the Street View cameras so you can experience it in Wander. While many, many people have visited this site closeup as part of their ascent, most of us will be happier enjoying it from afar.
9. Great Barrier Reef (Australia)
Deep ocean diving brings you close to sights that might as well be on other planets. The beautiful plants and sea life along with the impressive reefs are enough to create awe in anyone. Google used their special cameras to take spherical photos underwater so you can explore areas of the Great Barrier Reef using Street View imagery in Wander. Even if you have a chance to visit it, it's highly protected so you probably still won't get as good of a view as here.
10. International Space Station
Which of these things does not belong here? This is the only location on the list that isn't on Earth. It's not really that far away in terms of miles, but most of us still probably won't get much closer to the ISS in our lifetimes. Thanks to a partnership with NASA, Google was able to capture high-resolution images and incorporate them into Street View to view from apps like Wander.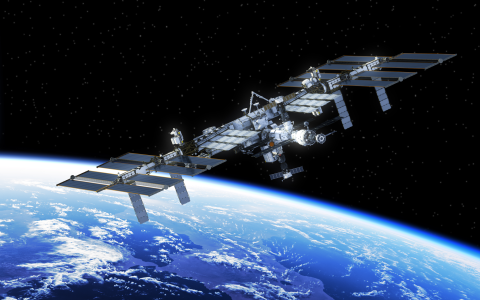 ---