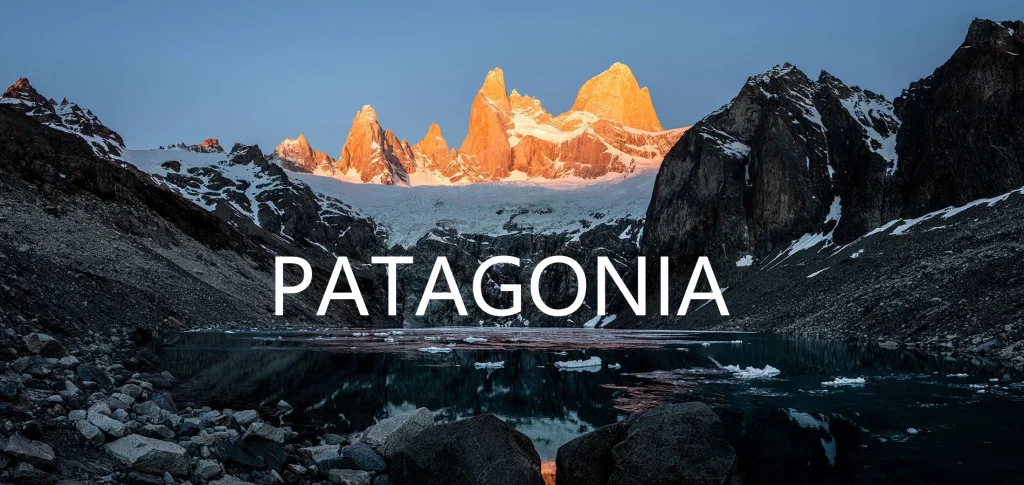 This experience allows you to take off as a bird with wings, fly around the lake, visit the waterfalls along the edge, and visit the snowy clad plains beneath the mountain peaks, including many stunning glacial formations. Numerous narrations will tell you about the challenges we faced when filming this location as well as educate you about the geology and history of the area.

From the product description
About the Experience
Few people ever get a chance to see Patagonia (other than in the logo of the eponymous outdoor company). Situated at the farthest south end of South America, it's not actuall it's own country, but rather a region jointly governed by Argentina and Chile. Beauty abounds with lakes, rainforests, both glaciers and deserts, and the southern section of the Andes Mountains. It has the Pacific Ocean to the west and the Atlantic Ocean to the east, and if you go south enough, you'll end up in Antarctica!
In Patagonia (the VR experience), take the opportunity to not just visit Patagonia, but an especially remote, inaccessible area with a glacial lake. It's absolutely gorgeous, and you can float around it and see it from many angles both above and on the ground.
Graphics and Sound
This is photogrammetric and demonstrates very high-quality photography and good work stitching and modeling it back into a 3d scene. It's not perfect, with some glitches in places if you try to move around too far, but this is common. The actual area of travel is more than most locations in Blueplanet or Brink, although it can afford to be bigger since it's just one location in the app. Look forward to some beautiful views!
Information Content
This is not an information-rich experience. It's mostly a tourism experience. Walk and float around and take it all in, but the main information provided is right at the beginning during loading when it talks about the location. As you move around, there are a few other spots with some background about getting the shots. It's worth getting that background to fully appreciate it.
Navigation and Interactivity
It's not really interactive, but you can choose certain viewpoints, or move around somewhat freely. Presumably, the viewpoints are some of the photo locations (drone shots), although I'm confident many more angles were actually used. Once you move away from the spots, you'll spot some glitches in places, but don't let that discourage you from exploring.
Updates and Support
This is a single-location title and doesn't receive updates.
Summary
At the time of writing, Patagonia is only $3.99 so definitely worth it. The graphics are great, the location is spectacular, and it's a lot easier than getting there yourself!
Pros
Basically impulse purchase price
Gorgeous visuals
Feels like you've really gone somewhere special
Cons
Disclosures and footnotes
We may earn a commission for purchases using our links.
Deals and Discounts
Quick Facts
Rating:
Pricing:
PAID
Category:
Release date:
7 Mar 2019
Install size:
3.8GB
Official Site:
Developer:
Luke Farrer and Michael Breer
Publisher:
Headset(s):
Language(s):
Play mode(s):
Where to get it:
---