Aboard the Cerberus – A great slice of Australian naval history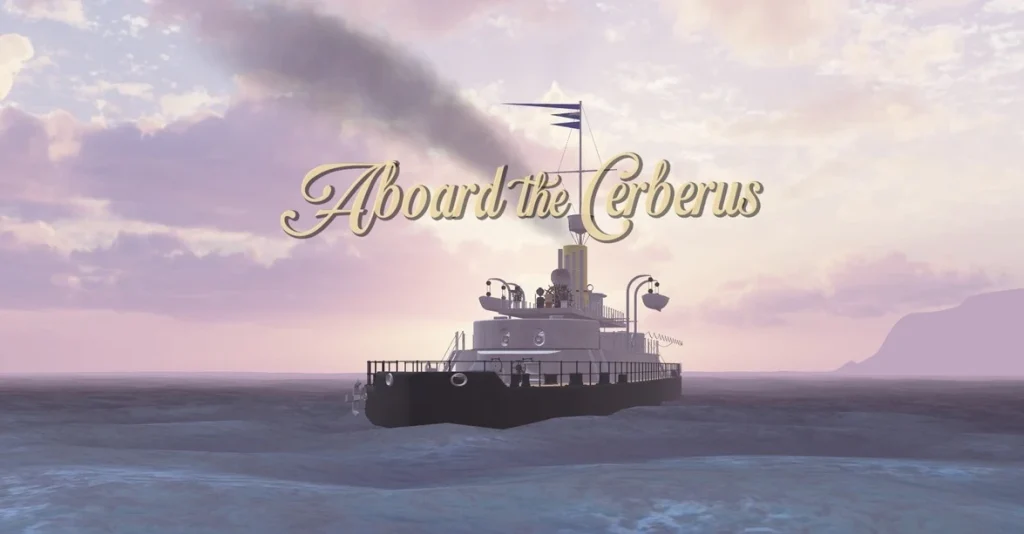 Climb aboard the historic HMVS Cerberus and travel through time alongside the Cerberus crew, as you stand in the shoes of a stoker, a helmsman, a gunner and finally don the gold-laced cap of Executive Officer.

From the product description
About the Experience
I love the diversity of experiences available for VR! Up until a few days ago, I knew nothing about Australian naval vessels, nor was I likely to be researching them. Finding that a subject is covered in virtual reality makes it much more interesting to find. I probably wouldn't have watched a video documentary on the subject, but after spending some time with Aboard the Cerberus, I've learned something new and can say I have at least a small amount of knowledge on the subject.
Launching the app, you start out on a dock. It's 1871 and you're in Williamstown at Railway Pier, now called Gellibrand Pier. There's some introductory narration while you stand there listening. If you're mobile, you can walk around a little bit, but nothing requires any movement at this point. In front of you is the water with the HMVS Cerberus docked. Behind you there are train tracks and cars loaded with freight arriving or departing. Stacks of cargo are piled up waiting to be set on their journey.
After voice-over narration introduces the ship and the era, you are placed on the deck. The captain stands in front of you, mostly still. It's a little creepy having a person standing too still, like a mannequin. After some additional voice-over, he'll look at you and speak. If you move around at all, he'll even turn his head to look in your direction. You won't be fooled into thinking he's real, but they do a good job with his detail and movement.
As the narrative continues, you'll be moved to various places on-board, and eventually onto another dock. There's the introduction, three chapters, then the conclusion. You can start anywhere from the initial main menu, otherwise it will step through them in order.
Graphics and Sound
There is voice-over narration and ambient sounds throughout. These are done well and create a consistent atmosphere. The voice actor sounds like Roger Allam, although I don't think it's him. My only complaint with the narration is a somewhat slow pace. There's no way to speed up or skip lines of dialog. You can turn on subtitles if you'd like, but if you read quickly, you'll still need to wait for the speech.
The graphics are well done. They are hand-modeled with good detail. Not photo-realistic, but still good and certainly effective. Most of the experience takes place on the ship, other than a few scenes on docks. There are a few characters you'll share a scene with, although there's no actual interaction with them.
Information Content
At its core, Aboard the Cerberus is a documentary. The information content is great, although its focus may or may not be for you. In addition to learning about the British and Australian navies in general, you learn how the Cerberus was used during its time. You will shovel coal, steer the ship, fire the cannons, point the spotlights, and more.
In one section of the narrative, the captain tells you about a cut communication line that could signal an impending military attack. This leads to some readiness exercises on deck that you get to be part of. It's not a game. You get to try out the different devices, but it's not about winning or losing. It's nice to have interactivity within a documentary without it needing to become an actual game.
In this sort of experience, it's also just nice to be able to stand in the middle of things and get the true sense of scale. If you went to a museum, you might see isolated artifacts from a vessel like this. You might even be able to see what's left of it submerged in the water. To be able to stand on and in it, with everything in its original glory, you really feel like you're living history.
Navigation and Interactivity
Nearly the entire app is designed for sitting or standing. There is even a blue circle with footprints on the floor marking where to stand. If you wander around to see anything closer, it won't stop you, but it mostly assumes you're within your circle. Move if you'd like though. The captain even turns his head toward you!
Unfortunately, in the chapter "The Victorian Fleet Unites," you are directed to stand. This is necessary to be at the correct height for some equipment on deck. I find it a little unfortunate when apps make this choice. Not everyone can do so easily, if at all, and considering that it's all virtual, it can easily make allowances. I didn't see any setting or option to change my in-game height, so I'm guessing I would just be too low if I stayed seated.
A well-behaved app should let me change my in-game position when needed, or just provide an option up-front to adjust the scene automatically. I don't mean to pick on Aboard the Cerberus too much. This isn't a unique issue but considering the amazing use cases of VR for the ill, elderly, and otherwise abled, it should be a primary consideration along with flashing lights, color contrast, and other accessibility features.
Updates and Support
Not applicable
Summary
I enjoyed Aboard the Cerberus. It's a great example of using the right presentation to engage an audience with a topic that's otherwise limited to a smaller audience. It's packed with information, the narrative pulls you through nicely, the graphics are solid, and the narration is professional. It's free, so give it a try!
Pros
Engaging documentary
Immersive graphics
Chapter list lets you stop and come back later
Cons
Might be challenging with limited mobility
Pace is a little slow at times
Disclosures and footnotes
We may earn a commission for purchases using our links.
Deals and Discounts
Quick Facts
Rating:
Pricing:
FREE
Category:
Release date:
5 Sep 2022
Install size:
1.1GB
Developer:
Publisher:
Headset(s):
Language(s):
Play mode(s):
Where to get it:
---