Ten amazing free historic sites to visit in VR today (June 2022)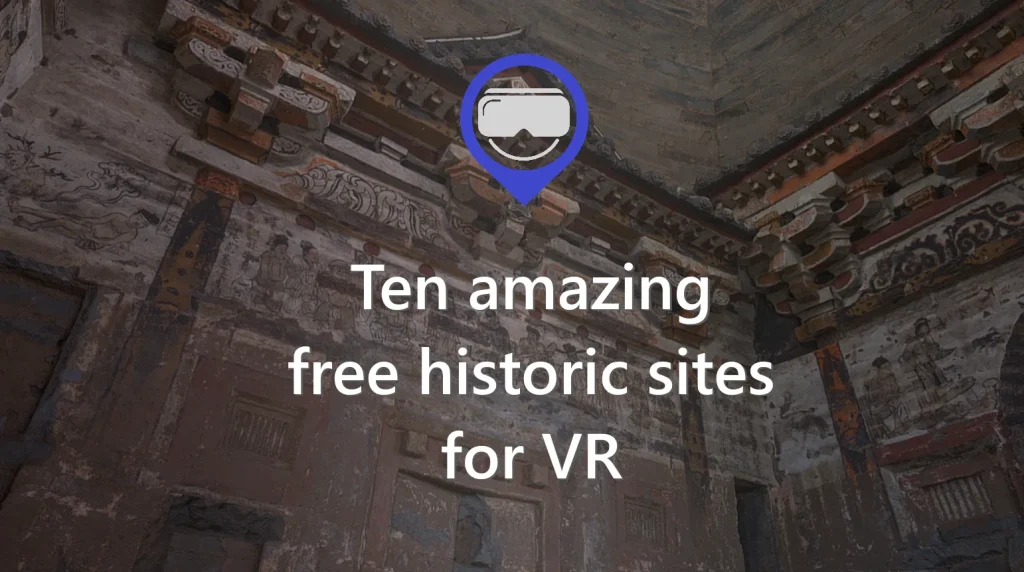 Introduction
As we've written about before, not all VR experiences are apps you need to download. Using Sketchfab, you can view thousands of 3d models right from your browser, and with the click of a button you can also view them in VR (or just open the links in a VR browser to make it even easier). From there, you can grow or shrink to get different views, and walk around the models.
Though Sketchfab has models in many categories, this article will focus on scanned real-world historic structures. You can also find statues, vehicles, and even people in both artistic and photographic forms. Feel free to use the categories at the top of the page to see what you can find.
This isn't a top ten list. I can't imagine taking all the world's history and compiling a top ten! Instead, it's ten great places that I hope you'll like as much as I do. Since these are big locations, the quality of the scans varies a lot. In some you can't get very close, but you can still get a much better sense of the scale and layout. Also look for annotations in the form of numbers in circles. Click these to learn details about the site. You can also read the descriptions on the model pages for information about how or when it was scanned or the significance of the model.
Without further ado, let's take a look at ten historical sites you can visit for free in VR!
Ten historical sites to visit for free in VR
Neuschwanstein Castle (Germany)
One of the most-visited tourist attractions in Germany, the Schloss (Castle) Neuschwanstein was built for King Ludwig II in the mid 1800's. This fairytale castle in Bavaria has over 200 rooms and was used by Walt Disney as the inspiration for Cinderella Castle. As with many large models on Sketchfab, this is only an exterior scan, but it's still quite impressive.
Varlaam Monastery (Meteora, Greece)
The Eastern Orthodox monasteries of Meteora (there are several of them) are carved out of and built on top of the natural rock landscape. It's truly amazing seeing what people are capable of. This is also an exterior scan, but you can position yourself on top and explore it at human-scale.
Egyptian pyramids, Giza, Cairo-Egypt إهرامات مصر
As with most of this list, I hope to make my way here someday. The pyramids have inspired so many legends and stories, TV shows and movies, comics and books that we all feel like we know them. Get a little bit closer with this exterior scan.
Chichén Itzá – El Caracol (Mexico)
Believed to have been the astronomical observatory of Chichén Itzá, El Caracol is an amazing monument and a testament to the engineering prowess of the ancient Mayans. The interior of the central tower employs a spiral staircase which leads up to a collapsed dome. It looks pretty impressive in person, and this is the next best thing!
Angkor Wat Temple (Cambodia)
This temple complex is the largest religious monument in the world. It was constructed as a Hindu temple and later transformed into a Buddhist temple. It was built in the 12th century and is an amazing example of Khmer architecture. See it in VR and avoid the ever-present monkeys that live there.
Song dynasty tomb (China)
I wish there were more details about this tomb. In general, there are few Chinese historical sites to be found on Sketchfab. I loved the artwork on the walls and the general architecture, so I wanted to share it. If you know anything else about it, please let me know in the comments! It's a wonderful 3d scan of the interior so walk around and enjoy it.
Chhatrapati Shivaji Maharaj Station (Mumbai, India)
Chhatrapati Shivaji Terminus is a historic railway station and UNESCO World Heritage Site in Mumbai, Maharashtra, India built in 1878. It's a beautiful blend of Victorian Gothic Revival themes with Indian traditional architecture, according to UNESCO's description! According to my description, it's a great looking design and worth seeing.
Mont Saint Michel (Normandy, France)
A tidal island and famous sanctuary about one kilometer from France's NW coast. The city is about 17 acres in area and is home to a Gothic-style Benedictine abbey constructed in the 11-16th centuries. It's one of France's most popular tourist destinations and is a UNESCO World Heritage Site. Don't wait until you're in France, visit it now!
Al Khazneh – The Treasury (Petra, Jordan)
One of the sites at Petra, this was hand-carved from the red sandstone mountain. You might have seen it in Indiana Jones and the Last Crusade, or in all sorts of other media. It's absolutely stunning and high up on my list of places to see. This wonderful model lets you go inside and also has a collection of numbered points providing some description on different details.
Baalbek, Temples of Jupiter & Bacchus قلعة بعلبك (Lebanon)
You may remember Baalbek from the VR app experience Baalbek Reborn. That app is free and provides great historical details, but unfortunately the graphics are artist-created 3d scenes rendered as spherical photographs. In other words, no moving around, no looking up-close, not even 3d. It's very disappointing really. Well, here's a better way to experience it! Enter this 3d model and immerse yourself in the ruins with much more freedom.
Summary
This is hopefully the first of several lists of great historic locations to visit in VR. Of course, it's just my personal list of ten, and I'm not saying they are the best! I'd love to hear your thoughts on these choices and places I should add to future lists. Enjoy!