'Virtual Gallery' review – Start your own art gallery!
There are so many VR museum experiences covering so many topics, but what if you want a museum of your very own? That's Virtual Gallery!
About the Experience
This experience gives you your own private space to display 2D images: photos, artwork scans, digital paintings, and so on. You can walk around, sit on benches, and take in your own personal gallery.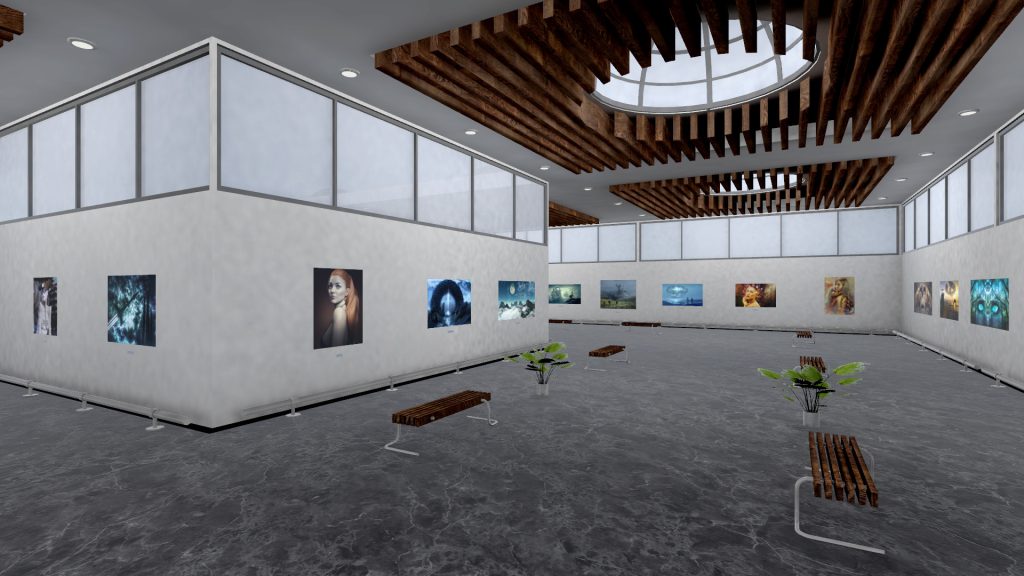 Since this is a personalized experience, it includes two modes: configuring and viewing.
Configuring your Gallery
Before you go through the configuration process, you'll need to collect images in a local folder. Each gallery can display up to 60 images. If your folder has fewer than 60 images, they will repeat to fill the space. If it has more, you'll go to an interface to select the images to display.
Virtual Gallery offers flexible support for image formats (jpeg, png) and orientations (square, landscape/wide, and portrait/tall). If you want to display a photo taken with an iPhone, you'll need to convert the image format from HEIC to jpeg or png. This experience even supports 3D images (from a 3D camera or a 3D photo app), presenting the depth as you'd expect. I haven't tested massive images, but it seems to handle reasonably large ones without issue. It would be nice to provide more flexibility for file formats, maybe even including animated GIF support, but that's definitely not a required core feature.
You configure your gallery by going through flat settings dialogs. For some reason, the settings appear right in front of your face when opened, so you'll need to step back. The first of two configuration dialogs, shown in the image below, lets you select and manage your galleries. Since the app supports multiple galleries, you can create one gallery for your family photos and another for your Buffy the Vampire Slayer fan art (for example).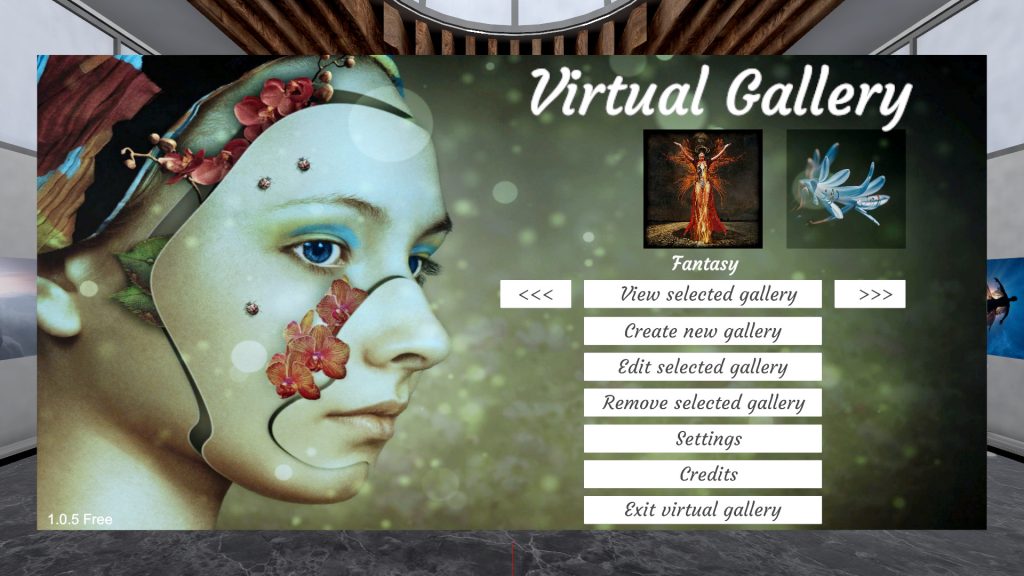 When you click "Create new gallery," you'll enter the second of the two configuration dialogs. Here, you point to that local folder of images, name your gallery, and set a sort order. Sadly, you don't have control over which photos go in which frames.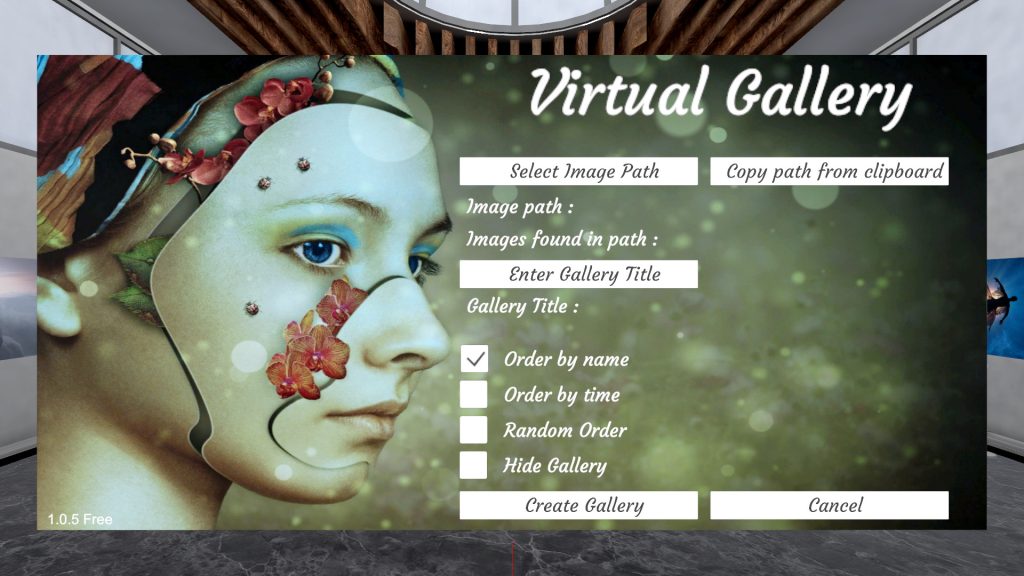 Note the "Hide Gallery" feature. You can use this for more, ahem, sensitive collections that you may not want front and center.
Note that you can create your galleries and explore them, but next time you launch the app, it doesn't open into the last gallery you had open. Instead, it always opens to a default pre-installed gallery. You need to wait 5-10 seconds for those 60 images to load, and then you need to wait all over again to load the gallery you actually wanted to see. This would be a pretty simple fix which would be welcome.
Once you've saved the settings for your gallery, you're ready to explore it!
Viewing your Gallery
In viewing mode, you can move around as you would in most VR experiences. You can use teleport and smooth movement, and you can physically walk as your space allows. For some reason, while you're using the app, a musical piece is looping in the background. You can't change or stop it. It would be nice to add personalized music (or no music) to go with a personalized gallery.
Unfortunately, you're the only one who can view your gallery, unless you hand someone your headset. I'd love to see a share feature to invite others to view your gallery. Even though it would be a hassle to share so many image files, this feature would definitely be feasible.
Graphics
The graphics are good for the main feature of the experience: viewing the images.
Overall, the graphics are pretty minimal. The detail of the museum is on the low side. The windows and the skylights are nice, but don't add much pizzazz. To be fair, galleries often have simple design to draw viewers' attention to the art.
I would prefer to have some options for framing (wood, metal, etc.). Ideally, you would be able to choose from a few layouts and visual styles for the museum. I'd at least like to choose between a classical option (e.g. London Museum, Louvre) and a contemporary option (e.g. Guggenheim, Museum of Modern Art).
Information
Since this experience features your own work, it doesn't come with informative content.
You might expect to add title cards and maybe even information cards to each image, but this feature isn't supported. Using an obscure feature (requiring you to edit a file from outside of the app), you can only add comments to an image. Even once you've added a comment, you'll need to activate a hard-to-read popup to view it again. I'd love to see the comment feature expanded.
Interactivity
Again, since you supply all the interesting content yourself, this experience has no interactivity to speak of. All you can do is make some minor adjustments to how your images are displayed. This isn't a very natural interaction, and I didn't even realize it was there for some time. Instead of managing from settings, you use the controller to bring up photo-specific settings right on the wall where it hangs.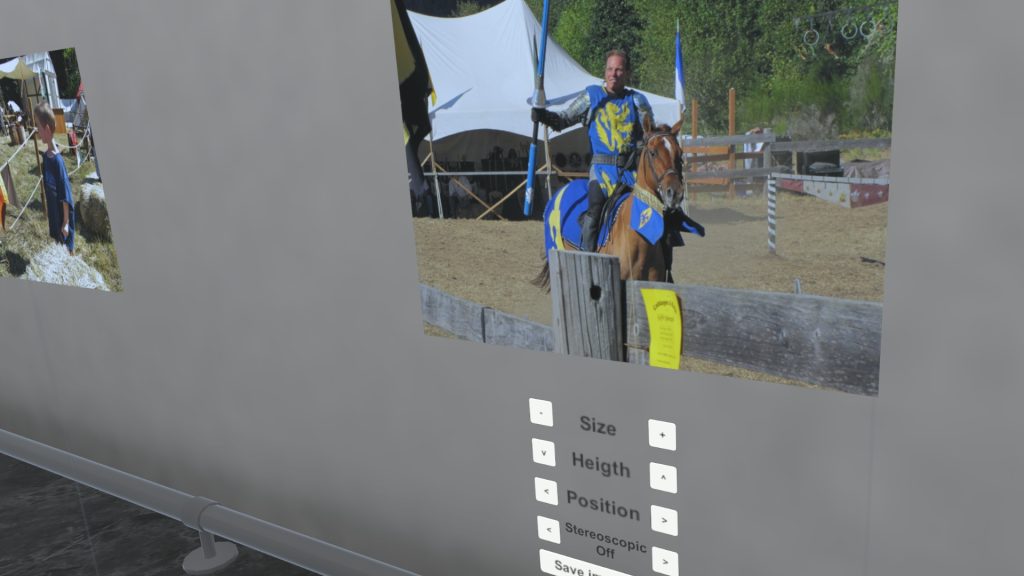 I also think it would be cool to display a small map next to each photo to indicate where it was taken. Phones provide this metadata by default, so this feature wouldn't be too difficult to add, yet it would enable great presentations.
Future Potential
As far as I can tell, Virtual Gallery hasn't been updated in some time. I think this experience is a pretty solid starting point, made all the more impressive by being free. As it is, it could be sold for a few dollars. With some additional work, it could be sold for a few more.
I've reached out to the developer, and I'll update the review if I learn anything else about future plans.
Summary
Pros
Nice way to display photos
Flexibility in how to "hang" the photos
Ability to separate collections into separate "galleries"
Cons
Inability to share albums
Music gets tiresome quickly
Some interactions not very intuitive
I really like Virtual Gallery. I'd love to see it get more updates and address some shortcomings, but it's already very usable. As a free app, it's worth the download!
FREE!
Rating:
Release date:
31 Jan 2021
Installation size:
500MB
Developer:
Dion ten Have
Publisher:
THSoft
Supported headset(s):
Language(s):
Player mode(s):
Where to get it:
---