The Aalto Virtual Planetarium is a tour of the inner Solar System, with the grand structures of planetary magnetospheres show through the eyes of a space physicist. Complex structures and spatial scales of magnetospheric physics are intuitively presented, with plans for research tools of 3D simulation data based on the system.

From the product description
About the Experience
Space is fascinating to so many people for many reasons. It feels so remote and cut off. It's hard to imagine the isolation you'd feel spending time there. Not that you could survive easily of course. We have an intuitive idea of being in such a remote place due to deep-sea diving. Your suit allows you to breathe and keeps you alive. There's no one else around, unless you dove with them. At least underwater though, you likely are surrounded by life — plants and creatures.
Since most of us will never have the experience of actually stepping foot on a rocket or shuttle, space apps are the next best way to feel any level of immersion. Space Walk isn't about living in space though. It's really just about showing you the relationships between planetary bodies like a huge solar system model that you can walk through. For basic visualizing of orbits and interplanetary forces, this may be enough.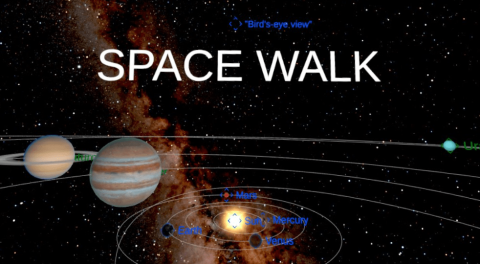 Graphics and Sound
Graphics are fairly basic, but recognizable. The planets look like you'd expect, although once you get closeup to them they are clearly lower quality. It's a shame they didn't include higher-quality models to switch to when visiting. Of course, that could possibly come in a future update.
Each of the planets has a different classical musical composition chosen for it which plays when you select it. They're nice choices so they add to the atmosphere. The developers don't otherwise use sound, although there isn't much for ambient sound in space!
Information Content
From afar, you can see the orbits. You can walk around and see the relationships between the planets and the sun, and just feel cosmic. Once you visit a selection, there are details in a text popup (you can choose the language when you begin). There's often a second popup with some toggles for additional features. This could mean showing magnetic field details, or even orbiters related to the body. When there's an orbiter, it appears to the right of the menus. You might not realize anything even happened after clicking unless you turn your head.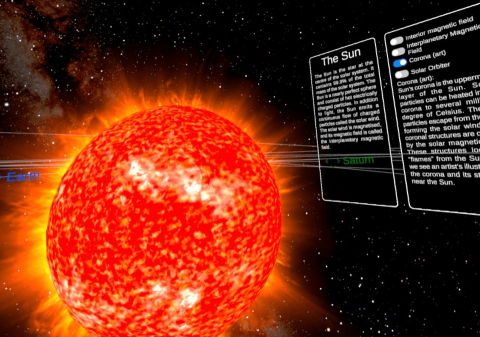 Navigation and Interactivity
Moving around is pretty easy. You point and click to go to a given celestial body then you fly to it. You can also point up and click at a "birds-eye view" label to see it all from above. I think the "Space Walk" title is a reference to the fact that you can just walk around your room surrounded by the planets. It's an interesting idea. Other than choosing where to go and toggling details, you can't interact with the stars, planets, orbits, etc. It might be interesting to change some magnetic properties and see how it affects things.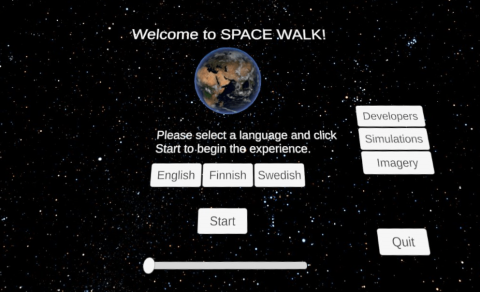 The in-app menu (left controller button) includes some options to change speed, scale, language, and date/time. You may not need them, but they're conveniently located.
Updates and Support
The description indicates that additional tools and simulations will be added. No timelines or other information is available.
Summary
It's a decent experience, though it has a lot of rough edges. There are other apps out there for providing astronomical experiences, but this is free and lightweight. That said, you won't learn many new things here, other than the focus on magnetospheric physics. If you are looking for a deeper dive into the magnetic forces at play in outer space, this could be just right for you.
Pros
Written content and classical music for many of the bodies
Being able to toggle different details is nice
The magnetospheric details are interesting
Cons
The user interface and most graphics are pretty simplistic
The main menu is confusing and could use some work
Graphics quality when closeup is a bit low
Tags: Educational, Documentary & History, Space/Universe
Disclosures and footnotes
We may earn a commission for purchases using our links.
This product is an App Lab title.
Deals and Discounts
Quick Facts
Rating:
Pricing:
FREE
Category:
Release date:
26 Aug 2021
Install size:
287MB
Developer:
Publisher:
Headset(s):
Language(s):
Play mode(s):
Where to get it:
---