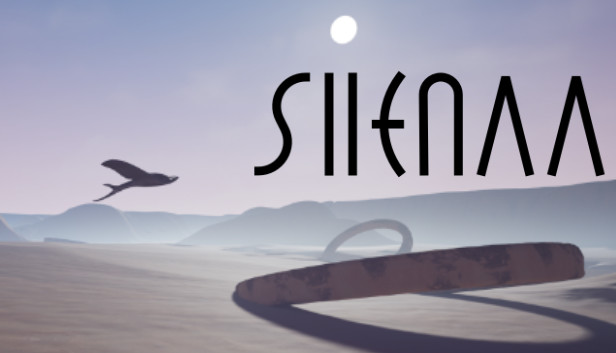 Siienaa is an immersive VR experience that allows audiences to encounter a beautiful desert world comprising serene locations, inhabited with dramatic creatures.

From the product description
About Siienaa
Back in the 1980's (yes, I'm dating myself) I fell in love with the science-fiction book Tour of the Universe. As a kid, I'd flip through the pages examining all of the smallest details of the images. There was bizarre terrain, outlandish creatures, and of course all of the ticket stubs and brochures relating to the "tour."
Siienaa may not have the tour part, but the terrain and creatures are definitely reminiscent of my memories of this book, with the obvious upgrade of immersion. I didn't see any information about where the developer was inspired, but they seem to all be original scenes. The work in creating the landscapes would already be considerable, but we also get animated flying and terrestrial creatures. It's just a big open-world experience, so you can take your time to explore.
Graphics and Sound
The graphics are well done. There's a variety of landscapes with peaks, valleys, mesas, and evidence of long-forgotten life-forms to imagine. The lighting and shadows, the fog, the rocky formations all contribute to a genuine alien feel and make it seem like it's part of some larger creation. I almost expect to see alien figures peeking out from behind outcroppings as they go about their business. The attention to detail is definitely a strong suit in this experience and it pays off.
On my mid-range gaming PC, everything ran smoothly and looked great on my HP Reverb G2 headset. I could imagine it running well enough on the Quest 2 as well, but it would require additional optimization, I'm sure.
Information Content
The one flaw I could point to is the lack of any context. It's a fantasy world, so it doesn't owe me that explanation of course, but it might be interesting to speculate on what the remains we see can tell us. Thinking about The Tour of the Universe, it might be fun to consider a tourism focus to this. Instead of labels or voice-overs with details, there could be plaques such as at a museum or interpretive trail with researchers' "theories" of the different things. Or perhaps design some tickets and brochures with hype about the long-lost world of Siienaa. It's not needed, but it would be fun to come up with and fun to read about. Again though, taken as an environment to just absorb at your own pace works well too.
Navigation and Interactivity
There are two forms of navigation. You can move around the world walking or using your controllers, but you can also travel to the various other locations. For these, you reach out to touch glowing orbs with tiny representations of the destination. It works well. There's nothing available for help, but there's not really any needed either.
None of the elements can be interacted with. It might be interesting to pet one of the creatures. It would also be interesting to be able to ride one of the flying skate-like animals. On that subject though, some of the areas are fly-through only. I'm not actually sure how the flying is happening, but it's too disembodied for me so I find it pretty uncomfortable. Maybe by letting me saddle up my own ride, it would feel better. Especially if I could tug a rein or stroke it or something like that to change direction.
Updates and Support
Siienaa was solid and bug-free for me. I don't know if any further locations are planned at this time.
Summary
Overall, Siienaa is a fun app. Not too expensive, and a creative escape. The alien landscape genre is definitely not well explored in experiential VR so it's nice to see this entry. Providing some sort of story or research backdrop would work well, but it doesn't need to be a game and just being there is already interesting. I think it's a great way to explore a new setting with considerably more area than photogrammetry allows. I hope the developer adds more content and continues to make other entertaining settings like it.
Pros
Beautiful fantasy world
Creatures breathe life into it
Nicely assembled experience
Cons
Flying scenes may be uncomfortable
Some additional interactive elements might be nice
Disclosure: Product received for free
Rating:
Release date:
18 Mar 2022
Number of locations:
9
Installation size:
9GB
Official Site:
Developer:
Publisher:
Supported headset(s):
Language(s):
Player mode(s):
Where to get it:
---