Pompeii is an experience allowing you to visit the most famous ruins of Pompeii, Italy. Feeling like you are really there, you can walk along one of Pompeii's main streets, visit the interior of an extraordinarily well-preserved Roman house, experience the hustle and bustle of Pompeii's bars and shops, visit two beautiful Roman gardens, and finally get to experience what it was like bathing in a 2,000-year-old Roman bathhouse.

From the store listing
Ever since I was a kid, I've had a morbid fascination with Pompeii. One of my middle school textbooks had photos of the site, including some of the castings of people and dogs. These photos, more than anything I had read, made the Pompeii disaster feel real. I've wanted to visit the site since.
About the Experience
The simply named Pompeii, available only on the Oculus store, is the next best thing to being there. The photography is well-done and high-quality. The scale appears correct. Though this is not a perfect experience, feeling the history surrounding you is worth it, especially given the low price tag (under $5).
The experience doesn't capture every bit of the Pompeii ruins. At the edges (often right in the middle of the street), signs in Italian indicate "do not enter". Amusingly, you can see tourists past these points. You don't see tourists within the explorable space.
You begin in the building known as the Forum Baths. The first room itself is shown above. You receive an orientation, of sorts, then can move along relatively freely. In this orientation, you learn about the markers that appear in various places to hear a narration (a speaker icon), or to indicate a point-of-interest (green circle). The overall startup experience could definitely be better. It drags on as you watch a progress bar and then get locked in place for the introduction. At least you can look around while listening!
From other experiences, you might expect that activating points-of-interest circles would transport you to them. It does, but probably not as you'd expect. This app is unusual in that it has no teleport option. If you activate a marker, you will smoothly glide to it from your present position. This movement is slow and potentially nauseating.
The alternative way to move is to press a button on your controller to glide the direction you are facing. This is no faster or slower than the "tractor beam" pull of the points-of-interest. Unlike in most experiences, you can actually glide up into the air in "fly mode"… at the same slow speed. This makes exploring a little less fun since so much time is spent in the queasy gliding state. On the other hand, being able to move vertically provides an interesting view.
Graphics
The area has been captured with high-end cameras. The surfaces look natural, and you can get fairly close without blurriness. Most angles are correct. I noticed a few missing details, but this is only a minor problem because most of them are high up.
The biggest oddity is that this experience—unlike every other VR experience I've tried!—does not use stereo visuals. In other words, both eyes see the same image. This definitely removes some of the realism, because so much of our feeling of "being there" relies on stereoscopic depth cues. Thankfully, this doesn't ruin the immersion as much as you might think. You can still turn your head and move around freely, and our brain has other depth cues such as relative sizes and parallax effect. Our perception system is pretty cool!
Information
The narration is well-done and there is a decent quantity of it. At least two voices provide commentary as an informal back-and-forth exchange. Unfortunately, you can't pause or stop the voice-over, though you can mute it. Each voice-over keeps playing until you start another one, so you can keep learning about a point of interest while walking away from it. My biggest complaint here is that it would be nicer to have subtitles for all of this narration. Strangely, the developers only decided to include subtitles for the unskippable voiced introduction when you first launch the app.
Interactivity
Overlay circles indicate points-of-interest with or without narration. You'll know if there is narration available because the circle contains a speaker icon in it. To activate them, you don't point and click, as is customary. Instead, when you center a circle in your view (just by angling your head), a second outline circle appears. As you continue to look, a thicker outline starts to encircle it. Once the thicker outline is all the way around, it activates. Look away to cancel it. This approach isn't my favorite, but it works.
There are no interactive objects in the environment. This experience only covers the actual architecture of Pompeii. I would have enjoyed picking up objects to examine—archaeologists have found plenty of objects in the ruins, even casts made of organic objects like food.
I wish that the experience included a map of the captured area as the slimmed-down web site version does. I really like what it adds and wish more experiences would do it. For reference, you always start in the Forum Baths (in the upper right of the image below). You exit the baths toward the Thermopolium.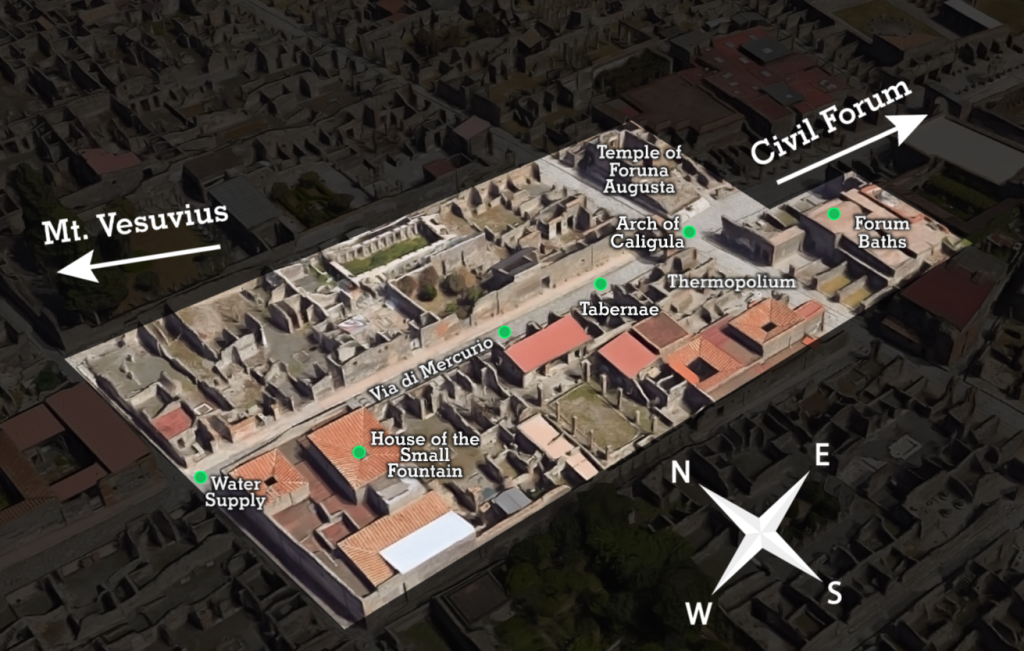 I was very interested to notice that they have a slimmed-down version of the Pompeii experience available directly from the web browser. The web experience works very similarly, just without the VR headset. To check it out, go to the Pompeii VR page on their site.
Future Potential
I don't see any indication that there are plans for updates. I'd love to see the locomotion and non-stereo graphics fixed. I see that the developer also created VR experiences for Patagonia and Claustral Canyon, so I'll need to check them out!
Conclusion
Pros
Great graphics
Good commentary
Decent-sized area to explore
Cons
Slow loading at too many points
Uncomfortable locomotion
Overall, I think the developers did a great job capturing much of Pompeii. Being able to walk around and explore by yourself is wonderful. Walking around these buildings that were just frozen in time (and encased in ash) one fateful day creates a strong connection to the past. If the unusual movement style is uncomfortable for you, you can always squint or close your eyes.
Any other thoughts on dealing with locomotion issues? Any other thoughts on Pompeii? Sound off in the comments!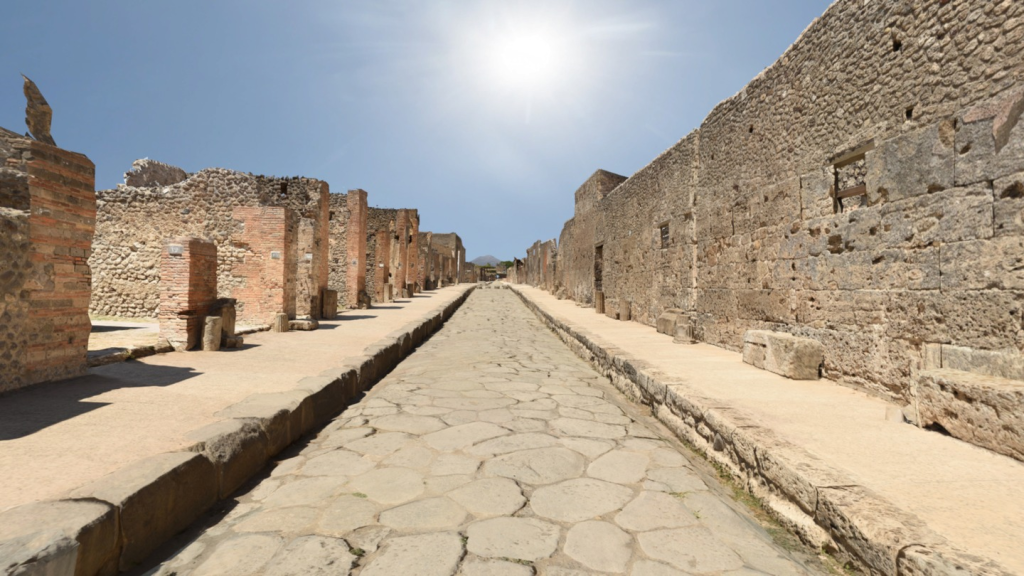 Disclosures and footnotes
We may earn a commission for purchases using our links.
Deals and Discounts
Quick Facts
Rating:
Pricing:
PAID
Category:
Release date:
6 May 2019
Install size:
10.9GB
Official Site:
Developer:
Publisher:
Headset(s):
Language(s):
Play mode(s):
Where to get it:
---