Explore Fushimi Inari Taisha, Kyoto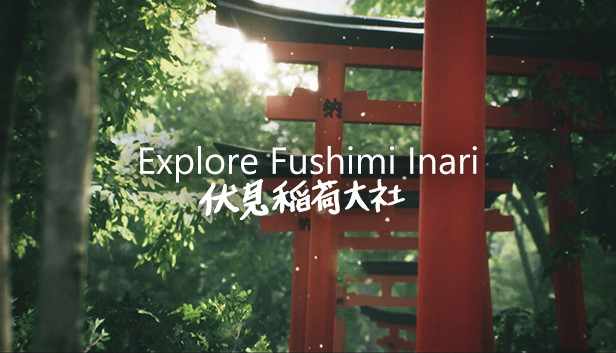 With photos and memories from a few years ago, I set out to achieve a detailed, realistically designed recreation of the renowned Japanese shrine, Fushimi Inari Taisha. I feel like the real place has a very culturally unique significance, I personally had a great time exploring it a few years ago. I've designed this environment to be experienced from a first person perspective, with the aim of allowing the player to be immersed in the same kind of atmosphere as the real place.

From the product description
About the Experience
This app is actually a little less available these days as the author, Matt Newell, has been working on a new app with multiple locations. Despite that, if you can find it, it's well worth giving it a try. It's under $10 and it offers an immersive walk-around experience at a famous Japanese shrine. Rather than just calling this a walking simulator, Matt refers to it as an exploration/photography experience. A key part of the app is a DSLR camera that you can use to capture the sights you see. Frame it at different angles, use manual or auto-focus, and make other adjustments to create memorable "photos." It's a lot of fun, and ties into some challenges within the app itself.
Graphics and Sound
An exploration app for a real-world location really lives or dies based on how well the graphics are done. Even though, at this point, this is a few years old, the graphics hold up amazingly well, partly because they were so demanding on hardware upon release, so newer hardware does much better.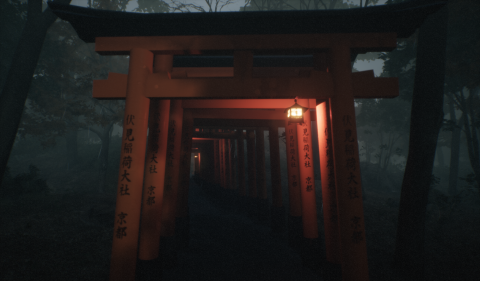 There are gentle ambient sounds to complete the experience, but it's the graphics that do most of the heavy lifting. Considering the size of the environment, it's an impressive feat. Also impressive is that this is created in 3D tools rather than processing photos to capture it photogrammatically. This often leads to a lower quality result and a video game look, but provides more flexibility for the developer. Photo captures are definitely not perfect either since it's so difficult to get every last angle at the highest quality without making it too large to download or fit into your computer or headset's memory. The work done here can easily be mistaken for actual photos in places, so it's amazing work.
Information Content
This is really just a holodeck experience. You get dropped into a location and can wander around. There's a bulletin board with some information on what to do, but it doesn't spend much time talking about the location.
Navigation and Interactivity
As mentioned, in addition to wandering, you can also take pictures with an in-game camera. Zoom in, focus, and frame your shot, with much of the feeling of a real camera. It's a fun touch and provides some goals without feeling artificial. You are challenged to find some specific shots to take and it adds them to an in-game album, but also to a folder on your PC where you can save or share them.
Updates and Support
There were a number of updates to Explore Fushimi Inari in the first few years when it launched. VR was a later addition, as well as various quality and stability updates. It's no longer being updated (nor is it widely available anymore) as he prepares to release Lushfoil Photography Sim, an app that leans into the photo angle even more, but supports multiple locations in this same app. Hopefully that will be released this year.
Summary
If you can find it, I still wholeheartedly recommend this. It's relaxing, immersive, and feels like you've gone somewhere. Hopefully Lushfoil Photography Sim will be available soon so we can enter Matt Newell's worlds again!
Pros
Beautiful scenery
Great reproduction of a real location
Fun photography mechanic
Cons
Disclosures and footnotes
We may earn a commission for purchases using our links.
Deals and Discounts
Quick Facts
Rating:
Pricing:
PAID
Category:
Release date:
11 Oct 2019
Install size:
799MB
Official Site:
Developer:
Matt Newell
Publisher:
Headset(s):
Language(s):
Play mode(s):
Where to get it:
---