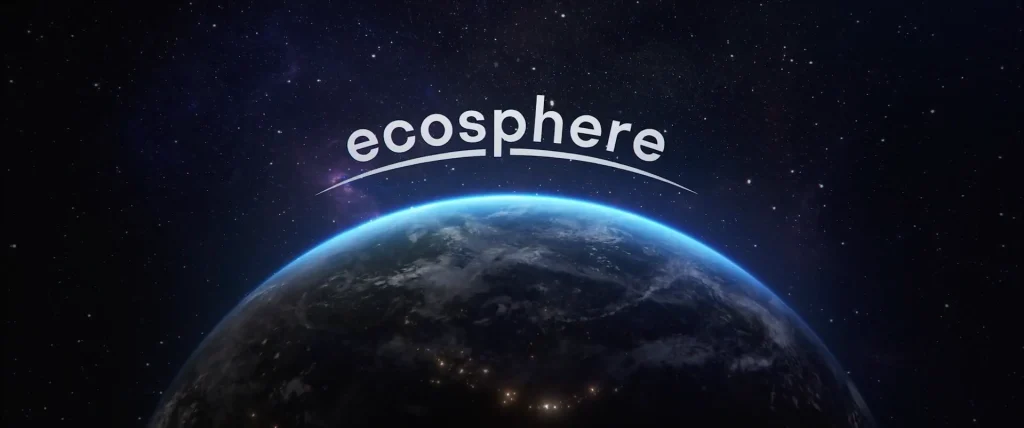 Venture into the wildest places on earth, where indigenous and community-led efforts are creating space for humanity and wildlife to thrive together. Explore the great savannahs of KENYA, the ancient jungles of BORNEO and the rich coral reefs of RAJA AMPAT. Meet elephants, orangutans, manta rays and some incredible humans, all in stunning cinematic footage filmed from the air to the ocean. — ecosphere is an award-winning nature documentary series that sets out to redefine the limits of 3D-180 cameras and natural history filmmaking. Produced by PHORIA, in partnership with World Wide Fund for Nature (WWF), Silverback Films Ltd and Oculus.

Product description
About Ecosphere
Elephants, monkeys, manta rays, and more come to life in Ecosphere — a nature documentary with a little extra. If you're looking to just sit back and get close with nature, this might be right for you. There are a variety of 360° and 180°/3D movies on YouTube that you can play in VR, but Ecosphere stands out as an excellent curated collection of high-quality clips. From a spinning globe, you select one of the three regions to see which videos are available. In addition to the videos, there's an excellent little "diorama ball," or whatever you want to call it (perhaps, an ecosphere!) for each place. It's a bit like a snow globe, only without the glitter. It's also better than a snow globe since the creatures in the sphere move around. They aren't photographic, but neither are they too cartoony. It's a great look!
You choose from Borneo, Kenya, or Raja Ampat, then cycle through the videos to make a selection. Clips are around 5-15 minutes each. The one downside is you must wait for the clips to download, and it can take a few minutes. It would have been nice to have a lower quality stream option since the video files are quite large.
Graphics and Sound
I was highly impressed with the movie visuals. Spherical videos are ok, but good 180° 3D videos are something else. Not all 3d videos are created equal. Sometimes they are "converted" to 3d after the fact, which is rarely a great look. Other times, they just aren't shot at the right angles, or their scale doesn't look right. Each clip that I watched here was sharp and really felt like I was in the scene. Really excellent work!
Another important aspect of 3d in general is controlling movement to avoid nausea. The camera direction seemed to really prioritize reducing movement on the ground. At least for me, gliding over the trees high up in the air isn't an issue. 3d video is always a little bit of a strain for my eyes, but this was all first-rate.
Information Content
These are actual award-winning documentaries, not just video clips, so the information content is excellent. Their narrator is Emmy award-winning actress Anna Friel (recently in the TV crime drama Marcella), who has a great voice and fits the content perfectly.
I feel like I'm just watching a BBC documentary, which isn't surprising given a partnership with the World Wildlife Fund and other big names. There's a reason it won awards!
Navigation and Interactivity
Initially, you point your controller to spin a floating globe around in front of you. This alone is nice to play with and the detail is high. There are only the three locations on it that are highlighted, so they could have just used a menu, but this is definitely more fun! It also makes me hopeful that they plan to add new locations.
Since this is really a fancy menu system for watching documentaries, it's not very interactive. Both the globe and the "ecospheres" let you spin them with your controller (either direction), but that's really it. Since it's all video, there's no touching or zooming in on elements in the scenes. If you touch a controller button, you can pause, forward, or reverse the player. If you return to menu, then go back to the video it will always start back at the beginning. It would have been nice to have a "resume" option.
Updates and Support
I initially had issues getting the videos to download with an "internet connection" issue. Thankfully, PHORIA support got me up and going with an update. They have updated their content before, and I believe they are planning a content update again.
Summary
Pros
Very high-quality video content
Fun "ecospheres" with animated animals at each location
Cons
Large videos take some time to download (and take up space)
Would be nice to have more content
It's hard to find too much fault here. After my initial difficulties, everything has worked well. The quality is excellent and it's a great way to learn more about our natural world. I highly recommend it to anyone who enjoys nature documentaries, although if you're looking for something more interactive, this might not be for you. Considering the experience is free, though, you can't go wrong!
FREE!
Rating:
Release date:
7 Jun 2020
Number of locations:
3
Installation size:
1GB
Official Site:
Developer:
Publisher:
Supported headset(s):
Language(s):
Player mode(s):
Where to get it:
---