Centcelles VR – A great Roman history experience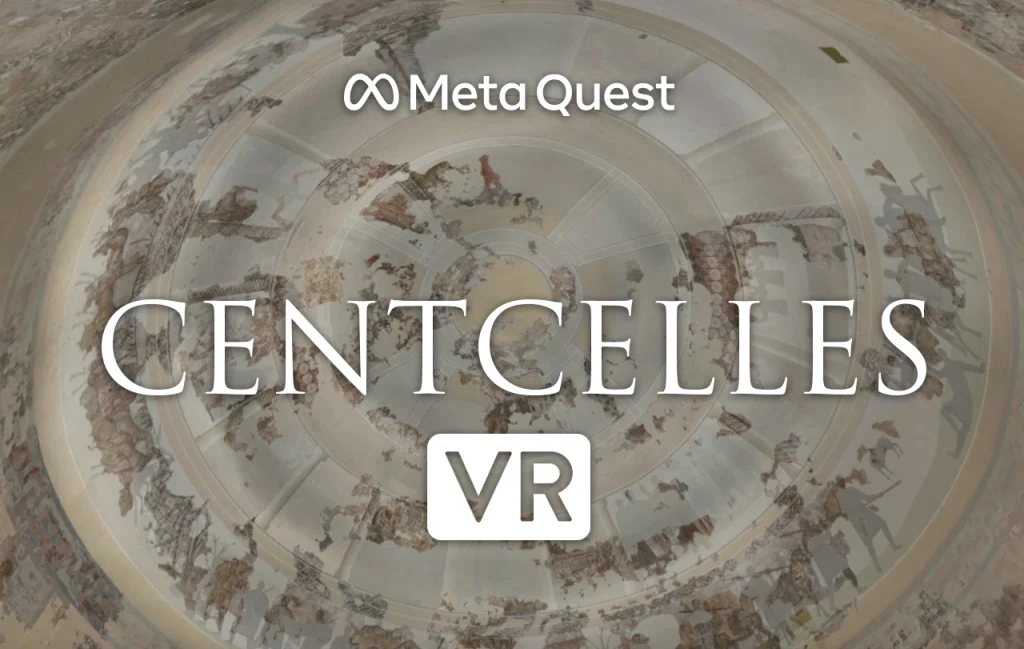 Centcelles is a magnificent archaeological complex with much of the mosaic that once decorated the dome still visible. Captured using laser scanners and advanced photogrammetry techniques, it takes us to the end of the Roman era in Tarragona, Catalonia.

Adapted from the product description
About the Experience
The Centcelles complex in Catalonia (Spain) is an amazing villa dating back to the Roman era. Among the remains of other rooms, stands a circular room with a dome standing 13.5 meters high. What's remarkable about this room is the remnants of mosaics still visible on the walls. Three registers (levels) of artwork are visible with distinct themes for each. It's this dome that's the focus of this experience.
The lowest level has a hunting scene with hunters, dogs, servants, and horsemen hunting deer. Roman buildings often used such scenes of daily life like agriculture, fishing, or even banquets so this level is interesting, but not a unique theme for the period.
The intermediate level is the most exceptional with Christian scenes from the Old and New Testament. They comprise 16 sections, or friezes, separated by painted columns. Of these, 12 are recognizable and 9 are clear enough to determine the specific scene, some including golden tiles attesting to the symbolic value it must have had. The scenes include the Good Shepherd, Noah's Ark, the Resurrection of Lazurus, the song of the three youth in the oven, the story of Jonah, Abraham sacrificing his son, Daniel in the pit of lions, the request for Rebekah's hand, and Adam and Eve.
The upper-most level contains scenes of the four seasons along with characters on "thrones." This area is the most damaged and therefore the hardest to make out. Some of the scenes have blue and green backgrounds and some details of scrolls and people are visible.
Graphics and Sound
The graphics are gorgeous. It's a very high-quality photo capture and depth scan that works together to recreate it very well. Since the mosaics are so old, you can't see most of the original paintings. To account for that, there are outlines added to "fill in the blanks." It sometimes seems like a bit of a stretch to imagine the images between the faint remnants of paint, but it's not as bad as naming constellations!
As you look around, the overlaid lines help clarify what was intended, but I couldn't find a way to toggle them off. Being able to see only the lines or only the remains of the tiles would have been nice.
There's classical background music, but it doesn't change. There are no sound effects or other ambient sounds. It's a peaceful experience, but very basic in that regard.
Information Content
This is really the weak spot. I'd love to have narration or text callouts with more information. Instead, I can walk around and take it all in at my own pace. That's nice for a bit, but the lack of a guide limits it. If there is an eventual update, I hope that it will include more informative content. In the meantime, you can always read the Wikipedia page for more information. For more information and photos, the Spanish-language Wikipedia page is better (where I learned much of the detailed facts in the About section above).
Navigation and Interactivity
The mechanism for moving around is either room-scale walking or teleport. You can snap-turn or jump to where you want to be. On each level, there's a glowing logo on the floor. Stand on that logo to be moved to the next spot. From the floor, you'll go to a scaffold up in the air. The scaffold is a ring that lines the dome for a closeup look. From the scaffold, you can stand on the logo to move the scaffold up higher. It doesn't actually move, instead it fades out and you reappear on a higher one. Moving/sliding up like an elevator would likely make some people sick, so this is probably a better idea. I also like that only the scaffold you are standing on is visible, so views are preserved.
Updates and Support
This appears to be an initial release and is quite recent. I look forward to an expanded version to be released before too long with more content. It's a wonderful app!
Summary
Overall, this is an easy recommendation. It's free, and it looks great. The modelling is realistic, and it uses a great way to move up and down to see details clearer. This 4th century early Christian dome mosaic is a UNESCO World Heritage site for a reason. I'd love to see some narration and callouts for different areas, and some options for how the tiles and outlines show. I hope they can get this published on App Lab or the main store to find a wider audience. I'm excited to see what comes next!
Pros
Beautiful graphics from high-quality scans
Nice approach with the mutliple levels of scaffolding
A great way to feel immersed in ancient Roman architecture
Cons
I'd love a few more modes of viewing the mosaics
Contextual information would be welcome
Being on SideQuest adds a barrier to many people to discover this
Disclosures and footnotes
We may earn a commission for purchases using our links.
This product only available on SideQuest .
Deals and Discounts
Quick Facts
Rating:
Pricing:
FREE
Category:
Release date:
2 Oct 2023
Official Site:
Developer:
Headset(s):
Language(s):
Play mode(s):
---