Calf 3D Camera – Powerful tech at a mid-range price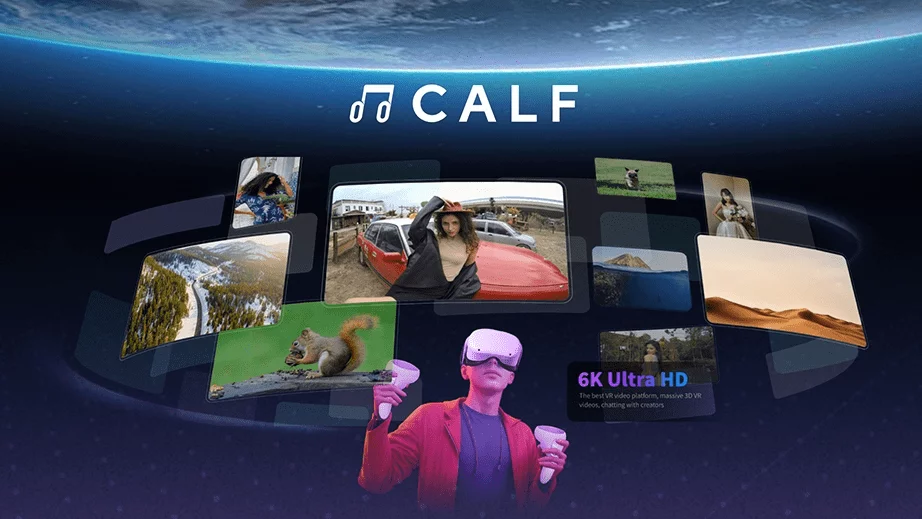 Intro
In June of 2023, a new VR180 camera appeared on the Kickstarter scene: the oddly named Calf. This was from a little-known company that was making some bold promises. Though not a cheap camera, the optics and features were impressive, and it seemed like there was a good chance of the campaign succeeding. As backer #200, I decided to put some money down and start rooting for them. With a few delays, common to so many crowdfunding campaigns, the camera arrived recently. I am not disappointed.
What is VR180?
First a primer on VR180. Photos and videos can be taken many different ways depending on the lens (or lenses): 2D vs 3D, flat vs 180° vs 360°. Assuming the image is taken with a digital camera, what the lens sees is encoded (often with some pre-processing) and saved as a computer file. Back on your phone or computer, the file can be read back and decoded to display or print. Media files use various types of encoding, also called file formats, including JPEG or PNG formats for photos, and MP4 or x264 for videos.
When you take a non-flat image/video, you still end up with a flat image file. It's strange, but it's based on the principal of projection. This is how the spherical globe we call home can become a flat map. It causes distortion (for example, Greenland is much smaller than we usually picture it), but if you know how it was projected, you can convert back to a sphere later. We have some additional details on image lenses and formats in our previous article, Question Your Virtual Reality. This flat projection is an important detail as it means you can use standard video and image editing tools for many color, contrast, and lighting corrections.
Back to VR180, Google created and first announced this specification in January 2018. It's a file format, but also some minimum specifications required for cameras to use the name. A few cameras have used this standard over the years since, but it hasn't become popular among most consumers yet. This is mostly because the images are best viewed in VR. You can upload the videos to YouTube, and it will let you see them on your flat monitor (you can pan around with your mouse), but you'll lose most of the appeal: the 3D, and the 180°.
Instead of just standing in front of a hanging poster on a wall, VR180 allows you to stand in front of a 180° half-dome with an image projected on it. You can look up, down, and to the sides to see everything that was in frame when the original image was captured. This could be a photo or a video. There's a little less distortion than with 360°, you don't need to turn your head so much, and it focuses a little better on the action.
For the actual encoded file, the image can be saved as equirectangular or fisheye. Either way, VR180 uses a fisheye lens to capture its huge field of view. If it's encoded in fisheye format, it will be a square image file with the round image from the lens directly copied to it (leaving the corners empty). An equirectangular image projects all the way out to the corners of a square (for 180°) or rectangular 2:1 (for 360°) image to preserve more details when "unwrapped" for viewing in the half-dome.
Features
Strengths
Overall, this camera exceeds my expectations. I'm not a professional photographer, but I'm a huge 3D and VR enthusiast, so I wanted to be able to start capturing better media. This will definitely do the job. It's built like a brick. The all-metal enclosure is truly impressive, and you know you're holding something that isn't about to just crack with any bumping around. That said, the lenses are fisheye. This means they are convex protrusions from the body. The wrong bump could absolutely damage the glass. It comes with lens caps. Use them!
Modes galore!
The number of modes is also impressive. You can go with the standard VR180 3D, side-by-side (flat) 3D, single panoramic, and various resolutions and bitrates. Bitrate refers literally to the rate of data bits used per second to store video. The higher the number, generally speaking, the better the quality. You can also choose from various resolution options (8k, 6k, 4k), though choices vary based on which mode you're in. Most people will want the highest quality (resolution and bitrate) for everything, but you can choose depending on what you're planning on doing with the footage.
Mounting
I'm accustomed to having a ¼" tripod mount on the bottom. Even my Logitech webcam has that. This goes far beyond the minimum with four mount points! Top, bottom, and sides. On a high-end setup, you might be mounting a microphone, an external display, lights, or other devices, or you might just need to mount the camera from a different side for your configuration. It's nice to have options.
Playback time
Something to keep in mind with VR180, is the viewer is likely to be watching it from a headset, replaying the video from the camera's point of view. This means you can imagine someone strapped to you as you walk around with it. It can be pretty hard to keep jostling to a minimum, but that movement is going to translate to a sick stomach for many people. For that reason, it's good to consider getting a gimbal. This will help eliminate small motions and can be had fairly cheaply. Just make sure you get one that can handle the weight of the Calf 3D camera.
Also noteworthy with VR180, the field of view is slightly more than 180°, but even if it wasn't, it's really easy to get the edge of your hands into the edges of the shot. You'll want to be very careful how you position yourself to avoid fingers in view.
Weaknesses
Even though I like this camera, it's not perfect. There are always compromises, so you need to decide if they are the right ones for you.
One weakness which will hopefully move to the strength section soon, is that there are a few unfinished features. The list of features includes being able to use the three USB C ports for file transfer and as a USB webcam, along with the existing power and external microphone connections. As it turns out, the file transfer and webcam features don't yet work. Once they're ready finished, there will be a firmware update to install (a clunky process, but it works). At that point, you'll be able to transfer pictures and videos using a USB cable instead of removing the memory card (SD) and finding a reader. The webcam feature will also be interesting, although I can't really imagine just using it in Zoom. There's also a livestreaming option, but I believe that this is waiting on a dedicated mobile app that also hasn't been released yet.
Lights!
Low-light performance is pretty good, but fixed lenses always have a trade-off so they will work in as many environments as possible. If you have bright light (not necessarily studio), and especially if you can use a tripod, you'll get good indoor shots. Walking around a dimly lit club might be a little disappointing though. On the other hand, the outdoor light levels are also not optimal. I believe it supports wide gamut color profiles, but it doesn't look like HDR capture.
Zoom zoom!
There also isn't any zoom capability, although this isn't surprising. Optical zoom requires considerably more complexity, in general, but in 3D it's not just the mechanics, but also maintaining perfect synchronicity between the lenses. Digital zoom is just a waste of time in my opinion. All you're doing is reducing your resolution. With AI upscaling, it might be possible to do this in the near future (the Google Pixel 8 Pro does it), but it will never be as good as zoom lenses.
Sounds ok…
The built-in microphone isn't very usable. It works, but it's not super clear and isn't even as high-quality as many smartphones these days. Thankfully, they are aware of this, and not only can you plug in an analog TRS microphone, you can also plug in a higher-quality USB microphone if you have one. You don't even need to make a choice between powering it and using an external mic as there are three separate USB C ports.
You know a device is going to chew through batteries when it gets hot shortly after starting to use it. It's doing a lot of onboard processing, and as with all computers, heat is the result. Just like your laptop, using it will activate its internal fans. Yes, it has fans! This is another reason why using an external mic is a good idea. You'll have more control over its placement and acoustic characteristics.
The battery life isn't great, but it's not terrible. Bring extra batteries if you can, or better still, keep it plugged in while using it.
Summary
Given its price, the Calf 3D camera won't bring VR180 to the masses, but it will still do a great job of bringing high-quality imagery to a wider audience. In my test footage, the day was a bit overcast. It still managed to blow out the sky, but there are a huge range of settings to try that would likely improve the result. All in all, there are a few features that aren't ready yet, but they've made good progress on their updates already so I'm hopeful. If you are interested in creating nice looking VR180 content, it's a great choice!
Purchase it on the Calf Global site.
Samples
Here are some images. They are embedded in their native flat view but will be upgraded to a proper 3D image viewer soon. In the meantime, you can find these and a few more original quality photos on this Google Drive link.
Disclosure
I paid full price for the Calf 3D camera. Any ads related to Calf are completely independent of the content of this review. For more information, see our Code of Ethics page.
---