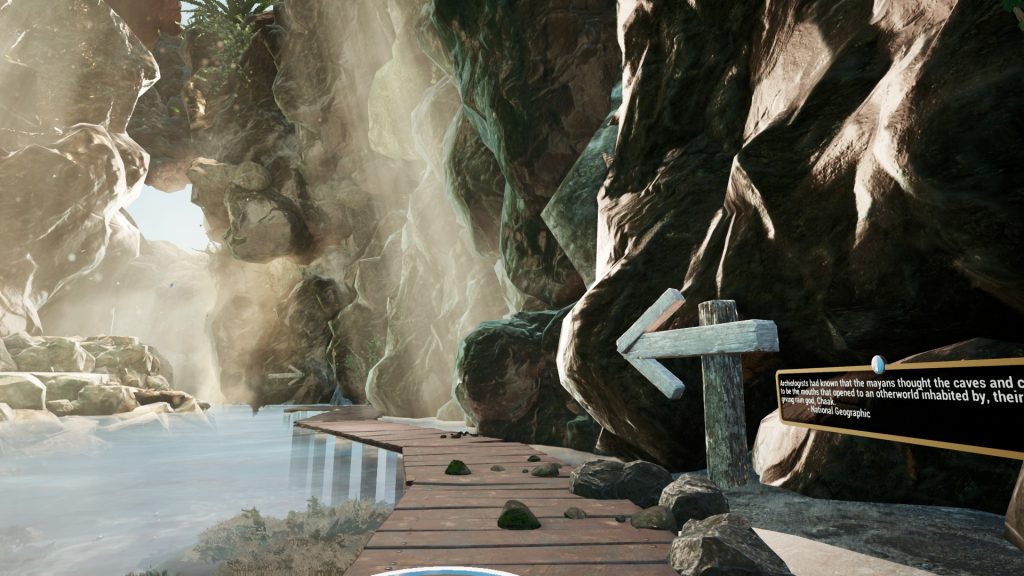 Explore the Cenote in Expedia Labs VR. The experience takes you into the caves of similar cenotes that are found in the Yucatán Peninsula. Although a simulation of the true experience, you can learn facts and where you could find real cenotes if you wish to travel in the future. Step into the water to watch the fish swim around you or stand on rocks as the waterfall gently splashes your face.

From the product description
Mini Review
Cenotes are amazing places. They always look magical in pictures with their shafts of light coming from above. They are popular settings for adventure games, movies, and books, often containing underground passages linking the lakes together. My family went to Mexico a number of years ago and visited Chichen Itza. While there, we also spent some time at a cenote. It was just incredible, and I've always wanted to go back.
I'm not sure when I might go back to that region again, but thankfully virtual reality offers the ability to take trips to such exotic places anytime I feel like it. Is it just like the real thing? Not even close. That's hardly unique to this experience though. So far, VR just doesn't approach the level of immersion needed to trick your brain. On the other hand, it's a much better approximation than looking at pictures or videos.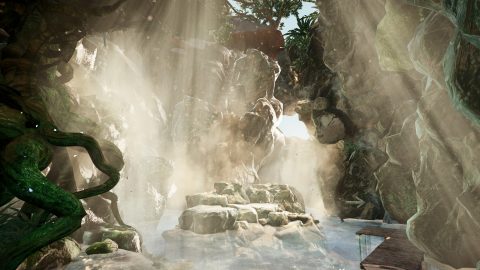 About the Experience
I guess the main question is how good it is. I'd say they did a pretty good job. It's not photorealistic, but it's not bad. You are underground with cavern walls around you, water beneath you, and raised wooden walkways to get around. There are informational callouts providing details about what you're seeing, and the water teems with life.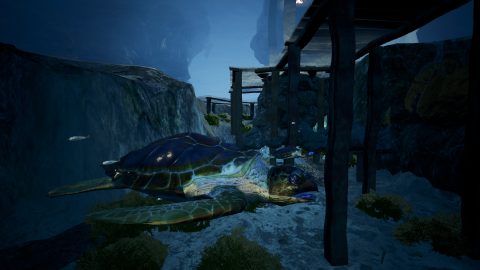 The wooden walkways include arrows to guide you around, and you can "jump" into the water if you like. Of course, as with most VR experiences, you don't have a body. This is part of what reduces immersion, in my mind. It's still nice though. The ambient sound, the visuals, the lighting, and other effects combine for a decent scene. You won't feel like you've been there, but it's reasonably large and still fun. It should run well on lower-end systems, given the quality, although it would have been nice to see it updated for modern systems. I don't think it will get any updates at this point though.
Expedia, the VR company
Back in 2018, Expedia released two projects relating to their core subject area of travel. One allowed a visit to the Space Needle in Seattle, while the other one was this non-specific cenote in the Yucatán Peninsula region of Latin America. I think the idea was solid. In order to encourage travel, create simulations of what you might see. With time, I could imagine them adding guides, shared experiences, and, of course, more destinations.
Unfortunately, it doesn't look like their venture was very successful. With no fanfare, they appeared to exit the VR software market. As far as I can tell, it was never sold for money, and it even could qualify you for savings if you ever booked an actual visit. I can only imagine there was some sort of cost-cutting effort internally and they decided it didn't make sense to continue. Obviously, I disagree with that decision!
Summary
This is a decent exploration of a typical cenote. Having been to one, I highly recommend visiting a real one if you have the chance. Without leaving your home though, this is a worthwhile experience with fair graphics and some nice callouts. Not great, but it's free!
Details
FREE!
Rating:
Release date:
October 1, 2018
Supported headset(s):
Windows Mixed Reality
Oculus Rift
Oculus Quest 2+Link (running on PC)
HTC Vive
Valve Index
Installation size:
5GB
Language(s):
English
Official site
Developer:
Jae Lake, Gloria Hsieh, Emily Gjertsson, Rachel Ye, Morgan Graham
Publisher:
Expedia
Player mode(s):
Standing, Roomscale
Where to get it: